Twitter is actively testing its new feature that allows users to lock down a conversation and choose who is allowed to reply to a tweet.
Code investigator and researcher Jane Manchun Wong found evidence that Twitter was now testing the previously-announced feature.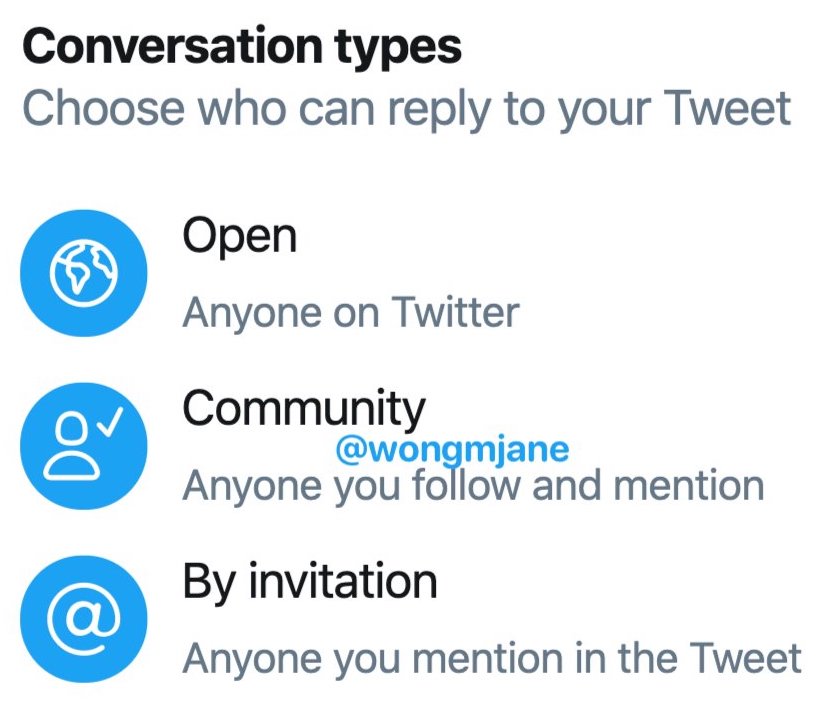 The structure and options of the feature have somewhat changed since they were first announced at CES in January.
The feature is called "Conversation types" and the three options are as follows:
Open: Anyone on Twitter can respond to a tweet
Community: Anyone you follow or specifically mention in the tweet can respond
By Invitation: Anyone you specifically mention in the tweet can respond
The feature is currently in testing and it's not yet known if this is how it will finally be rolled out.
When Twitter's director of product, Suzanne Xie, announced the new feature during CES, she announced the following options:
Global –

This is the default setting that lets anyone respond to a tweet.

Panel –

This setting will limit the conversation to those that you specifically mention or choose in the tweet

Group –

This will allow the people that you mention, as well as people that you follow, to reply

Statement –

This means no one can reply
While the previous structure is similar to the new options have been found by Wong, there's one major difference.
The example shown by Wong doesn't include the "statement" option that was previously announced. This was the option that allowed a user to tweet and prevent anyone from replying.
While the option isn't made available in the latest apparent version, it could be that by selecting the By Invitation option and then simply not tagging anyone, a user could create a tweet that no one is allowed to respond to.
The conversation has perhaps always been Twitter's most notable and world-changing feature.
While tweets can still be quote-tweeted without restriction, the replies – that often add more context to an original tweet through a wider conversation – and can give a greater understanding of the tweet and its place within the zeitgeist – will be blocked.
The changes are being tested as Twitter has been looking for ways to reduce the "harassment" on the platform – something that has been seen as a controversial move by those that believe that it will instead further add to the severe echo-chambers that already exist on the platform.
Several fake news articles and statements have been debunked by the ability of the conversation participants to point out problems and inaccuracies with reporting, statements, or opinions in the original tweet – something that could become difficult if fewer people are allowed to participate in a conversation.