After persistent calls from the mainstream media to censor President Trump's tweets, Twitter has started fact-checking his tweets for the first time based on articles from CNN and The Washington Post.
Twitter inserted these fact-checks on Trump's tweets about mail-in ballots where he warned of the potential for fraud and claimed that they would lead to a "rigged election."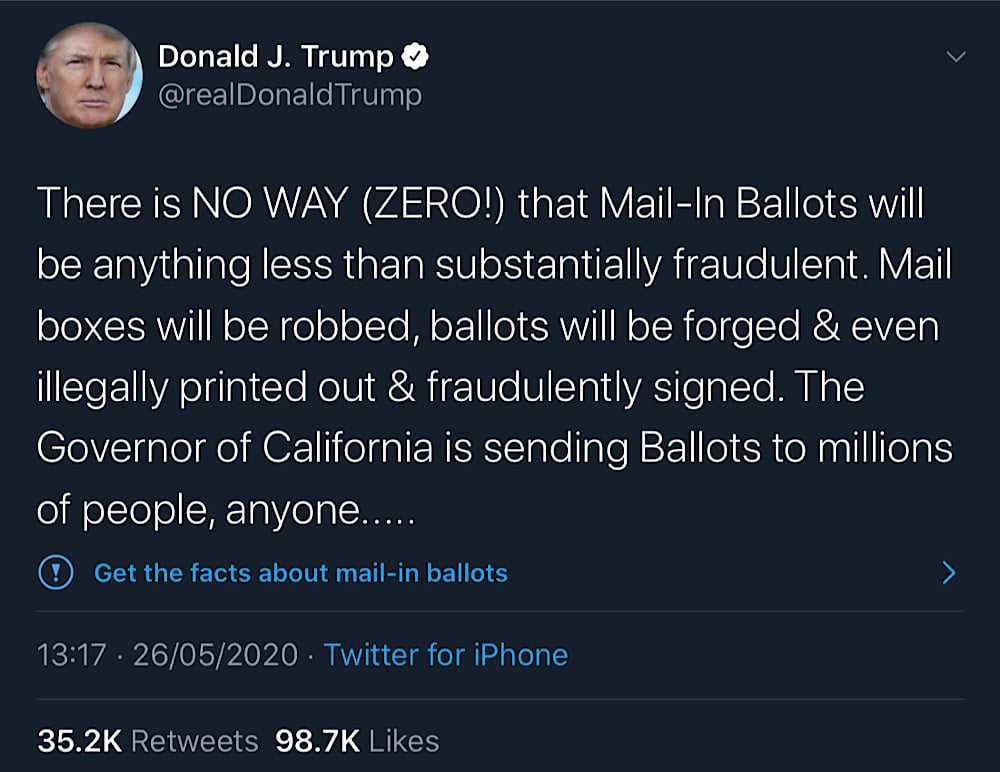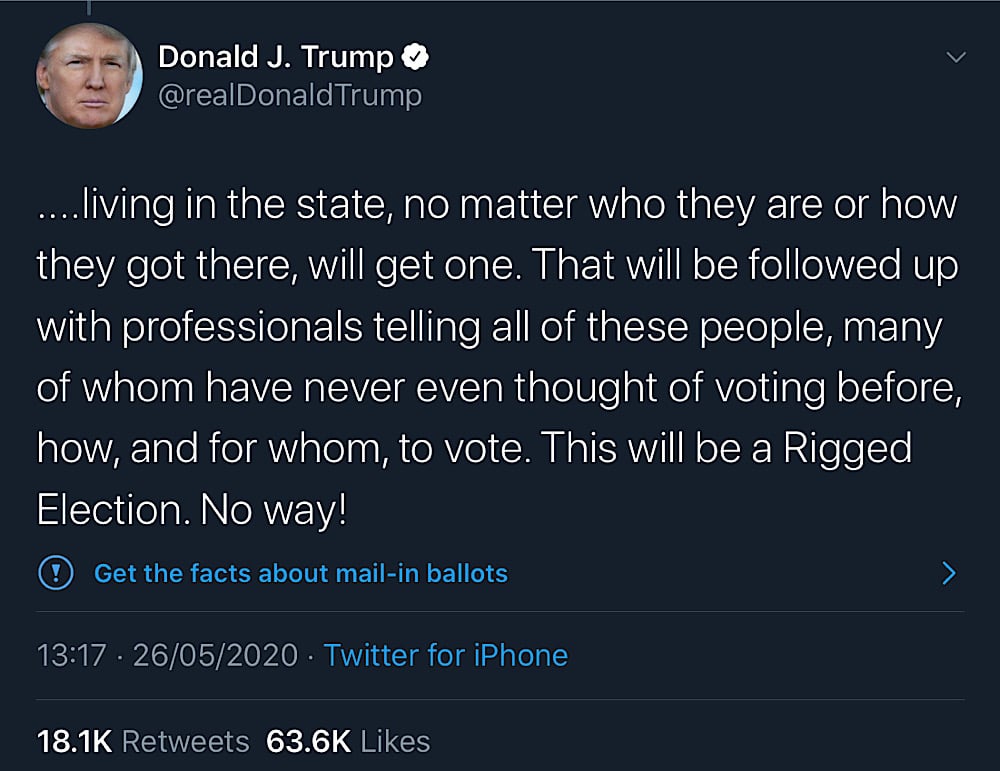 The fact-checks direct users to a page with a fact-check from CNN, The Washington Post, and others which claims there is "no evidence that mail-in ballots are linked to voter fraud."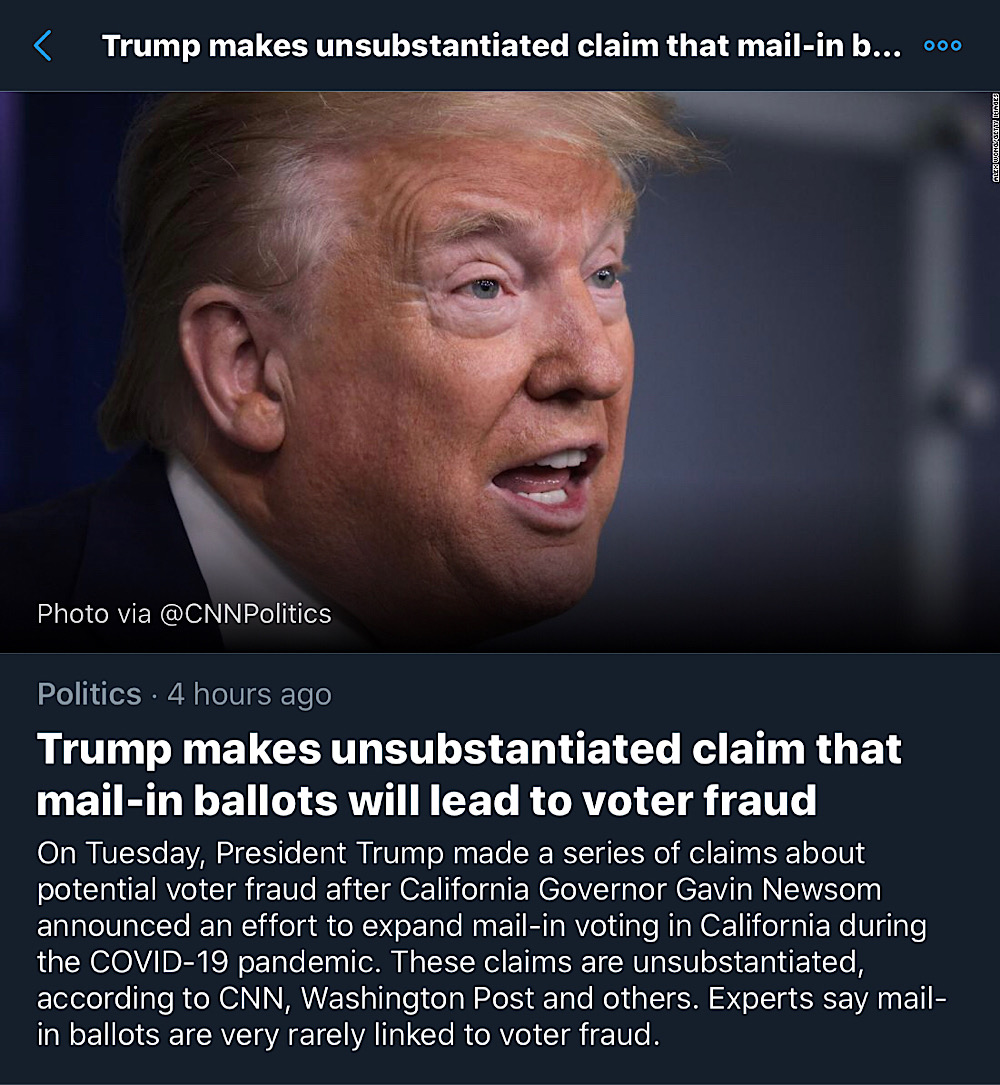 This page also contains links to articles from media sources, tweets from mainstream media "experts," and other tweets from left-wing reporters which assert that Trump is making false claims.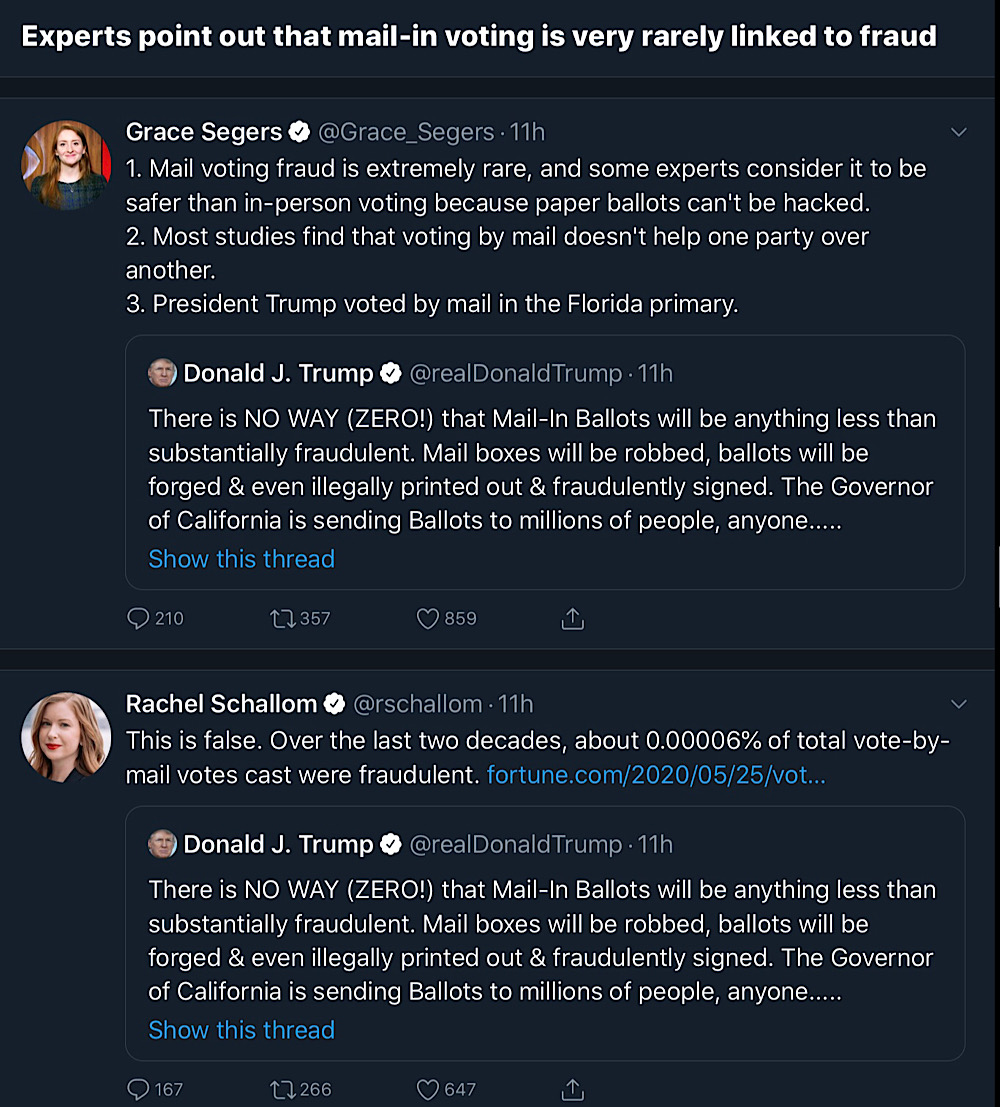 Twitter's decision to fact-check Trump's tweets has potentially opened a massive can of worms for the platform as it has now created the expectation that it will fact-check any disputed claims from politicians.
Any failure to perform these fact-checks or any perceived bias in these fact-checks will now open the platform to potentially unending criticism.
One fact that didn't make it onto Twitter's fact-check page is today's announcement from the Department of Justice that a USPS mail carrier had been arrested and charged with attempted election fraud after he admitting to altering some voter's party-ballot requests.
On Facebook, there have been many examples of biased, inaccurate, disputed fact-checks resulting in posts and pages being censored.
Twitter's chosen fact-checkers have a long history of anti-Trump coverage and with facts like this story about a mail carrier being charged with attempted election fraud already being ignored, it's apparent that similar problems are already seeping into Twitter's fact-checking program.
Facebook CEO Mark Zuckerberg recently revealed that fact-checking user posts has almost the same effects as removing them.
"We know these [fact-checks] are effective because 95% of the time, users don't click through to the content with a warning label," Zuckerberg said.
And with these fact-checks pertaining to an area that affects how people vote and where there is evidence of attempted voter fraud, it has huge potential implications on the 2020 election.
The Trump Campaign responded to Twitter's insertion of these fact-checks on the president's tweets by stating:
"We always knew that Silicon Valley would pull out all the stops to obstruct and interfere with President Trump getting his message through to voters. Partnering with the biased fake news media 'fact checkers' is only a smoke screen Twitter is using to try to lend their obvious political tactics some false credibility. There are many reasons the Trump campaign pulled all our advertising from Twitter months ago, and their clear political bias is one of them."
Trump also blasted Twitter in a series of tweets and accused it of "interfering in the 2020 Presidential Election" and "completely stifling FREE SPEECH."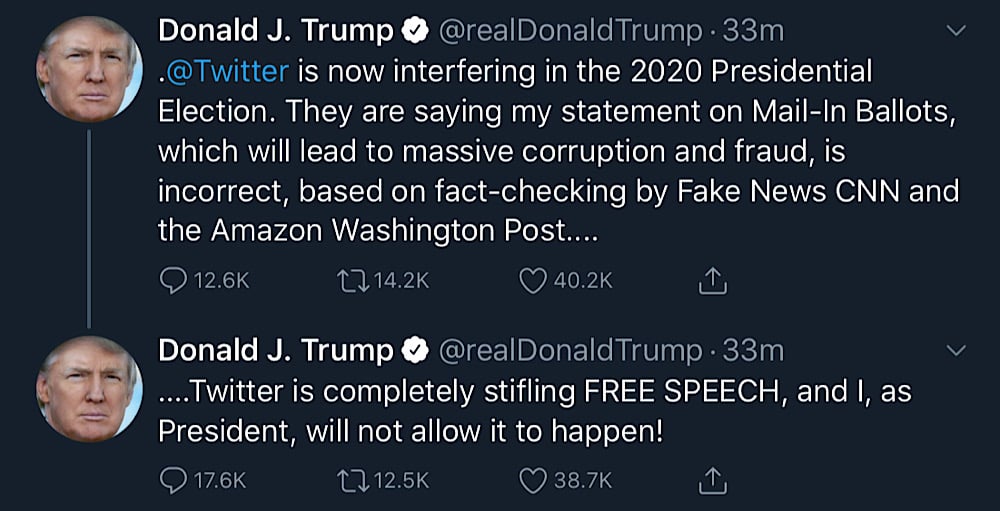 Twitter's introduction of these fact-checks comes a few days after news broke that Trump reportedly plans to create a panel to examine cases of bias against conservatives and the suppression of free speech on social media.
In a recent interview, Vice President Mike Pence also stated that the Trump Administration is "not going to tolerate censorship on the internet and social media against conservatives."
However, Preston Byrne, a partner at the Anderson Kill law firm, noted that political bias is protected by the First Amendment – a statement that suggests any action brought by the Trump administration against social media companies may not stand up to legal scrutiny.