Today, the head of Project Veritas, James O'Keefe, shared several video clips from the group's latest investigative report on Twitter. At least one of these clips featured the President of CNN Jeff Zucker describing its biggest competitor Fox News as being "destructive for America" and telling his staff to call Senator Lindsey Graham out for making multiple appearances on Fox News. Now Twitter is hiding this video clip behind a "sensitive media" warning for some users.
O'Keefe noticed that the video clip was being hidden shortly after he posted it.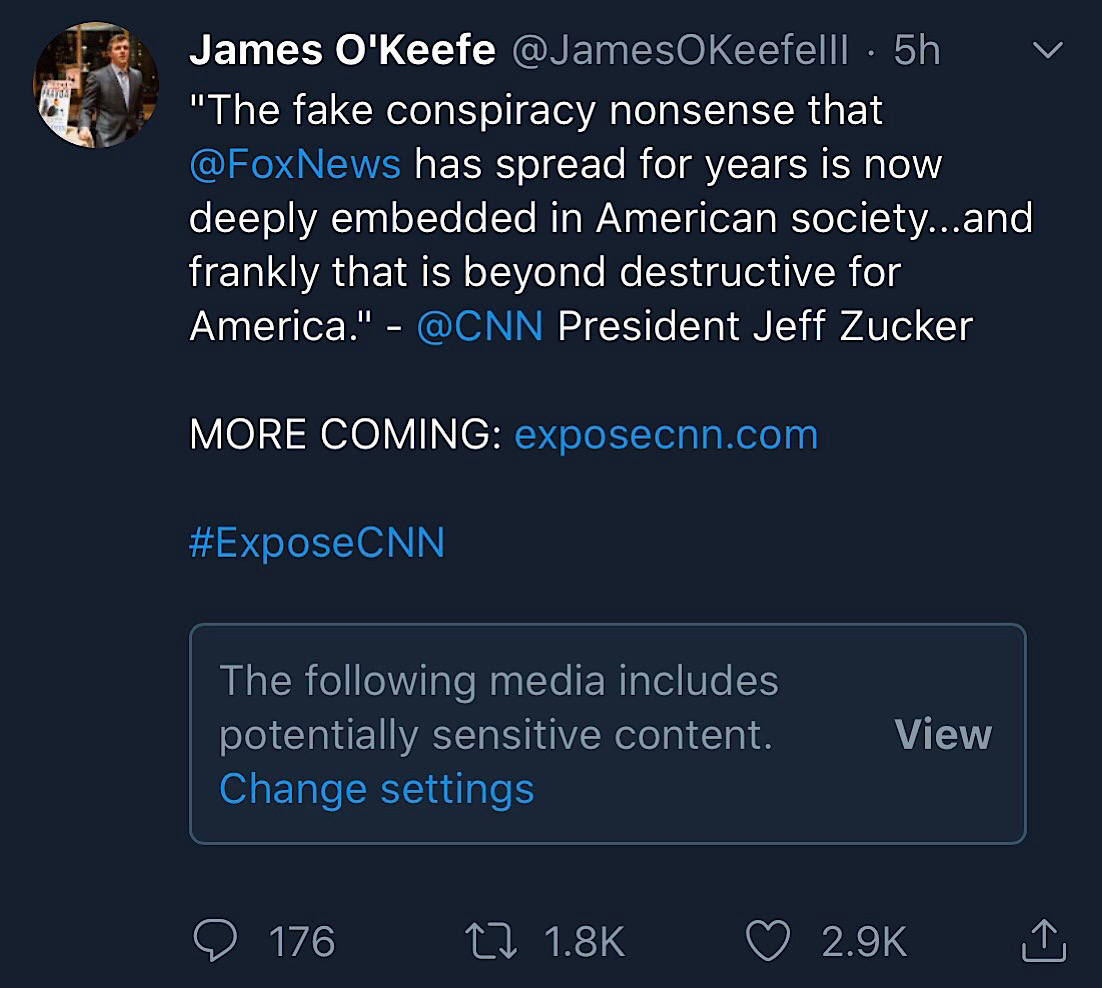 This "sensitive media" warning appears to be hiding the clip from anyone who isn't logged in to their Twitter account and some users who are logged in.
According to Twitter's Sensitive Media Policy, sharing "graphic violence, adult content, and hateful imagery" results in content potentially being hidden behind this "sensitive media" warning. However, O'Keefe's clip doesn't feature anything that could be described as "sensitive" based on these criteria.
The clip features narration from O'Keefe saying: "Zucker sounds more like an angry tyrant than a network news president." It also contains an undercover recording of Zucker describing Fox News as "fake news conspiracy nonsense" which is "beyond destructive for America." In the clip, Zucker also orders his staff to stop being friendly with Lindsay Graham and call him out for doing his "last 26 interviews in cable news with Fox."
The news of O'Keefe's video clip being hidden behind this "sensitive media" warning comes on the same day that President Trump's favorite meme maker Carpe Donktum was briefly suspended from Twitter  moments after he shared another clip from the Project Veritas investigative report which featured a CNN media coordinator. When his Twitter account was reinstated, Donktum questioned why his account was banned based on a 21-month-old video "literally a minute" after he shared the Project Veritas video clip.