India is often described as "the world's largest democracy" – at least in terms of the number of citizens and the country's formal political system – but the reality, as with many democracies around the world, is far more complex and complicated.
To make matters worse, India is one of those countries that have long-standing territorial disputes with neighbors, associated with ethic and/or religious strife – and now in the digital age and the omnipresence of social media, all this creates a turbulent mix.
Kashmir, specifically, has been the cause of protracted trouble between India and neighboring Pakistan – a politically and security-wise unstable region that the Indian government always has the ambition of controlling more tightly.
The real-world trouble, and extreme sensitivities and tensions linked to territorial disputes, that perhaps only those with first-hand experience can fully appreciate, are unsurprisingly spilling over to the online realm – specifically, to Twitter, as the Committee to Protect Journalists (CPJ) writes.
The committee suggests that the Indian government has been involved in a systematic effort to control information and media outlets originating in Kashmir.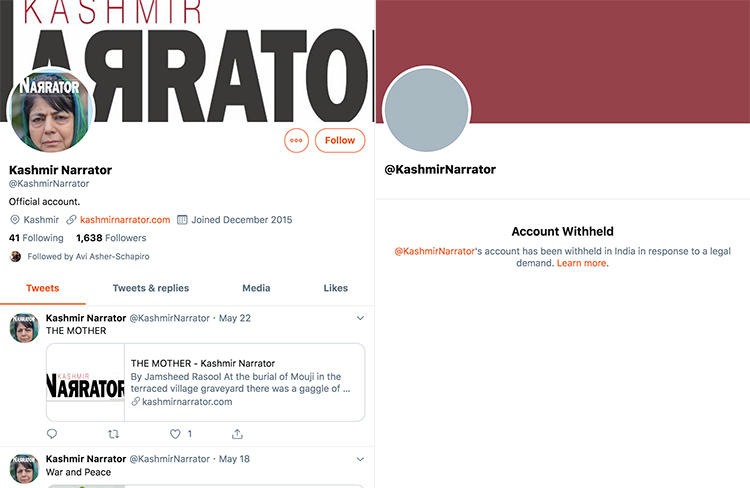 One case involved a story by a local magazine, Kashmir Narrator, that from the Indian government's perspective gave a platform to a terrorist – resulting in the arrest of the journalist who authored the article, and in Twitter "withholding the magazine's account in India, blocking local access to more than 5,000 tweets."
As the situation on the ground deteriorated in August this year, so did that on the internet: according to CPJ, "the Indian government continued to reach beyond its borders and enlist Twitter to censor accounts sharing news and information."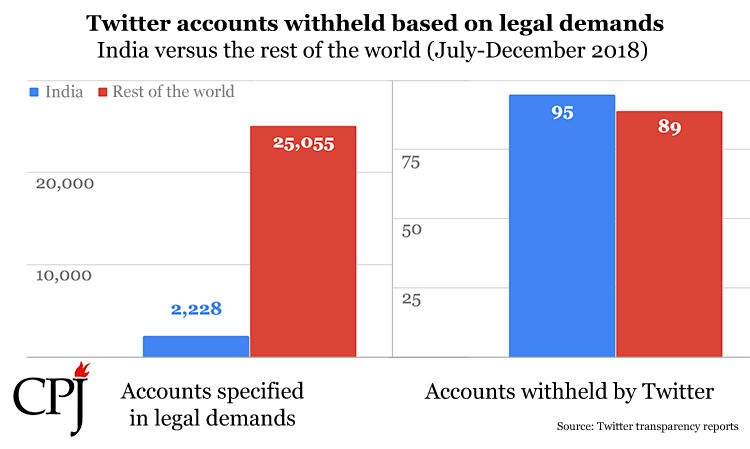 The non-profit writes that legal notices asking Twitter to censor information coming out of Kashmir resulted in hundreds of thousands of blocked tweets since 2017.
However, Twitter's willingness to work within the confines of the law of the land, it seems, is not absolute: while the company "does not comply with every request" – "more accounts were withheld in India in the second half of 2018 than in the rest of the world combined," Twitter's own transparency reports have revealed.
According to CPJ, a "withheld" account means that users can still post to them, as they are blocked only in the territory covered by local laws. This is different from suspended accounts that break Twitter's own rules, rendering them unavailable worldwide.
Twitter responded to CPJ queries by saying that "many countries have laws that may apply to tweets and/or Twitter account content."
"There is a transparent process for governments or authorized legal entities around the world to submit requests to Twitter," a spokesperson said.
However, CPJ quoted experts who said the social media platform was "not transparent about how hard it pushes back against censorship requests."