A post by an Irish Catholic bishop has been deleted by Twitter for criticizing the country's emerging pro-euthanasia policies.
Given that the anti-euthanasia view holds true to core tenets of the Church, the bishop's criticism should simply have been an exercise in freedom of religion and free speech associated with it, regardless of the subject, but that consideration didn't seem to play a role when Bishop of Elphin Kevin Doran's tweet got removed.
Sunday Times Columnist David Quinn said that the bishop had been "barred" from Twitter (his account remains, but he is apparently unable to post). The tweet in question has been removed because the term "assisted suicide" was used to describe euthanasia.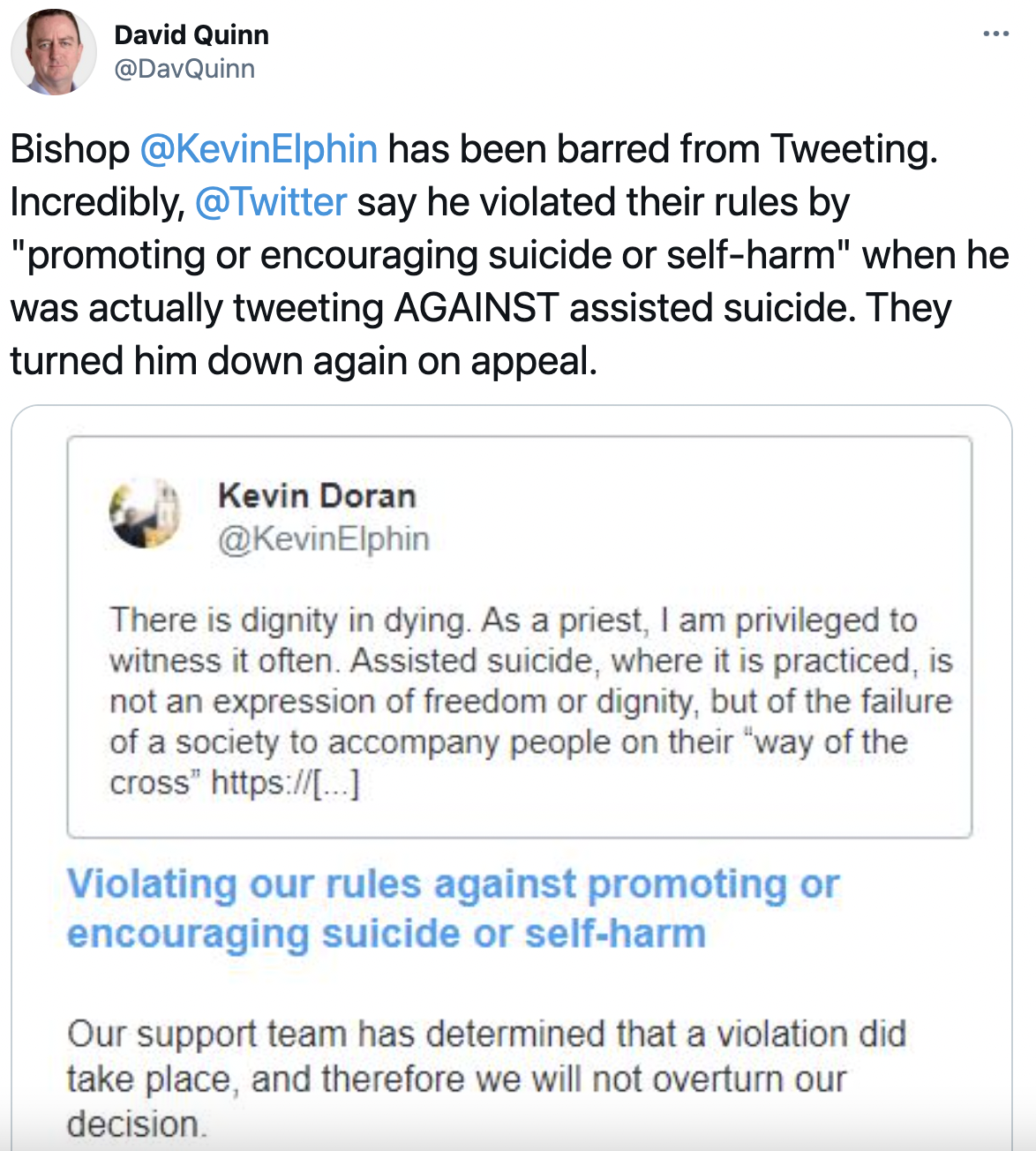 And even if euthanasia is just that – and Twitter is very proud to toot its horn as the sensitive and sensible, woke platform that clamps down on promotion and encouragement of self-harm, including its ultimate form, suicide – the tweet, even though it opposed it, got banned.
Often, when such illogical censorship occurs, it is put down to bad algorithms that recognize words and phrases without proper context. But a Twitter note reveals that the bishop appealed, and Twitter's "support team" looked again, but again found that speaking out against suicide, assisted or otherwise, violated none other than those rules aimed against "promoting" suicide.
This censorship incident comes just as the Irish authorities are trying to win over public support – but apparently failing – for a bill dubbed "Dying With Dignity" that would institutionalize euthanasia in that country.
The idea is strongly opposed not only by the Church, but also by groups like Palliative Care, who see the bill tabled by the left as "deeply flawed," while others warn that it carries an unacceptable potential for abuse.
This prompts a broader conversation of how giant social media might be attempting to influence and sway, i.e., interfere in internal affairs and manipulate public opinion in various countries – either by promoting certain ideas and movements, or suppressing and marginalizing others.
In Ireland, Big Tech took a clear pro-abortion stance and enforced it during a controversial political and social moment around a referendum in 2018.