Twitter locked President Trump's official campaign account and prevented it from tweeting until it deleted a tweet featuring a clip of Trump calling for schools to be reopened during a Fox News interview.
The tweet was already made unavailable earlier today, meaning that it's no longer publicly visible, but Twitter still forced the Trump Campaign account to delete it in order to be able to tweet again.
Earlier today, the clip was posted to President Trump's Facebook page and the Trump Campaign Twitter account with Trump then retweeting the clip from his Twitter account.
In the clip, Trump said his view is that schools should be open and that children are "almost immune" from the coronavirus.
But Facebook took issue with Trump's statements, branded them "coronavirus misinformation," and took his post down.
Twitter followed suit by making the tweet from the Trump Campaign account unavailable and displaying a message that says: "This tweet is no longer available because it violated the Twitter Rules."

This had the effect of removing the video from Trump's retweet and instead, just displaying a link to the unavailable tweet.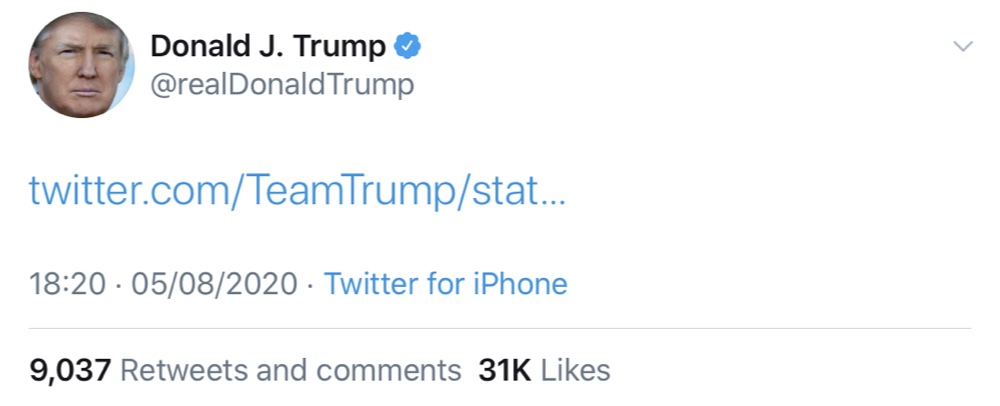 The removal of the clip represented an escalation in Big Tech's censorship of Trump with social media platforms not only censoring his direct social media posts but now also censoring the statements he makes to the media.
Now in yet another escalation, Trump's campaign account was restricted based on this same clip.
The restrictions that are being placed on the Trump Campaign account are the latest of several examples of the increasingly prevalent censorship of the President on social media.
Before May 26, none of the major social media platforms had censored or editorialized Trump's posts for violating their rules, with the only removals of his posts being due to copyright claims.
On May 26, Twitter fact-checked Trump for the first time and then followed it up by censoring one of his tweets and hiding it behind a warning label a few days later.
Since then, Facebook has added info panels to Trump's statements, Twitter has censored more of his tweets, and this pattern of Big Tech platforms obstructing the President's statements is becoming increasingly pervasive less than three months before the 2020 US presidential election.