Twitter says it has suspended Congresswoman Marjorie Taylor Greene's personal Twitter account for sharing COVID "misinformation."
The Georgia Republican rep's account @mtgreenee was deleted today.
Greene is one of the rare elected politicians to have their personal account banned by the social media platform as Twitter gets more brazen with its approach to censoring specific voices.
It is not yet clear what specific statement Twitter used as a reason to shut down Greene's account but Green's statement suggests that it was for posting data from VAERS, the official database that collects information on adverse vaccine reactions.
In a statement posted to alternative social media platform GETTR, Greene said: "When Maxine Waters can go to the streets and threaten violence on Twitter, Kamala and Ilhan can bail out rioters on Twitter, and Chief spokesman for terrorist IRGC can tweet mourning Soleimani but I get suspended for tweeting VAERS statistics, Twitter is an enemy to America and can't handle the truth."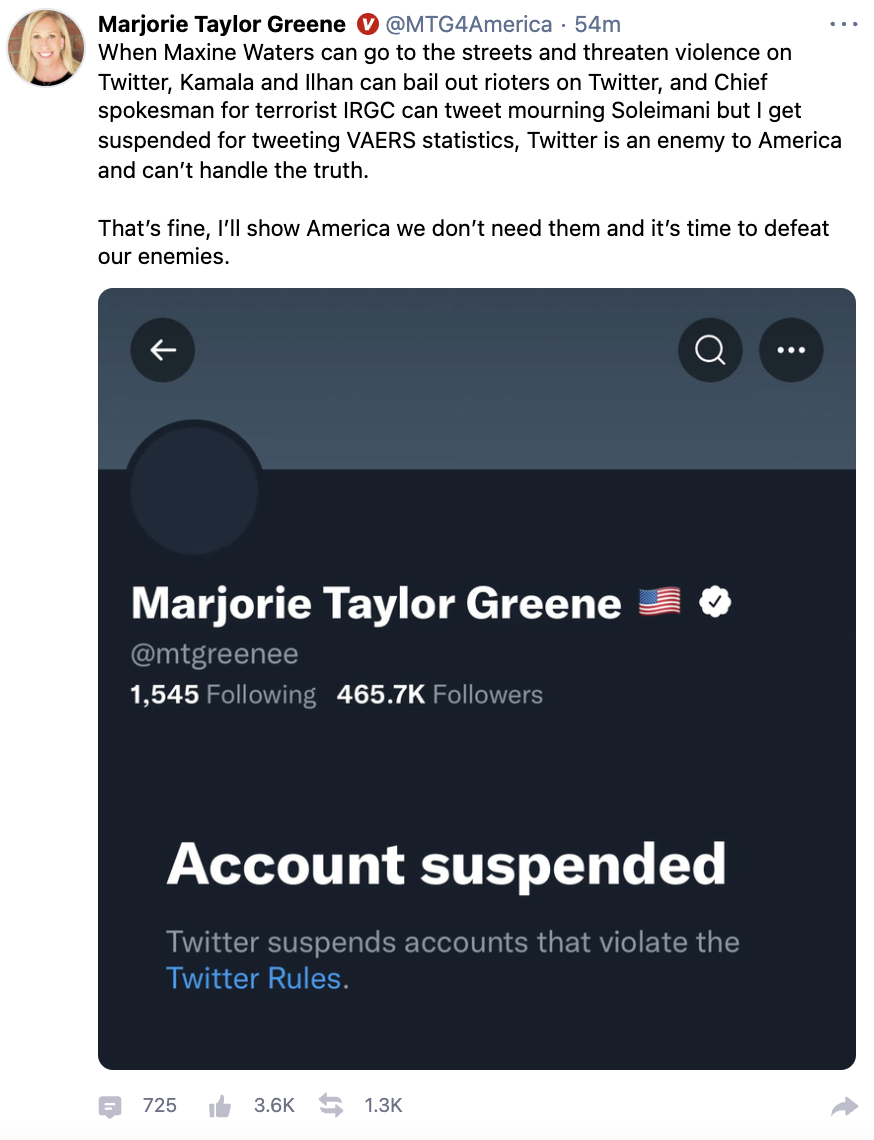 Greene's suspension came almost one year after the banning of President Donald Trump from the platform.
In a statement Twitter said, "We permanently suspended…@mtgreenee… for repeated violations of our COVID-19 misinformation policy. We've been clear that, per our strike system for this policy, we will permanently suspend accounts for repeated violations of the policy."
Twitter said that Greene had five "strikes" on her account which, under the current rules, means her account will never be restored.
Twitter apparently gave Green her fourth strike in August when she said that the vaccines were "failing," as they weren't stopping the spread of COVID.
She had a third strike just weeks before when she had said that COVID was not particularly dangerous for those who weren't over the age 65 or those who aren't obese.
Last month, Twitter had faced calls from activists to shut down Greene's account after she spoke out against school shutdowns.
"Every single year more than 600,000 people in the US die from cancer. In 2021, an estimated 608,570 people will die of cancer in the United States. The country has never once shut down. Not a single school has closed," Greene had said.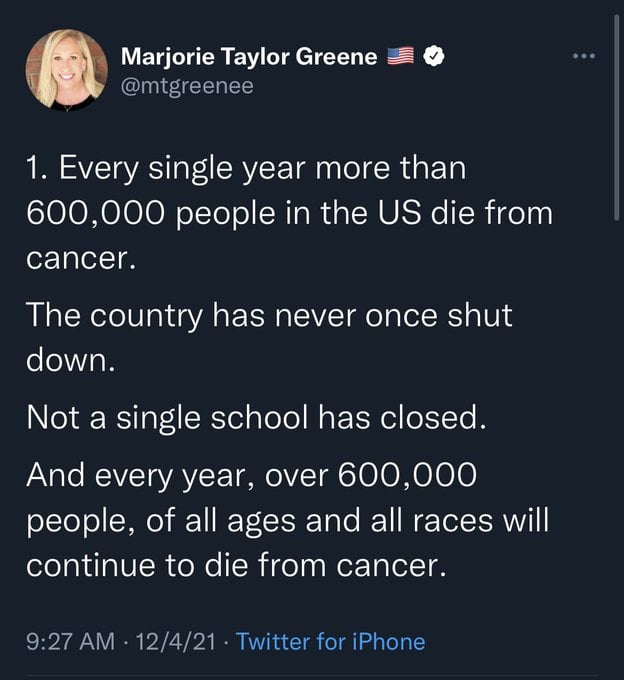 Congresswoman Greene is no stranger to Twitter censorship. She has been locked out of her account on at least four occasions in the past.