The UK government has introduced a new law that forces some businesses to refuse entry to customers unless they download and use the government's contact tracing app or hand over their personal data. Fines of up to £4,000 ($5170) can also be issued for non-compliance.
Under the new law, "The Health Protection (Coronavirus, Collection of Contact Details etc and Related Requirements) Regulations 2020," UK citizens that want to use bars, cafés, pubs, restaurants, and even workplace cafeterias, from today, will be legally required to hand over several pieces of personal information to enter.
This personal information includes their name, contact information (which can include a phone number, email address, or postal address), and the date and time they entered the premises. If people want to enter as part of a group, they'll also have to provide details of how many people are in their group.
Additionally, businesses have to keep a record of the names of the members of staff together with the names of the customers they interacted with when providing service.
Then from next Thursday (September 24), when the UK National Health Service (NHS) launches its contract tracing app, businesses will be required to display government-issued QR codes and people will be required to use the NHS contact tracing app and scan these codes or provide the personal information listed above to enter the premises.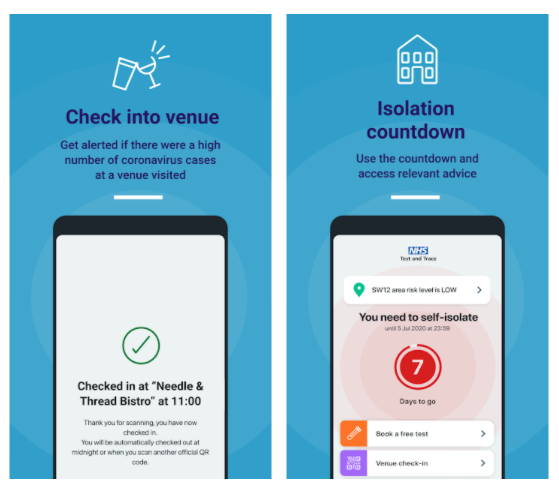 The law requires these businesses to deny entry to people that refuse to scan the QR code or provide their personal information.
Additionally, the law lists other businesses that are legally required to display QR codes and collect personal information from those that don't scan QR codes including "leisure and tourism services" (such as casinos, clubs providing sporting activities, hotels, leisure centers, swimming pools, music recording studios that are open to the public, and public libraries) and "close physical contact services" (such as barbers, beauticians, dress fitters, hairdressers, nail bars and salons, skin and body piercing services, tailors, sports and massage therapists, and tattooists), and "services provided for social, cultural and recreational purposes" (such as community centers and village halls).
However, these other businesses have an exemption to the legal requirement to refuse entry.
Businesses that fail to comply will be fined £1,000 ($1300) and up to £4,000 for repeat offenses. Local authorities can also send police to the businesses' premises as a "last resort."
UK Health and Social Care Secretary Matt Hancock said it's "vital" for these government contact tracing measures to reach "as many people as possible to prevent further transmission of the virus."
The introduction of the law follows UK Prime Minister Boris Johnson announcing coronavirus passports last week. Under this COVID passports scheme, people who test negative for the coronavirus will be given a "passport to mingle with everybody else who is similarly not infectious."
Before the publication of this new law, the UK's coronavirus contact tracing and testing schemes have been mired in privacy controversies.
The original version of the NHS contact tracing app was scrapped in June after reports that it breached the General Data Protection Regulation (GDPR) and stored personal user data for 20 years.
In July, the UK government admitted that its contact tracing program had been operating illegally by failing to perform legally required data protection checks.
And earlier this month, it was discovered that the UK government is sending data to a credit agency when citizens request a coronavirus test.
Despite the major privacy concerns, contact tracing isn't the only digital tracking system the UK government is pushing ahead with. A digital ID system that feeds into user data from the web has also been proposed this month.
And as these proposals and laws continue to mandate more data harvesting as a requirement to access businesses and their services, those that raise concerns about the government's coronavirus response being used to erode people's civil liberties are swiftly censored.