YouTube has blocked Indian news outlet WION from uploading videos for allegedly "trivializing the Russia-Ukraine war." The channel was accused of violating community guidelines by posting videos that showed "glorification or promotion" of violence.
This has come as a shock to the outlet, as WION says that it only reported the same content that other mainstream outlets have reported.
This is not the first time YouTube has been criticized for its content moderation policies in the country. In the past, the platform has come under fire for censoring videos critical of the government.
WION said that the ban came after a video it posted on March 10 that featured the speeches from Russian Foreign Minister Sergey Lavrov and his Ukrainian equivalent, Dmytro Kuleba.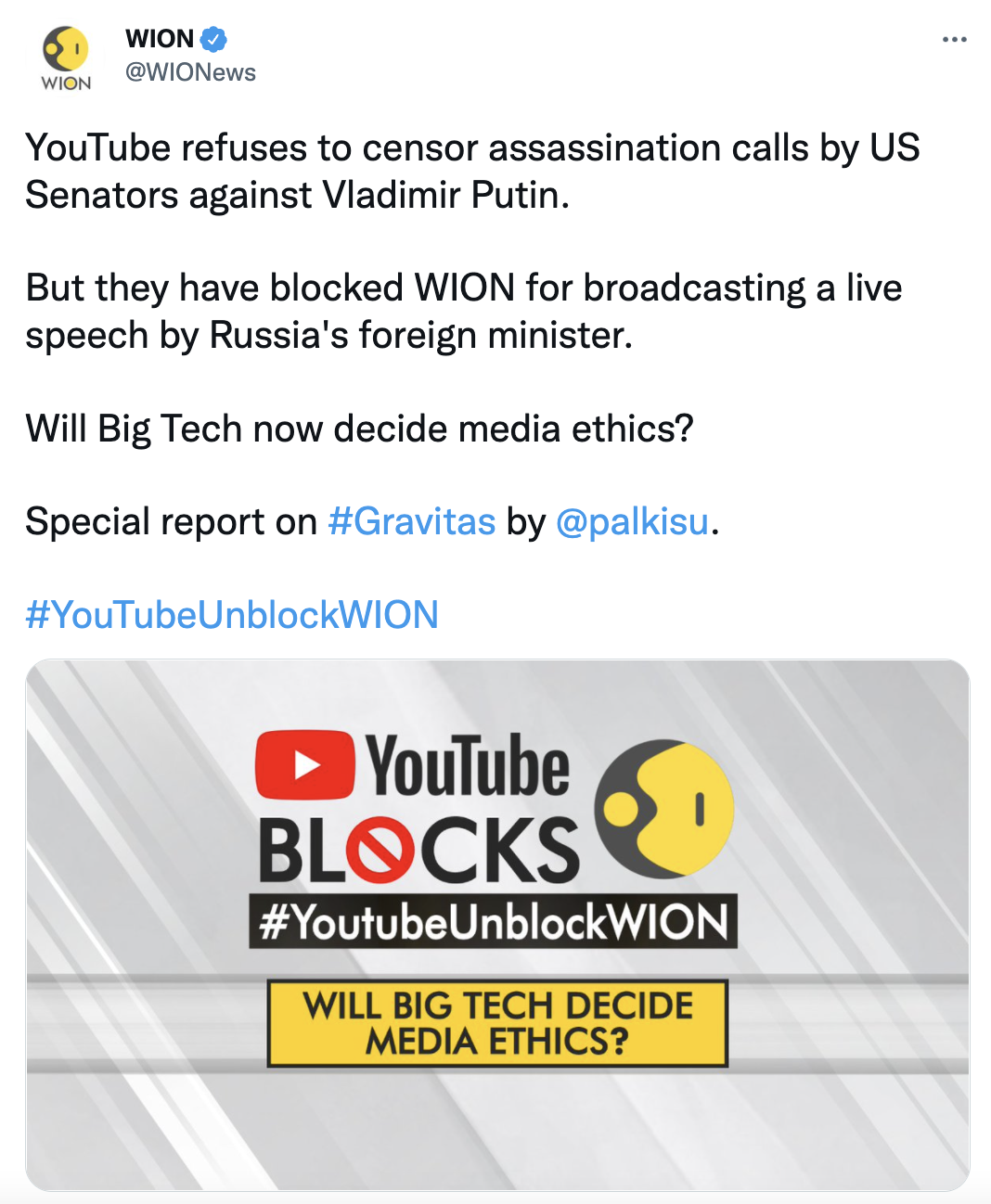 "We did not attack Ukraine," Lavrov alleged in that clip, trying to suggest that Russia was only responding to a "direct threat."
YouTube said that it does not "prohibit content denying, minimizing, or trivializing well-documented violent events, including the Russian invasion of Ukraine."
"Under this policy, we have removed content, for example, denying that Russia invaded Ukraine or alleging that Ukrainian victims are crisis actors," a YouTube spokesperson said.
WION said that it only shared a clip of the Russian minister's statements and was not endorsing them. It also said that the Ukrainian equivalent was also given a voice.
WION highlighted that Lavrov's speech had also been posted on YouTube by other news outlets but they weren't punished in the same way. "This treatment was reserved only for WION – a channel from India," WION's statement said.
"WION neither believes in censorship nor in telling half the story. Apparently, that's what YouTube wants. Block out everything Russia says, promote everything the West says. WION does not subscribe to that sort of journalism. Its objective is to remain balanced," it added.
WION says it is known for providing accurate and unbiased reports on news from around the world. The channel has a large following in India and abroad, and this move by YouTube is sure to cause an uproar among its viewers.
It remains to be seen how long the channel will remain blocked and whether YouTube will reverse its decision in the face of public pressure.