Since implementing its flawed "freedom of reach, not speech" policy, X has consulted with several pro-censorship entities, including the Center for Countering Digital Hate (CCDH) and digital ministers that support censorship laws.
And on Tuesday, the CEO of the platform formerly known as Twitter spoke with yet another group that advocates for silencing online speech — the Anti-Defamation League (ADL).
According to ADL CEO Jonathan Greenblatt, X CEO Linda Yaccarino had a very "frank" and "productive" conversation with him about where X "needs to go to address hate effectively on the platform."
Greenblatt added that Yaccarino reached out to him to initiate the conversation.
Despite X seemingly being receptive to the ADL's calls to address "hate," Greenblatt warned that the ADL will continue to "reserve the right to call them out."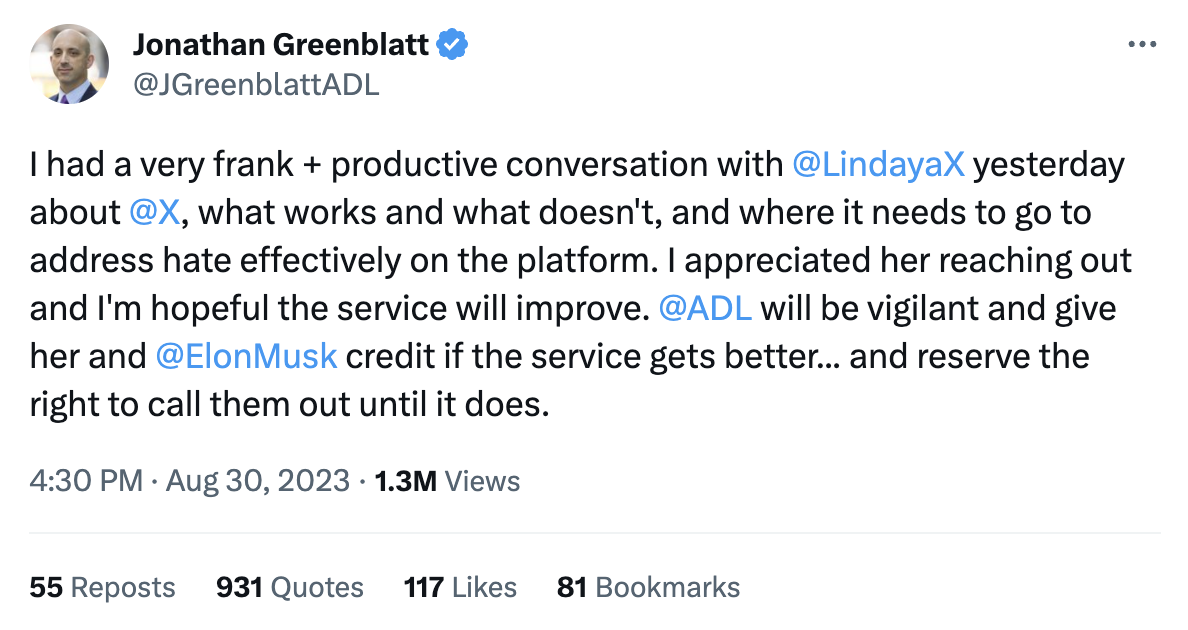 The ADL regularly advocates for online censorship and even wants this censorship to extend to the website infrastructure level.
And this isn't the first time X has discussed censorship with the ADL. In November, when X was known as Twitter and X owner Elon Musk was serving as CEO, Musk revealed that he'd consulted with the ADL and other pressure groups on combatting "hate" and preserving "election integrity."
Outside of its discussions with the ADL, X has recently beefed up its team that combat election "disinformation" and partnered with a company tied to a group that blacklisted conservatives.