YouTube has age-restricted a newly released video from "Kenosha Kid" Kyle Rittenhouse's legal defense team that highlights key events surrounding the August 25 shootings in Kenosha, Wisconsin and argues that the charges against him are being used to strip away the constitutional rights of all Americans.
As a result of the age restriction, the video is less likely to spread because people can't view or share it unless signed in and even when signed in, they have to provide an extra confirmation that they want to watch the video.
YouTube's recently announced changes that will require some users to hand over ID to watch age-restricted videos could also further restrict its reach.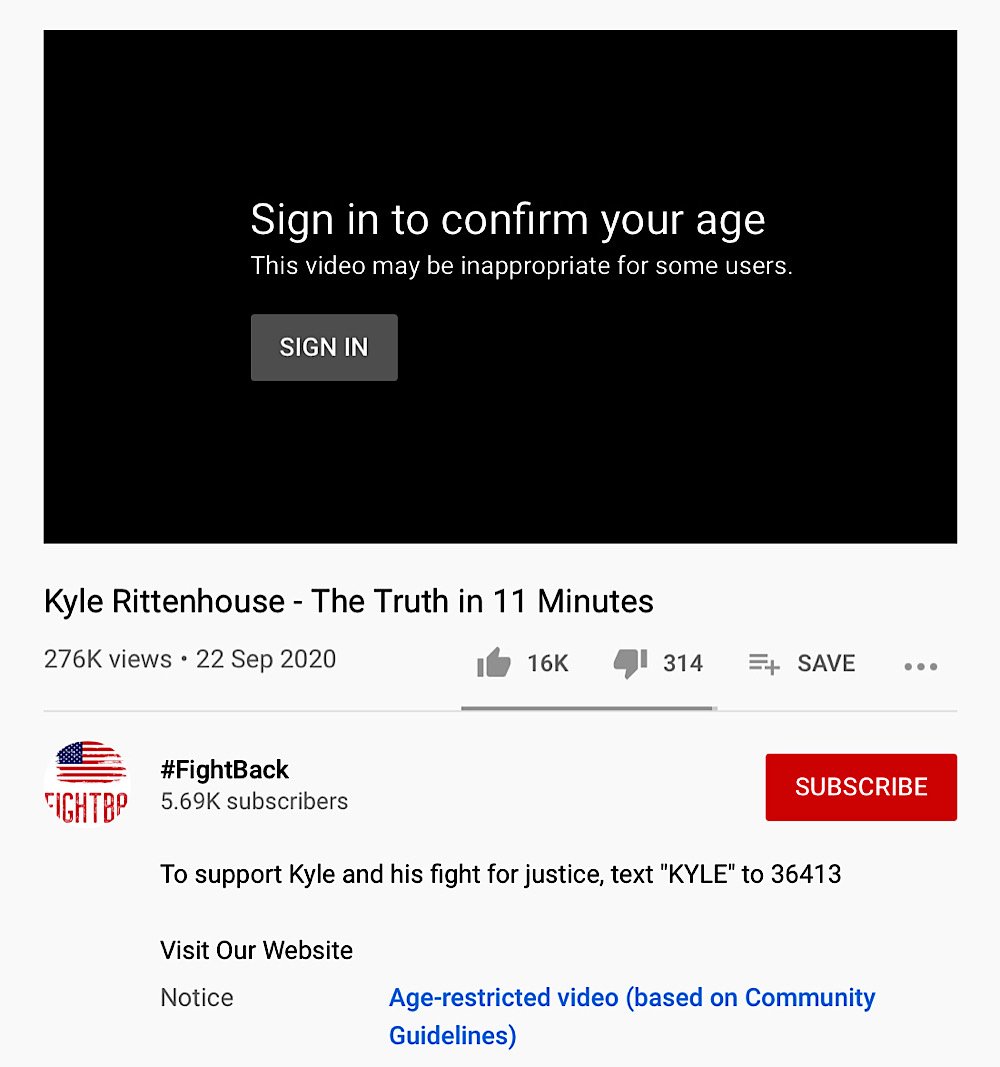 Rittenhouse was charged with murder after he shot at men who were pursuing him. The video, which is titled "Kyle Rittenhouse – The Truth in 11 Minutes," argues that the charges against Rittenhouse are an example of him being "sacrificed by politicians" and that the end goal of the charges against him is "to strip away the constitutional right of all citizens to defend our communities, our personal property, our lives, and the lives of our loved ones."
It also shows moments from the night of the shootings which include footage revealing that many of the protestors were armed, footage of Joseph Rosenbaum, one of the men that was shot and killed, acting aggressively towards a man guarding local businesses moments before he pursed Rittenhouse, and footage of a protestor calling for others to "cranium" Rittenhouse (street slang for shoot him in the head).
YouTube's reasoning for age-restricting the video is presumably that it shows footage of people being fatally shot. However, there are many other police brutality videos on YouTube that don't have the same age-restrictions applied.
The restriction of this video is the latest of many actions Big Tech companies and other large corporations have taken against Rittenhouse and his defense team that have restricted their posts and fundraising efforts.
Facebook has scrubbed Rittenhouse's name from search, removed posts that support him, blocked links to his fundraising campaign, threatened to ban users that show video of Rittenhouse helping protestors, and even branded the shooting a "mass murder."
Twitter has temporarily locked the accounts of two of Rittenhouse's defense lawyers, Lin Wood and John Pierce, shadowbanned Wood, and removed several tweets that support Rittenhouse.
Payments company Discover has also blocked donations to GiveSendGo, a Christian site that's hosting a Rittenhouse fundraising campaign, and fundraising platform GoFundMe shut down a Rittenhouse fundraising campaign while amplifying the campaigns of those who were shot.