In one of its most flagrant election-related censorship moves to date, YouTube has announced that from today, it will start removing any videos alleging that "widespread fraud, errors, or glitches changed the outcome of any past US presidential election."
For the 2020 US presidential election, YouTube is applying this policy to all videos uploaded on or after December 9. It will then start issuing strikes to videos that are uploaded after Inauguration Day (January 20, 2021) and then removed under this policy.
YouTube also revealed that it has already removed more than 8,000 channels and thousands of "harmful and misleading elections-related videos" under its existing policies.
This change means that any videos sharing or agreeing with President Trump's official legal argument, which alleges that Trump won the election and that there is evidence of widespread voter fraud that changed the result of the election, will now be purged from the platform.
YouTube has made this change while the President's legal team still has active legal challenges to the 2020 US presidential result, meaning that simply covering the arguments presented in these ongoing challenges could now be a violation of these rules.
YouTube claims that these changes are part of a longstanding "Presidential Election Integrity" policy that prohibits making similar allegations against any past US presidential election.
Yet mainstream media outlets on YouTube have been given free rein to question the 2016 US presidential election results and even allege that Russia hacked the election.
A video from MSNBC's Rachel Maddow discussing an unverified Donald Trump Russia dossier has over 1.7 million views on the platform. Other videos from Maddow and MSNBC titled "Maddow Explains Why Putin's Russia Hacked The 2016 Election" and "Could President Donald Trump Be A Russian Intelligence Asset?" also have hundreds of thousands of views.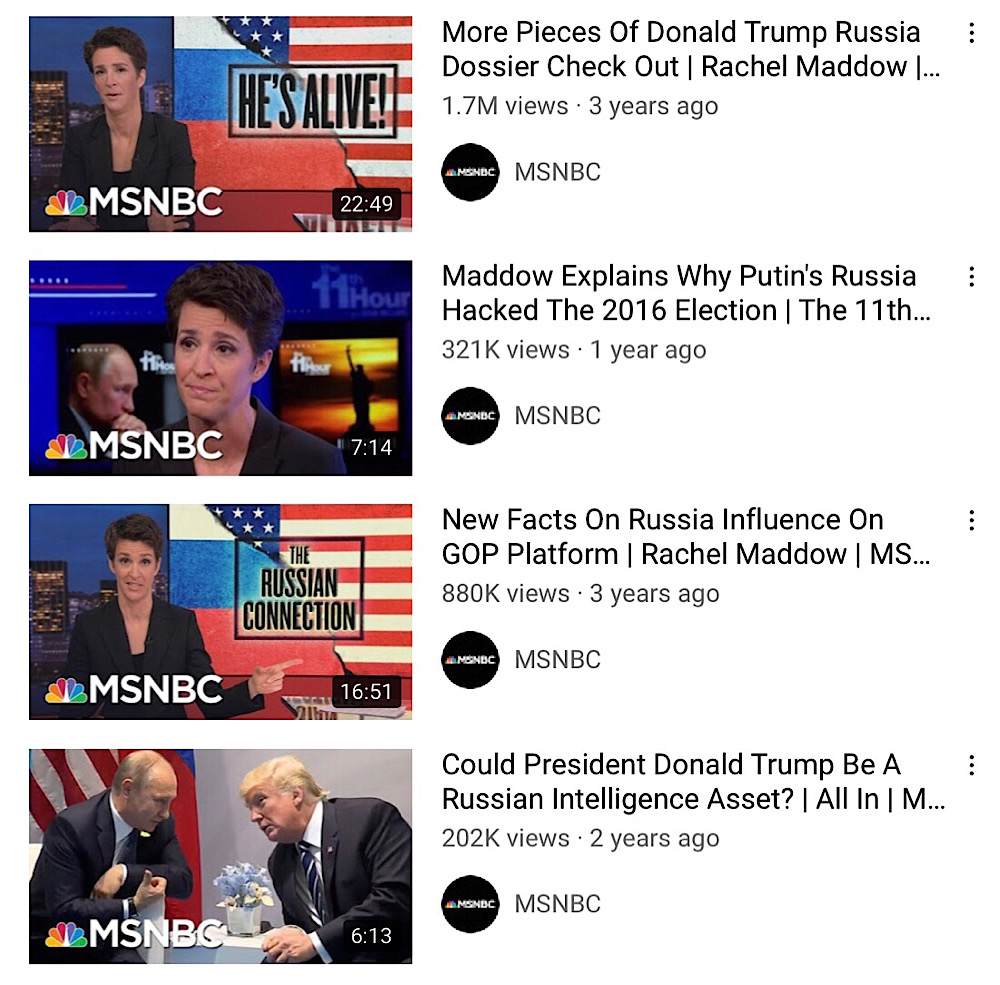 "*THIS* is the kind of censorship you would see in Russia or Communist China," journalist Kyle Becker tweeted in response to YouTube's announcement. "Don't think just because you're in 'America' that this isn't the same kind of thing. It is. Down-pointing red triangle."
YouTube revealed that it has already removed 8,000 channels and thousands of "harmful and misleading elections-related videos" for violating its existing policies. It added that its enforcement of this new policy will "ramp up in the weeks to come."
The mass, one-sided censorship that is likely to come about as YouTube enforces this policy follows other policy changes that have prohibited content that opposes mainstream narratives on topics such as coronavirus treatments, lockdowns, and more.
Doctors that advocate for coronavirus treatments that YouTube doesn't approve of, users that disagree with the World Health Organization (WHO) (even White House advisors), and users that oppose lockdowns, have all been purged from YouTube for violating these policies.