YouTube took down a video of Rep. Nicole Malliotakis unconditionally without warning or explanation.
The video consists of her news conference in which she announced her lawsuit against the Democrat mayor of New York City, Bill de Blasio, for implementing a vaccination passport system in the city.
YouTube reinstated the video shortly after being contacted by Reclaim The Net.
Following De Blasio's order for a COVID-19 Vaccine Passport mandate, Malliotakis has joined the fight against the affront to civil liberties.
The mayor wants to make it illegal for anyone without a vaccine passport to work at or patronize gyms, entertainment venues, and indoor restaurants.
Rep. Malliotakis issued a statement concerning the lawsuit challenging New York City's vaccination regulations.
"The Mayor's vaccine mandate is an overreach of government," said the Representative for Brooklyn/Staten Island . "The government should not be imposing such a mandate on its people and small business owners."
"We have received calls from countless individuals that we represent – both vaccinated and unvaccinated – who are concerned about sharing personal health information with individuals they don't know, or fearing they will be left out of society because their doctors recommended they do not get vaccinated due to other medical issues."
"It is beyond ridiculous that the government is mandating these already struggling small business owners to be the city's vaccine police."
YouTube was then used to publicize the lawsuit in New York City through a video post. However, the press conference was removed from YouTube, in what seems to be another flagrant act of censorship.
"I'm the latest victim of big tech censorship," said Malliotakis, as she posted on Twitter.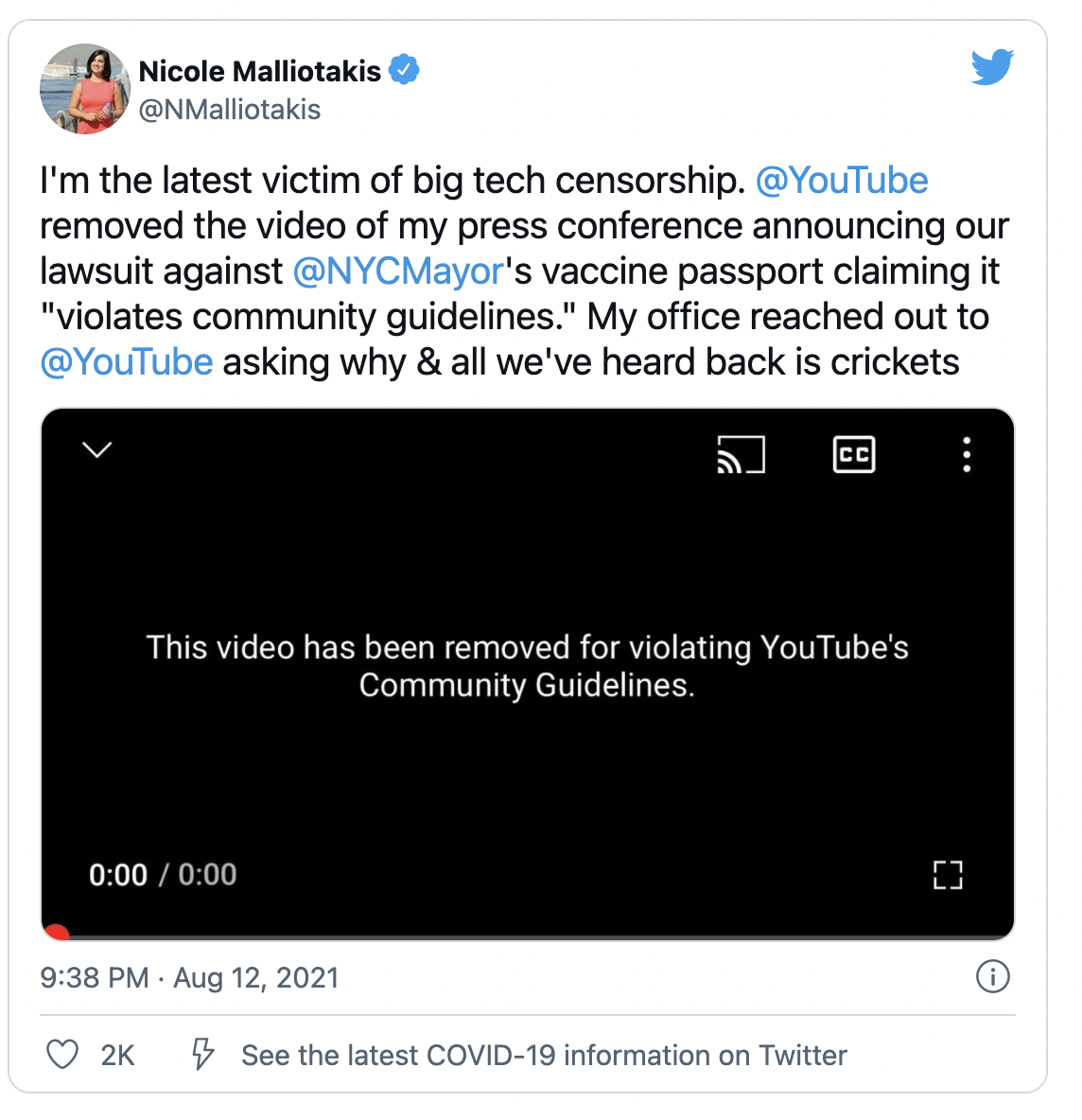 "YouTube removed the video of my press conference announcing our lawsuit against @NYCMayor's vaccine passport claiming it 'violates community guidelines.' My office reached out to YouTube asking why & all we've heard back is crickets."