Google-owned YouTube has removed several videos on Senator Ron Johnson's channel over coronavirus "misinformation."
The videos that were removed featured medical professionals testifying on the effectiveness of COVID-19 treatments. One video features Dr. Pierre Kory testifying in a Senate Homeland Security and Governmental Affairs Committee hearing. Wisconsin Senator Ron Johnson, a Republican, is the chair of the senate committee.
During the hearing, Dr. Kory talked about the effectiveness of Ivermectin, an anti-parasite medication used to treat scabies and other parasitic infections, in the treatment of COVID-19.
"In the last three to four months, emerging publications provide conclusive data on the profound efficacy of the anti-parasite, antiviral drug, anti-inflammatory agent called ivermectin in all stages of the disease," Dr. Kory said in the video.
"Social media censorship just ratcheted up to a new level. Google's YouTube removed two videos of doctors testifying under oath at my U.S. Senate hearing on early treatment of COVID. Another body blow to freedom of speech and expression. Very sad and scary. Where does this end?" Sen. Johnson said in a statement after the video was deleted by YouTube.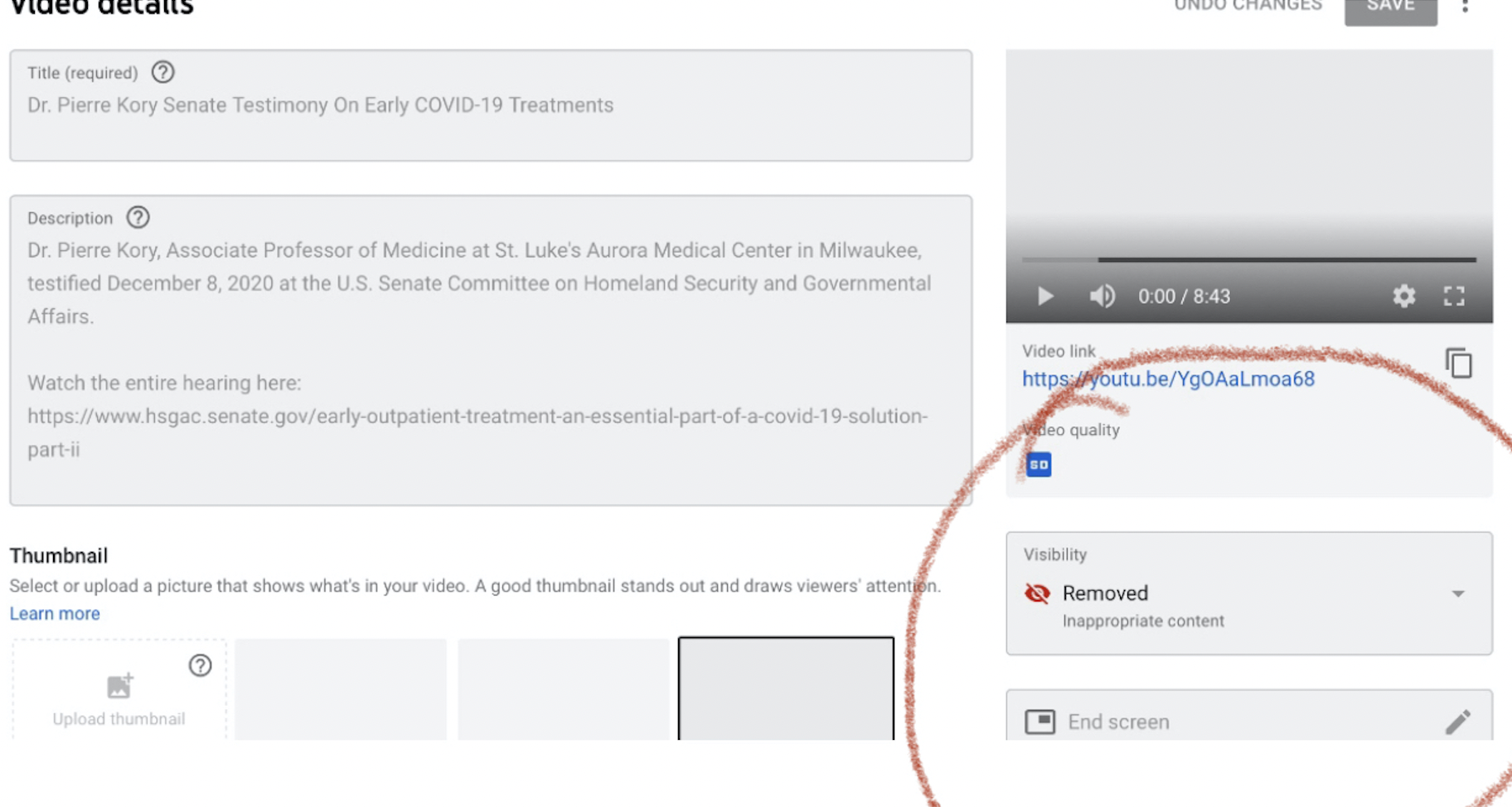 "Apparently, the 'doctors' at Google know more about practicing medicine than heroic doctors who have the courage and compassion to actually treat COVID patients and save lives," he added.
Google and other big tech platforms consider any coronavirus information not backed by the UN, WHO, and local public health bodies, such as the US CDC and FDA, as false information.
"YouTube doesn't allow content that spreads medical misinformation that contradicts local health authorities' or the World Health Organization's (WHO) medical information about COVID-19," a statement on Google's website says.
In a January 26 letter sent to YouTube content creators, the platform's CEO, Susan Wojcicki, said, since February 2020, the platform had removed more than half a million videos for violating the COVID-19 rules.
"It's a priority to continue to update our approach to responsibility so people find high-quality information when they come to our platform," Wojcicki wrote in the letter. "We're always working to strike the right balance between openness and responsibility as we meet the guidelines set by governments around the world."