Right Side Broadcasting Network, the company that's been on the ground broadcasting speeches and rally's of President Trump since back in the days of his candidacy for President, has had its YouTube live-streaming ability revoked.
"This is going to severely cripple our company and make it extremely difficult for us to survive in the lead up to 2020," Joe Seales, CEO of the Right Side Broadcasting Network, said this evening.
After amassing over 300 million views since the network started, and having been funded through "super chats" by the live viewers of the broadcasts, the network is now left with a message saying, "Your ability to livestream has been revoked."
Seales said that the company had been in-keeping with copyright law and YouTube's community guidelines, showing the backend of the YouTube dashboard to prove it. The section of the dashboard that usually shows any potential copyright or guidelines issues all show healthy ratings from the tech giant.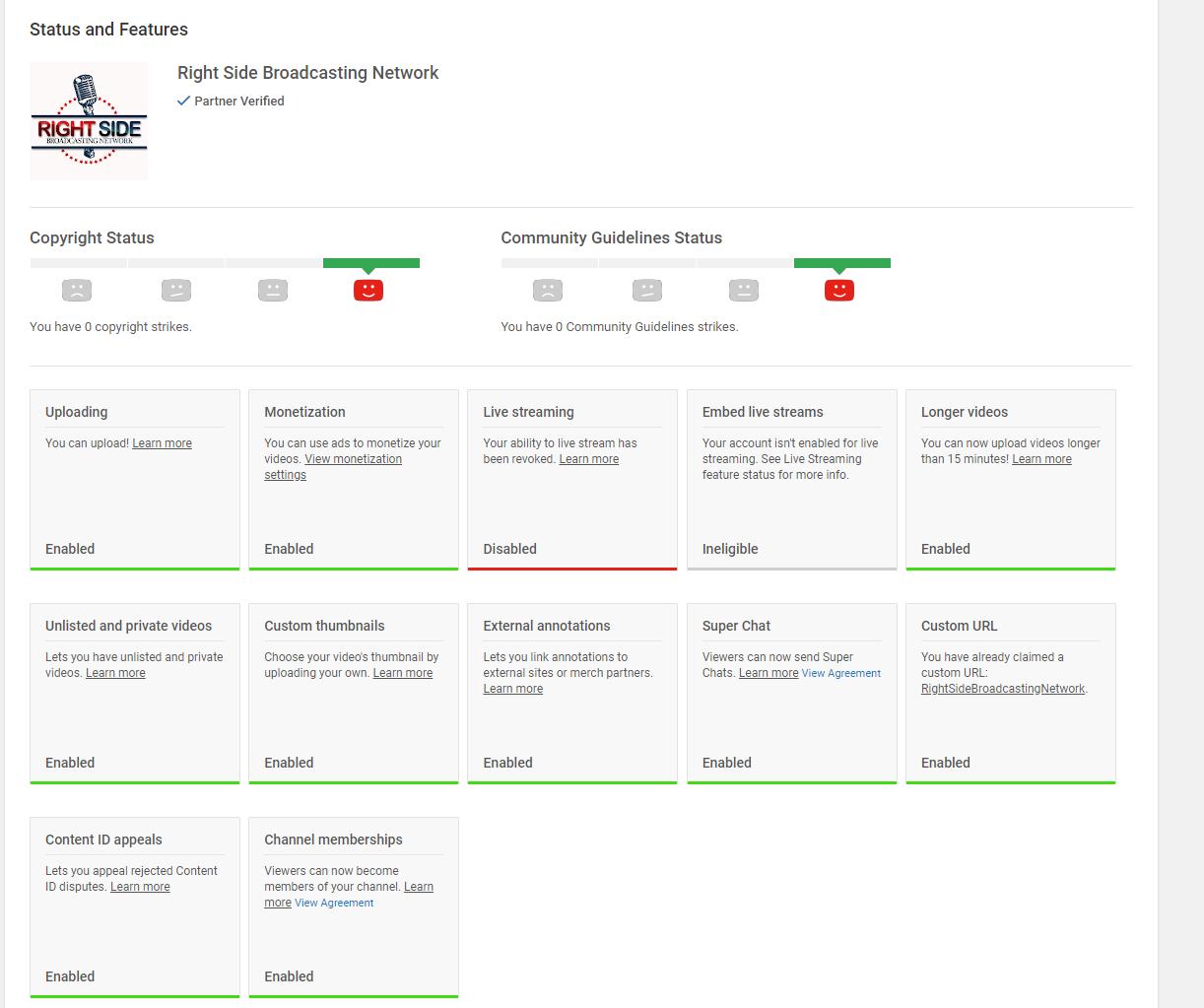 "They have given us no reason why we can't livestream, we received no communication or correspondence from them whatsoever.
"We want to know why…why are we not allowed to livestream anymore," Seales said. "All we do here at RSBN is cover the President of the United States…We worked with his campaign, helped him amass three-hundred plus million views.
"We don't want to say this is what this is but it feels like we're being targeted by YouTube," Seales said, "because we have been kept out of the search results now for the last several months…It's very hard to find our videos, especially when we're live. Also, our videos are constantly being demonetized, which is nothing new if you've been looking into big tech censorship."
YouTube has been facing increasing criticism in recent months – not just with accusations of the platform being biased against conservative content, but also from the community at large. YouTube demonetizing, downranking, and suspending channels – even when they don't break any of the rules – is an increasing concern for creators that earn a living from the platform.
For example, just last month, YouTube CEO Susan Wojcicki wrote, "We REDUCE the spread of content that brushes right up against our policy line," – suggesting that now, even when creators follow all of the rules, they may still get banned. Wojcicki has also said this year that news and commentary is a small part of the platform, which may suggest why YouTube isn't as interested in spending time keeping creators in that space happy – focusing on larger markets such as gaming instead.
The next Trump rally is Monday evening in Rio Rancho, New Mexico and, if RSBN doesn't get its livestream privileges back by then, it's going to make things very difficult for the company.
UPDATE/1.55 AM Eastern: comment from RSBN: "YouTube is working on the issue and we hope to be back up and able to live stream soon. We appreciate their help in the matter and will report back here when we hear of our streaming fate."