More love for the robots is coming their way – after the Borderlands 3 publisher announced it would take extreme measures, such as banning user accounts, in order to protect the gender identity of one of the characters – a robot – Google's YouTube has banned videos showing robots fighting, as "animal cruelty."
The tech giant then backtracked to call this moderating decision "a mistake" – and the website suggests that Artificial Intelligence (AI) algorithms are behind the flagging of this content – and behind its quick and efficient removal, in bulk.
Here is one of the videos that was deemed to be "animal cruelty":
The AI-powered machine learning that's used in these algorithms is often criticized as inefficient and "not quite there" yet – and this has been proven one more time as robots are mistaken for animals. On the other hand, if the algorithms learned one thing fast enough, it seems to be sticking up for their own.
All joking aside, these algorithmic errors sometimes cost creators a good chunk of their revenue, if time-sensitive videos get removed, even if they are later reinstated after YouTube realizes the error of its ways.
Not to mention the potential to abuse this type of flagging and moderation to silence and sensor unwanted political voices on the platform.
The fallout from this "robot cruelty" episode was creators like Jamison Go, a contestant in BattleBots – a US robot combat TV series – receiving a total of nine takedown notices from YouTube.
In a post on Facebook, Go suggested that hundreds of other videos featuring this "sport" had also been taken down, and urged their authors to appeal these decisions with YouTube.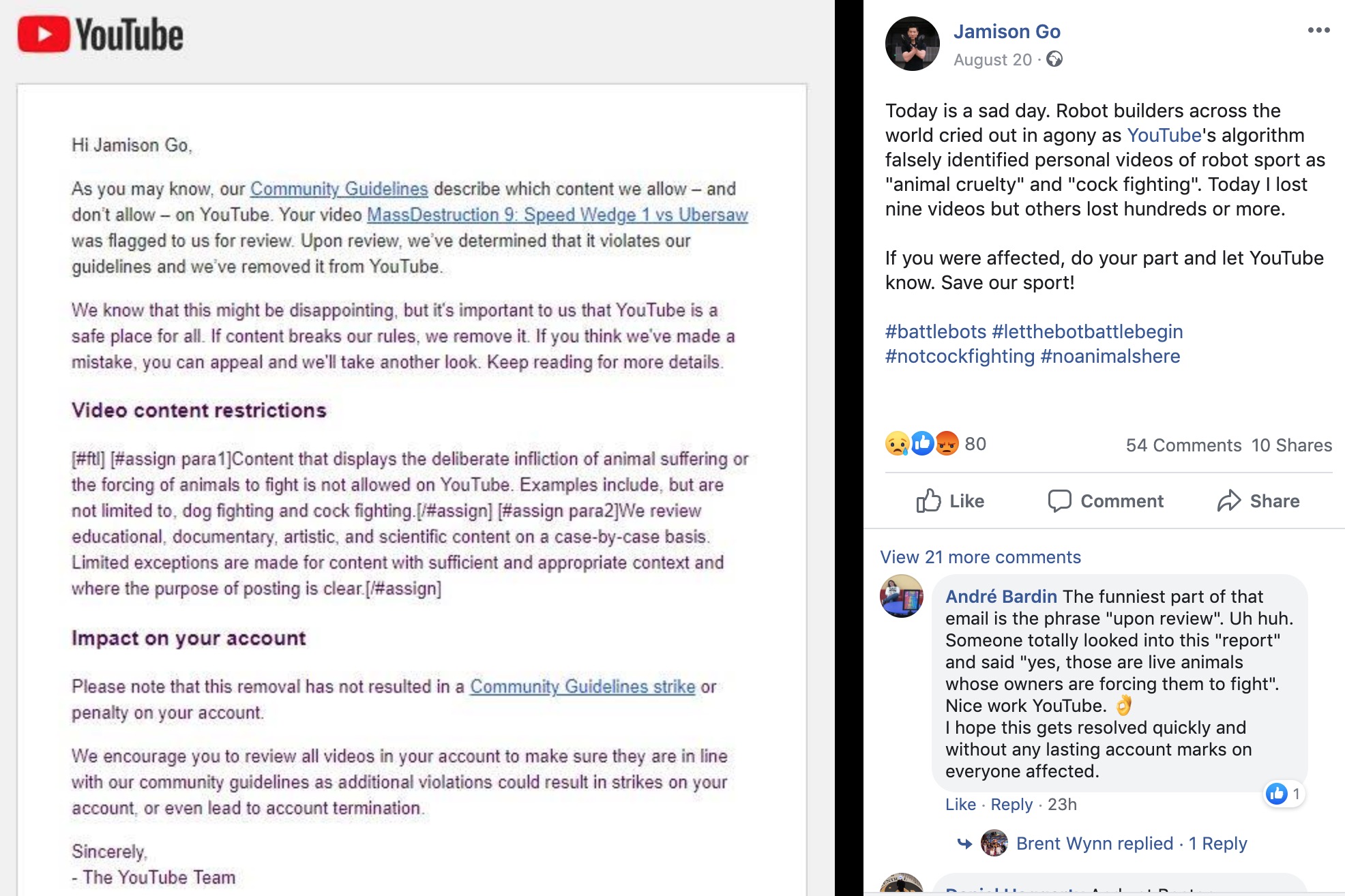 Another BattleBotts contestant and YouTuber, Sara Pohorecky, also received takedowns for similar content, plus, according to some reports, her channel, Maker's Muse, received a strike.
Speaking for Motherboard, she explained that about a dozen other creators had been affected and that the AI seemed to have been triggered not by the titles of videos or the names of robots – but by some robots having animal names.
Google said that the removal of these videos was a mistake and that they don't have a policy in place banning robot fights.