YouTube has temporarily suspended the Right Side Broadcasting Network (RSBN) for covering President Trump's recent speech at CPAC.
The network has recently had to self-censor in order to remain on YouTube after YouTube banned any conversations suggesting that the 2020 Presidential election was stolen from President Trump – a concern held by 68% of Republicans.
As the allegations are popular among conservatives, RSBN has had to censor its broadcasts multiple times, telling guests not to mention allegations of election discrepancies.
This week, RSBN received a strike for carrying President Trump's speech.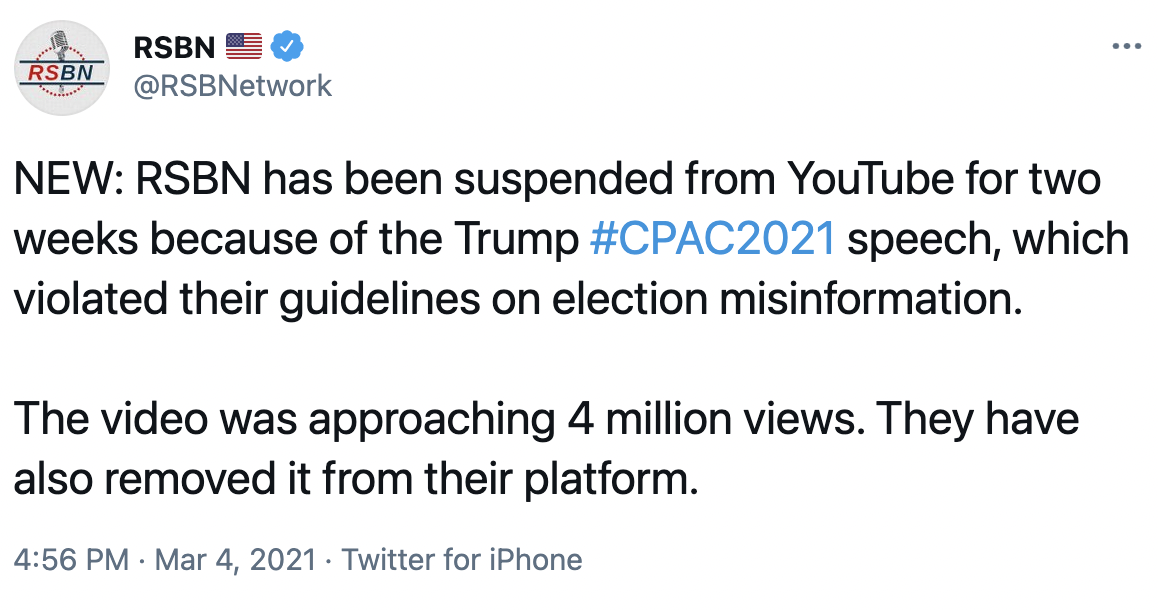 Violating YouTube's guidelines thrice results in permanent banning.
RSBN was founded in 2015 by Joe Seales. The conservative media company rose in popularity for live streaming Trump's rallies on YouTube. The over 3,000 videos on RSBN's YouTube channel have millions of views.
In a recent interview, RSBN's Liz Willis had to cut off Mike Lindell (aka MyPillow Guy) when he tried to steer the conversation to coronavirus vaccines.
"We have to be careful," Willis said to Lindell. "I hate to do it, you know I love you, but due to YouTube's guidelines, we will get our whole platform shut down if you talk about vaccines."
Following the Jan 6 riot in the US Capitol, YouTube updated its misinformation policies.
"Due to the disturbing events that transpired yesterday, and given that the election results have now been certified, starting today *any* channels posting new videos with false claims in violation of our policies will now receive a strike," YouTube announced on January 7.
The Google-owned platform is also clamping down on COVID-19 dissent. Those policies put the Pro-Trump YouTube channel in a very awkward position, especially since Trump himself has promoted the idea of election discrepancies and coronavirus information that goes against the World Health Organization, YouTube's north star.
Another example of an awkward moment was when RSBN's Mike Nificent was interviewing attendees of CPAC, held last weekend in Orlando, was asked by a woman about votes changing in Biden's favor.
"We can't go there," Nificent responded. "We'll lose our entire platform. We have to play by the rules."
RSBN reporters are not shutting down allegations necessarily because they do not believe them. They're being forced to do so to avoid Big Tech censorship.