YouTube, the video-sharing titan, has decided to suspend the Los Angeles Police Department's channel. The suspension was triggered by the LAPD's decision to share footage of an assault, aimed at garnering the community's assistance in identifying the involved suspects.
The LAPD stated, "We have appealed the suspension and have been denied," a sentiment shared in their post to X.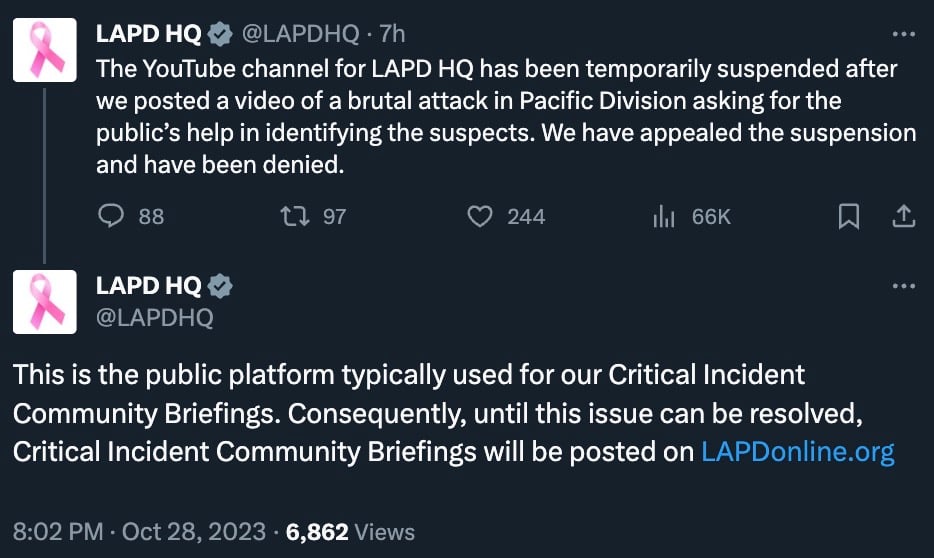 The altercation that led to the suspension occurred on September 28. The footage captured an unsettling scene near Speedway and Market Street, where a male victim had a chance encounter with two individuals armed with bicycles.
Out of the blue, one of the bicycle riders brandished a pair of bolt cutters, using them to launch a barrage of attacks—both punching and kicking—against the unsuspecting victim. After a brief hiatus, the attacker returned to deliver a final blow, knocking the victim unconscious with the same bolt cutters.
What was intended to be a genuine plea for public assistance has now evolved into a much larger discussion about digital platforms and their powers to disrupt police and community appeals.
With the LAPD's primary method of communicating Critical Incident Community Briefings rendered inaccessible, all such briefings are now set to be published elsewhere for the foreseeable future.