John Matze, the founder and CEO of free speech social network Parler, says that Apple has given him an ultimatum – ban "offensive" content off Parler or the Parler app will be banned from the App Store. Matze says he refused and now Apple is preventing Parler from updating its app.
Matze gave an update on the situation in a Parler post.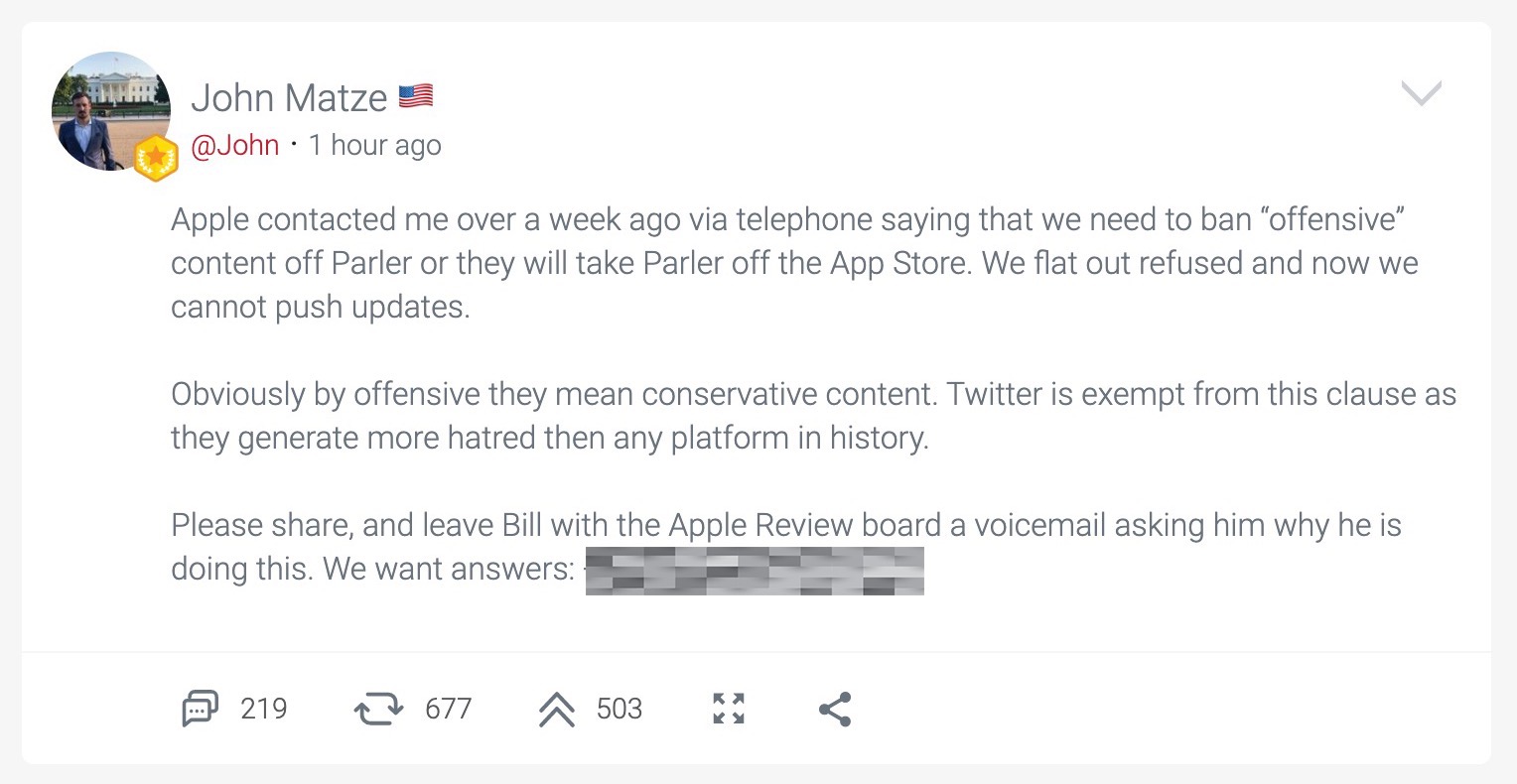 The post reads:
"Apple contacted me over a week ago via telephone saying that we need to ban "offensive" content off Parler or they will take Parler off the App Store. We flat out refused and now we cannot push updates.

Obviously by offensive they mean conservative content. Twitter is exempt from this clause as they generate more hatred than any platform in history."
While the term "offensive" speech is often used to discriminate against dissenting content, the fact that it's general and subjective is the real concern. If Apple is ordering Parler to remove "offensive" speech, it can also use this same reasoning to demand that any other third-party apps remove what Apple deems to be "offensive" speech in order to stay on the App Store.
Based on Matze's claims, Parler won't be able to push updates to its iOS app until the situation gets resolved which is unlikely if Parler stays committed to allowing "offensive" speech. This means the Parler iOS app will probably become unusable in September when Apple releases iOS 13, a new version of its mobile operating system, because app updates are usually necessary in order for them to continue working with the latest version of iOS.
This is the latest in a series of news stories suggesting that Apple is choosing which apps to accept and ban based on their content. Last week it was reported that Apple has an "executive review board" which bans apps that are "publicly sensitive" or could have a negative impact on Apple's publicity (these apps are reportedly referred to as "oh s**t" apps inside Apple). It was also discovered that Apple is blocking certain channels inside the popular messaging app Telegram for sharing what it classifies as "defamatory, discriminatory, or mean-spirited content."
This pattern of censorship falls in line with the words of Apple CEO Tim Cook who recently said that tech companies should accept responsibility for what he deems to be "hate speech." Last year, Cook also said that "hate" has no place on Apple's platforms.
The suggestion that Apple is issuing ultimatums like this to app developers adds to the ever-increasing antitrust scrutiny Apple is facing for the way it manages its App Store and many developers are now calling for antitrust action against Apple.
Surprisingly, even though Apple and other big tech companies are facing immense pressure from regulators, they seem to be doubling down and using their dominant market positions to engage in increasingly egregious acts of censorship.
Update – June 26, 2019: Apple has now allowed Parler to update its app. Matze claims that Apple is doing this to buy time and ban Parler when it's more convenient.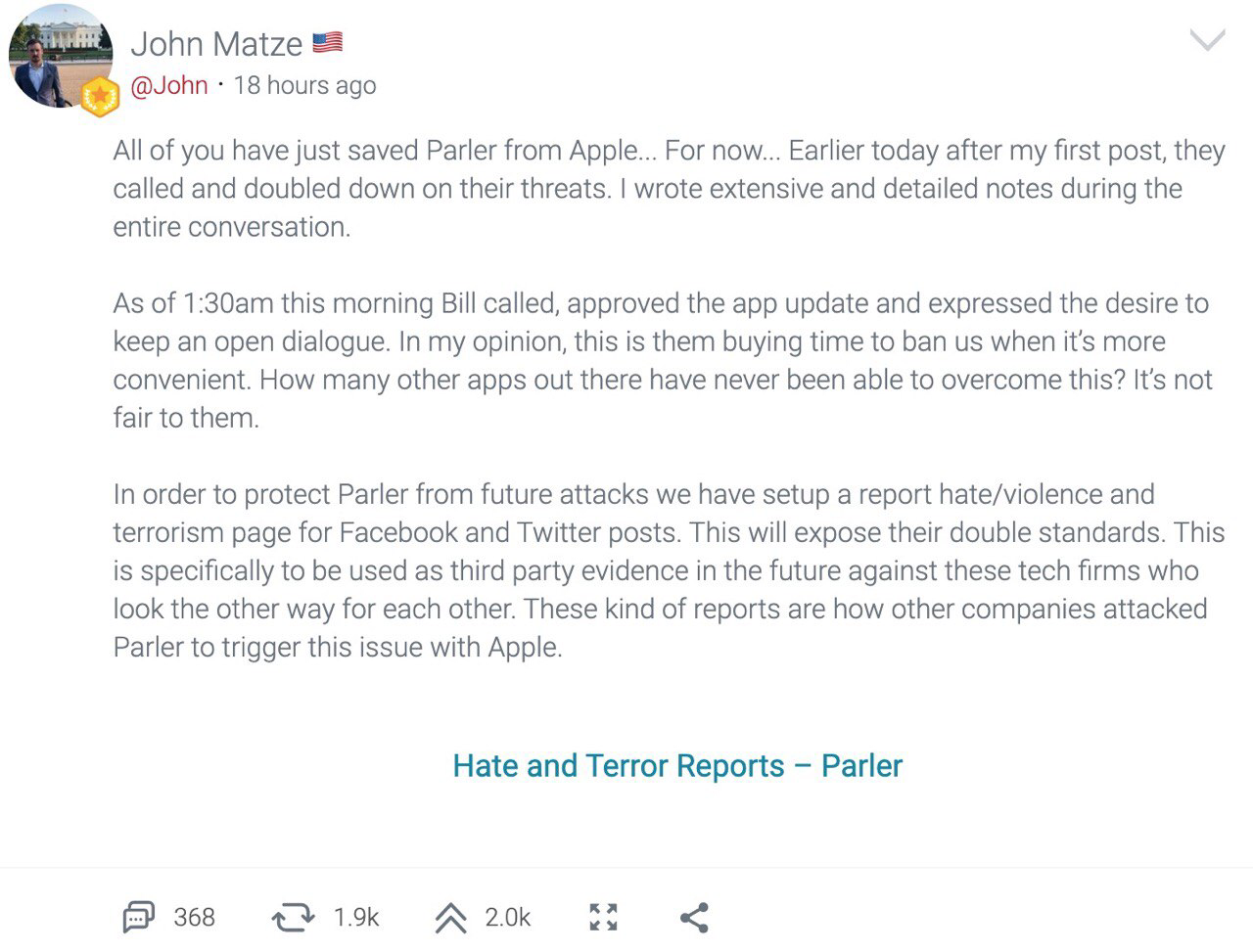 His post reads:
"All of you have just saved Parler from Apple…For now…Earlier today, after my first post, they called and doubled down on their threats. I wrote extensive and detailed notes during the entire conversation.

As of 1:30am this morning Bill called, approved the app update and expressed the desire to keep an open dialogue. In my opinion, this is them buying time to ban us when it's more convenient. How many other apps out there have never been able to overcome this? It's not fair to them.

In order to protect Parler from future attacks we have setup a report hate/violence and terrorism page or Facebook and Twitter posts. This will expose their double standards. This is specifically to be used as third party evidence in the future against these tech firms who look the other way for each other. These kind of reports are how other companies attacked Parler to trigger this issue with Apple."