What do Silicon Valley oligarchs and weary tech pioneers alike dream of? Until recently, the answer may have been New Zealand.
However, whether fictional or real – whether mentioned on HBO's Silicon Valley TV series, or in real life struggles of people like Kim Dotcom – over time, the earthly destination seems to have been losing some of its luster as a safe haven for free digital entrepreneurship and expression, solidly based in local law.
This impression has not been helped in the wake of a gunman choosing to storm two mosques in Christchurch, New Zealand last week, proceeding to shoot and kill a total of 49 people attending Friday prayers – while repercussions of this murderous act on the freedom of speech and expression on the web have reverberated across the world immediately in the wake of the deadly incident.
This happened not only because the shooting was streamed live on Facebook, earning it the title of the first internet native mass shooting – but also because the footage of the crime proved difficult to block and/or eradicate quickly enough from some of the web's most visited and visible social sites, including Twitter, YouTube, and Reddit.
But now these digital restrictions are also being mirrored in neighboring Australia, with internet service providers (ISPs) Australia with companies like Telstra and Vodafone cutting off access to entire websites, including news sites – taking it upon themselves to begin censoring without any legal precedent.
Australia internet providers have blocked Voat, ZeroHedge, Archive.is, LiveLeak and others, thus directly contravening civil liberties.
Telstra, the leading ISP in the region, said, in a statement that sounds like it came out of The Soviet Union, the following:
"We have moved to temporarily block a number of websites that continue to host footage of Friday's terrorist attack in Christchurch. We understand this may cause inconvenience for some legitimate users of these sites but these are extraordinary circumstances and they required an extraordinary response.

We appreciate that it is necessary to ensure free speech is carefully balanced against protecting the community – but with these sites continuing to host disturbing content we feel it is the right thing to do to block them.

These are shocking events and the idea that this footage could in some way be used to incite or support hate is a sickening thought. We will continue to do whatever we can to assist and to support a diverse and inclusive community."
Matt Barrie, CEO of two of Australia's most successful and renowned digital companies Freelancer.com and Escrow.com, tweeted his frustration with ISPs taking an authoritarian approach in the wake of the attack: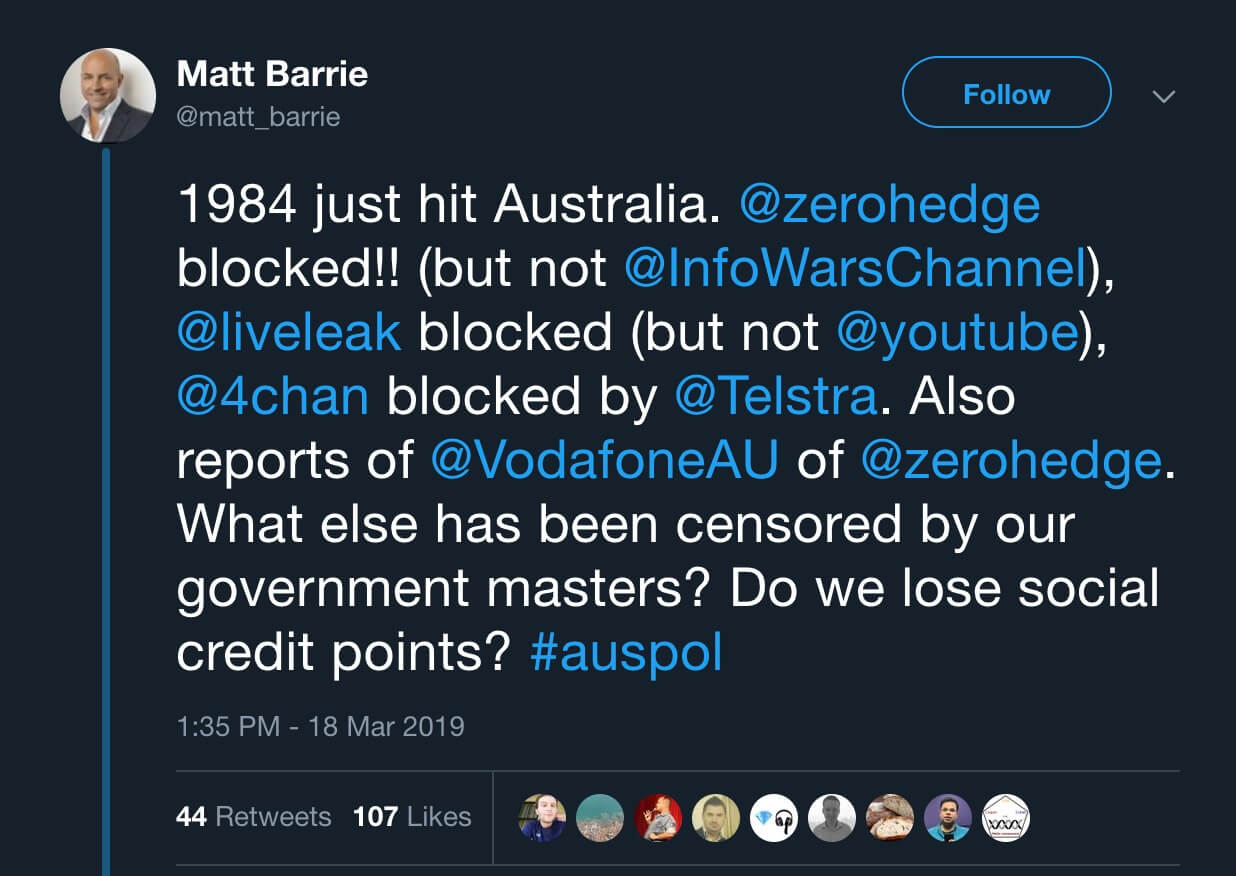 Mr Barrie tweeted: "1984 just hit Australia. @zerohedge blocked!! (but not @InfoWarsChannel), @liveleak blocked (but not @youtube), @4chan blocked by @Telstra. Also reports of @VodafoneAU of @zerohedge. What else has been censored by our government masters? Do we lose social credit points? #auspol"
Vodafone responded with the following shocking statement: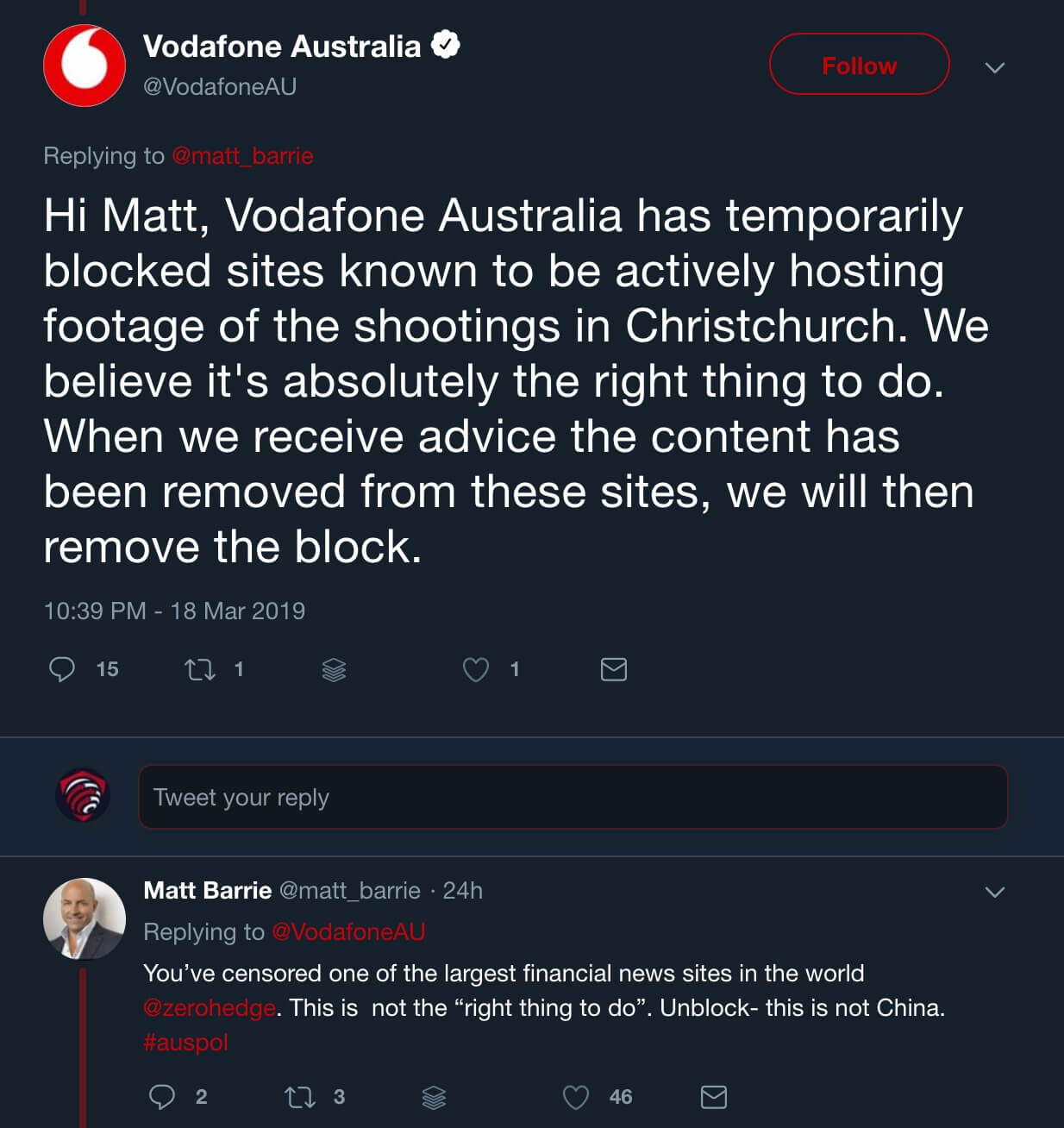 But some of many ISP critics might be prompted to point out at this time that "feelings" are not facts. Instead, only facts are facts.
Free speech is an absolute concept, not something that is decided by virtue.