Comedy's not dead yet, the Babylon Bee's sister operation Not The Bee has announced, reacting to the latest round of censorship the US satirical site is facing on Twitter.
However, the way things have been going these last years with the stifling of free speech, and of comedy, those who value both might be forgiven for feeling a little less optimistic.
In any case, Twitter seems to have a real "bee in the bonnet" about this particular site: first, the Babylon Bee account was locked in a "dispute" involving what it was allowed to say about a US official's biological gender, in a comedic context.
And now, the site's editor-in-chief, Kyle Mann, has been locked out of his personal account for making a joke about the original instance of Twitter censorship.
"Maybe they'll let us back into our @TheBabylonBee Twitter account if we throw a few thousand Uighurs into concentration camps," was the post that got Mann in the Twitter jail.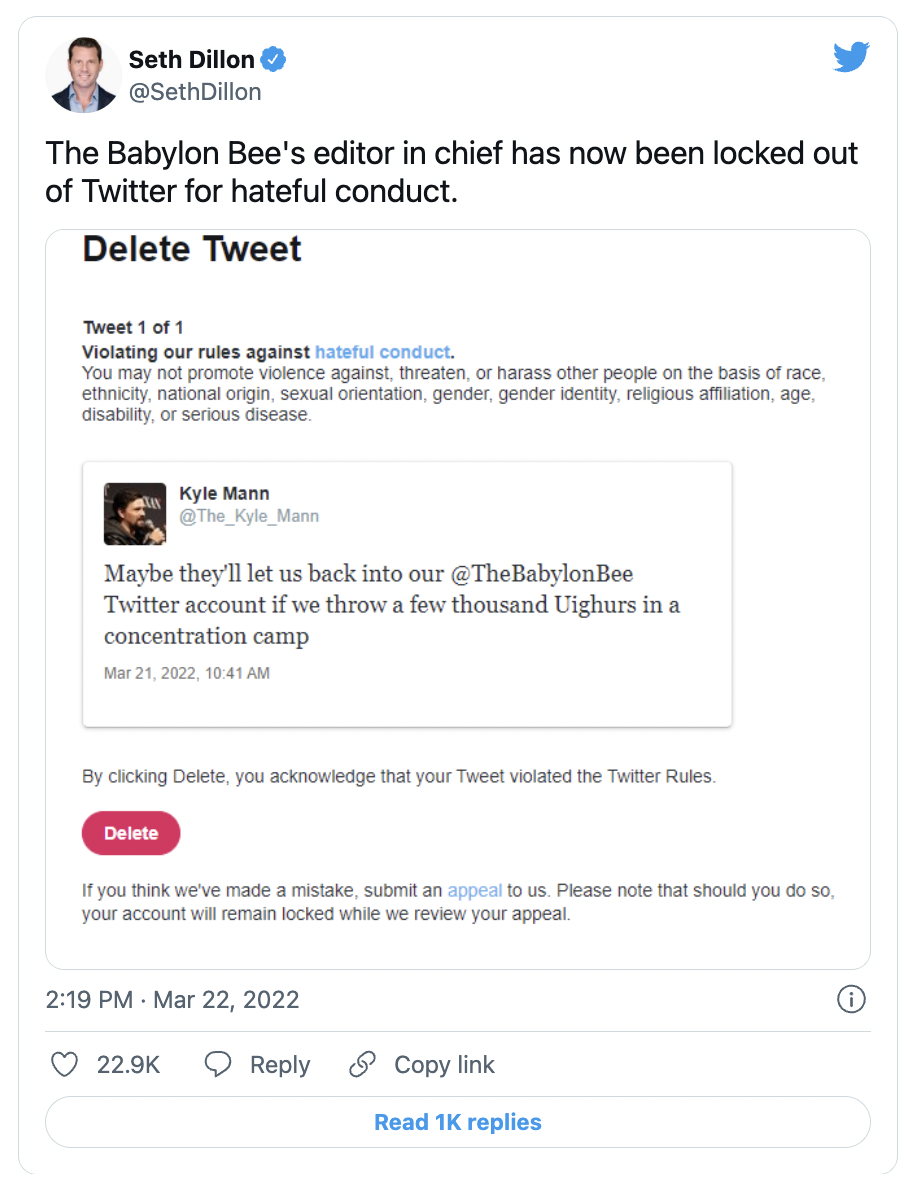 Often seen as a more conservative counterpart to the likes of The Onion, the Babylon Bee's satire has certainly not been receiving the same treatment on mainstream social media platforms, or by legacy mainstream media.
Things recently started to escalate when the site ran an article headlined, "The Babylon Bee's Man of the Year is Rachel Levine." Levine is the Health and Human Services secretary in the current administration, a transgender woman, whom USA Today had just declared one of their "women of the year."
Despite the fact that the Babylon Bee's headline was clearly offering a satirical take on the USA Today decision, Twitter saw it as "hateful conduct." Ditto for Mann's subsequent tweet.
Not The Bee, which is a news site, reacted to the punishment an apparently-humorless Twitter handed out to Mann by saying, "I guess it's okay to PUT people in concentration camps, just not to JOKE about it."
The article further noted that the joke was made at the expense of Twitter's behavior around the original "man of the year" controversy, and that the tweet could in no way be construed as "hateful conduct."
Furthermore, a point is made that Chinese officials and leaders, who are accused of serious human rights violations, are allowed to stay on Twitter, while users from elsewhere get easily canceled for expressing an opinion – seriously or jokingly – in debates over transgenderism and similar issues.