Taiwan has accused China of censorship following the regime's message through its embassy in India warning journalists not to stray from the "One-China" rhetoric. China sent the advisory after some Indian newspapers published ads for Taiwan National Day.
China considers Taiwan part of the People's Republic of China. However, Taiwan is a democratic nation that prefers not to be associated with the Chinese regime.
An advert in Indian media promoting Taiwan's national day did not sit well with the Chinese government. The ad featured Taiwan's President Tsai Ing-wen and said India, being a democratic nation, is a partner to the wayward Chinese province.
China made its disapproval of the advert known by sending an email via its embassy in New Delhi to journalists on Wednesday.
"Regarding the so-called forthcoming 'National Day of Taiwan', the Chinese Embassy in India would like to remind our media friends that there is only one China in the world, and the Government of the People's Republic of China is the sole legitimate government representing the whole of China," the email read.
The embassy added that it hopes the media maintains the "Indian government's position on Taiwan and does not violate the 'One-China' principle."
"In particular, Taiwan shall not be referred to as a 'country (nation)' or 'Republic of China' or the leader of China's Taiwan region as 'President', so as not to send the wrong signals to the general public," China warned in the email.
Of course, journalists are not thrilled by the email.
"The Chinese government behaves like a street goon, not like an aspiring super-power. It threatens us," said Nitin Gokhale, an editor at Bharat Shakti, a website that publishes defense and military news.
This attempted censorship might further increase India's resentment towards China.
Relationships between India and China have been tense over a dispute at the border along the Himalayan frontier. On June 15, there was an incident that saw 20 Indian soldiers killed by Chinese troops.
The dispute resulted in Indian nationalists, including the prime minister, calling for the boycott of Chinese goods. Still, the Indian government has been cautious about upsetting the Chinese regime by not recognizing Taiwan as a country.
The Indian government does not have formal relationships with the Taiwan government, headquartered in Taipei. That said, the two have a business and cultural relationship.
Taiwan was also not thrilled by the advisory to Indian media.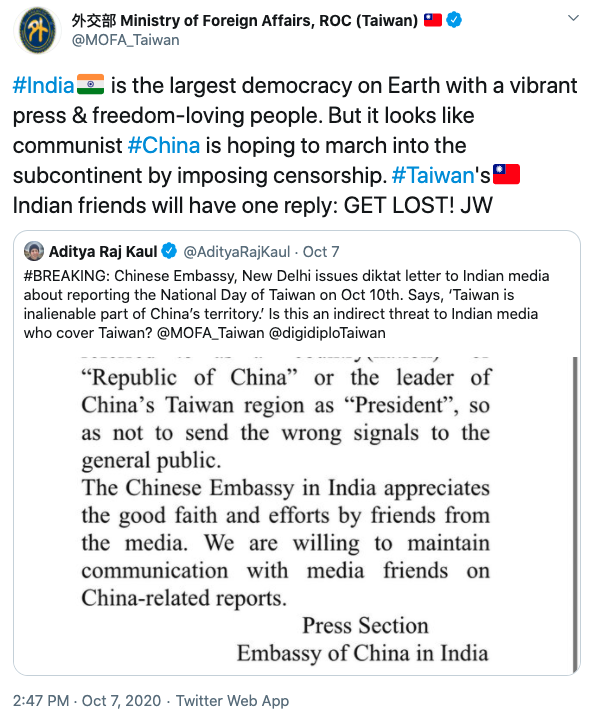 "India is the largest democracy on Earth with a vibrant press & freedom-loving people. But it looks like communist #China is hoping to march into the subcontinent by imposing censorship. #Taiwan's Indian friends will have one reply: GET LOST!" said Joseph Wu, Taiwan's minister for foreign affairs.