Another app has received a warning from the US giant about the need to comply with Chinese internet censorship. This time it's ArtBible.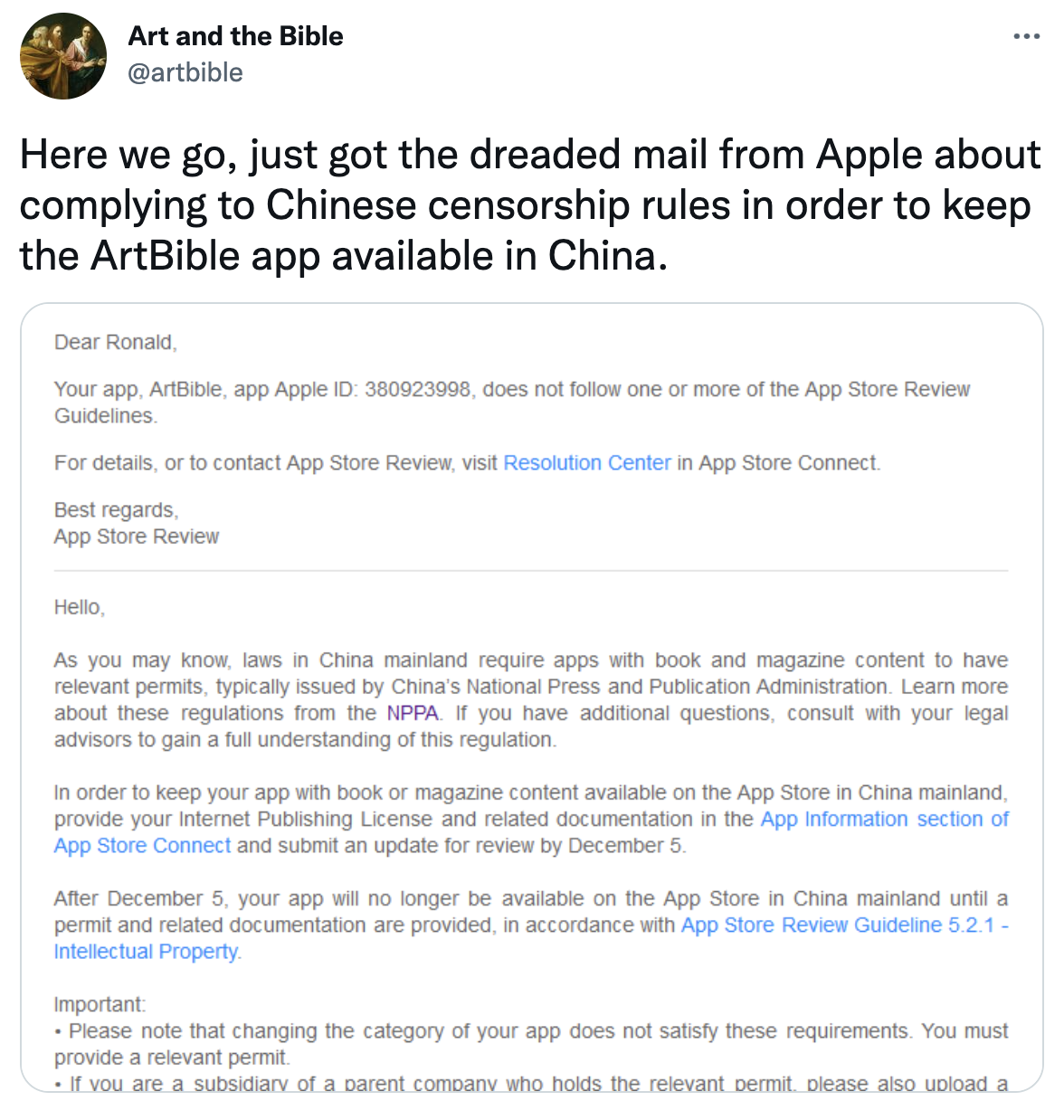 In order to remain in the Chinese market, apps in Apple's online store must adhere to Beijing's censorship rules.
ArtBible – that offers the complete King James Version of the Bible, and allows users to view over 900 works of art on their mobile devices – is still available in the US and China.
But it remains to be seen how the situation will unfold, all the more so since the deadline given for an update to the app to be published is December 5, while the developer announced that they would not be complying by including something known as "internet publishing license" China requires for apps with book or magazine content in that update.
AppleCensorship said it would monitor the situation, and provided its Twitter followers for links to see updated information regarding this case and the future availability of ArtBible in mainland China.
Announcing that they received the "dreaded" letter from Apple about compliance with Chinese rules, ArtBible developers included a screenshot of a part of the letter, which states that China requires apps in the book and magazine category to have permits issued by the country's National Press Publication Administration.
An internet publishing license as well as "related documentation" is what it will take for Apple to keep ArtBible in its Chinese store.
Apple's letter further warns that failing to comply will mean the app will be removed from the store on December 5, and that a workaround such as changing the app's category will not work.
"You must provide a relevant permit," Apple was explicit.
Recently, AppleCensorship published a report on what it calls the staggering scale of censorship that Apple applies in its various stores around the world, with a vast majority – 1,182 removals out of a total of 1,470 reported by Apple for the period between July 2018 and December 2020, occurring in China.