In its opening weekend, Birds of Prey took just $33 million domestically and $48 million internationally for a total haul of $81 million.
The numbers are way below Warner Bros. projected $45 million domestic opening and estimates are suggesting that the movie needs to make $100 million domestically and $300 million globally to break even.
When compared to other DC movies, Birds of Prey has had the worst opening weekend of all the movies in the DC "Extended Universe" and the second-worst opening ever for a DC comic book movie with 2010's Jonah Hex's being the worst and bringing in just $5.3 million domestically.
Verified Audience Reviews from Rotten Tomatoes and the most helpful User Reviews on Metacritic point to a poor plot, the characters failing to resemble their comic book equivalents, and the movie being "boring" and "uninspired" as reasons not to see it.
Meanwhile, many YouTube commentators have suggested that the woke marketing campaign for the movie is likely to have turned off many fans.
However, several of Twitter's blue checkmarks are ignoring the criticism directed at the movie and its marketing campaign.
Instead, they're claiming that men are to blame for the movie's failure and even criticizing outlets that compare Birds of Prey's underwhelming box office numbers to other DC movies.
Caillou Pettis, a Rotten Tomatoes film critic, said the box office performance "honestly crushes me" before going on to suggest that "misogyny" was to blame for its failure.
https://twitter.com/cailloupettis/status/1226199587544686592
https://twitter.com/cailloupettis/status/1226202414169985024
Gerry Conway, co-creator of several Marvel characters including The Punisher, is blaming "the male audience for superhero movies" for the low Birds of Prey box office numbers.
And Julia Alexander, a reporter at The Verge, responded to the box office failure by criticizing trades for "framing" the movie as "the worst opening weekend for any film in the DC Extended Universe."
https://twitter.com/loudmouthjulia/status/1226561567199834117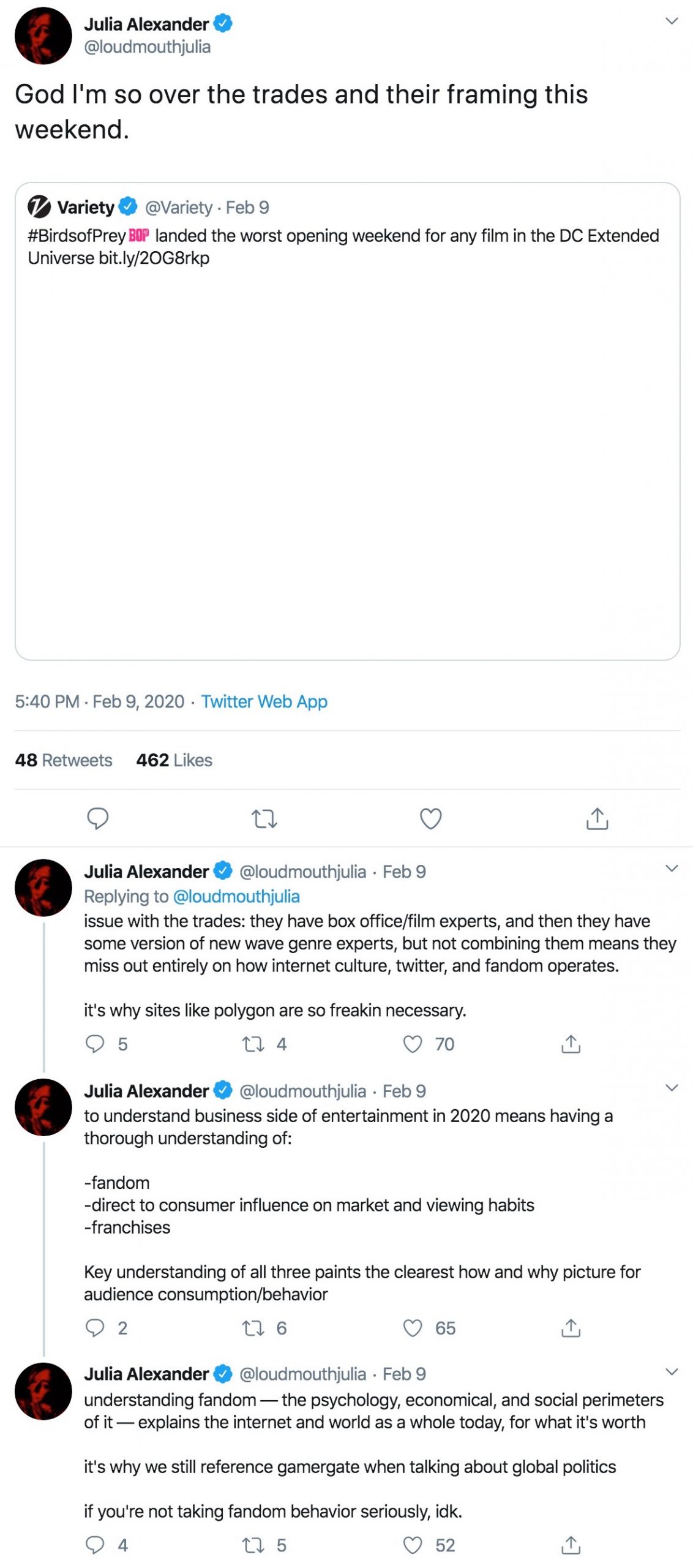 Most Twitter users aren't buying these excuses and are instead pointing to it being a bad movie with bad marketing which the media are trying to "shame people into seeing."
However, the blue checkmarks' criticism of men and the framing of box office numbers instead of the actual movie itself is similar to the tactics used by legacy media outlets when Captain Marvel's woke marketing came under fire.
In this instance, instead of addressing the concerns fans had about how the movie was being marketing, many media outlets lied about Captain Marvel movie being review bombed and blamed the fans for the movie's unpopular marketing decisions.