Update – November 24, 2019: The Baby Yoda GIFs have now been restored. A GIPHY spokesperson provided the following statement:
"Last week, there was some confusion around certain content uploaded to GIPHY and we temporarily removed these GIFs while we reviewed the situation. We apologize to both Disney and Vulture for any inconvenience, and we are happy to report that the GIFs are once again live on GIPHY."
—
Ever since it appeared in the first episode of The Mandalorian, Baby Yoda has gone viral on the internet with many sharing GIFs to celebrate its cuteness. Many online media outlets also published articles containing these GIFs of Baby Yoda.
Now Kathryn VanArendonk, a staff writer for entertainment news outlet Vulture, is reporting that all of the site's Baby Yoga GIFs have been removed from the online GIF database Giphy for copyright reasons.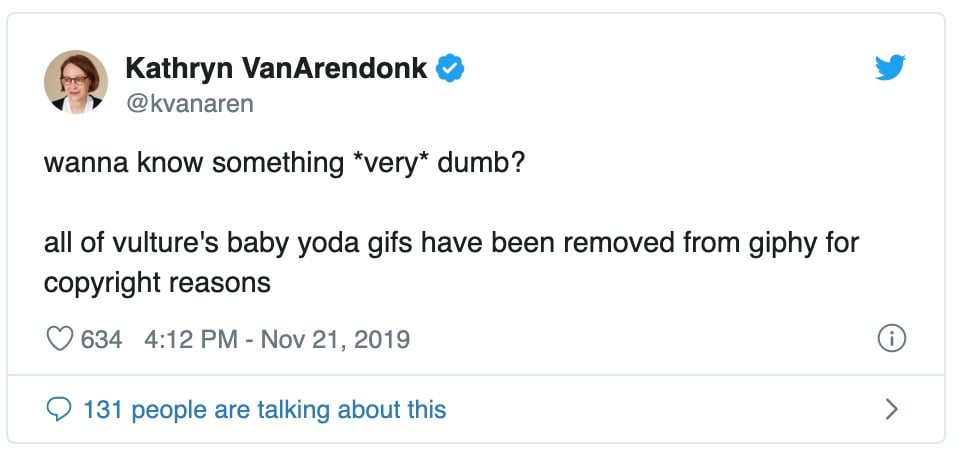 Searching for Baby Yoda and Yoda on Vulture's Giphy page returns no matches.
A recent article from VanArendonk, which compiled various Baby Yoda GIFs from Vulture's Giphy account, also no longer contains the embedded Baby Yoda GIFs.
In a separate tweet, VanArendonk claims that Disney said the Baby Yoda GIFs are copyright infringement and suggests that this triggered the removal of the GIFs from Vulture's Giphy account.
right yes, it's not that it was copyright infringement (because there's a whole argument to be made that it in fact is NOT, and that it qualifies under fair use). it's that disney says it was copyright infringement and no one wants to fight with them.
VanArendonk also argues that the takedown of the GIFs violates fair use.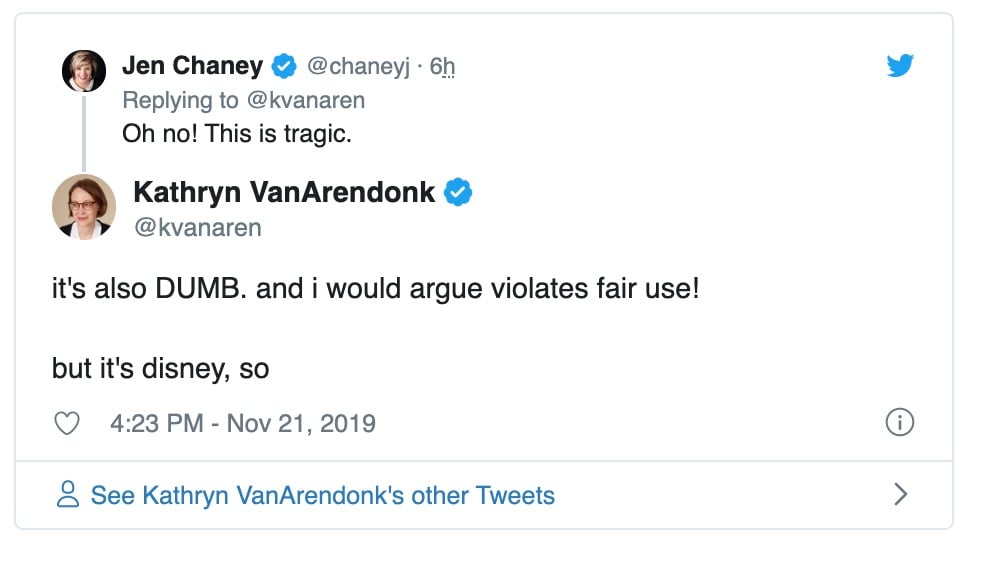 According to Ali Sternburg, a copyright expert with the Computer and Communications Industry Association, the case law around GIFs and the fair use provision, which allows copyrighted material to be used for "transformative" purposes, is unclear. However, she argues that previous cases support the argument that GIFs are fair use.
Sternburg adds that:
"The fair use case is also strong because GIFs can be considered "transformative" under copyright law, and don't appear to undermine the market for the original work. No one, for instance, is going to watch a Star Wars GIF instead of the original movie."
However, since this has yet to be tested in court, VanArendonk believes that companies are more likely to cave than challenge the takedown of GIFs in court.
yes but by the same token, that the organizations and people most likely to be test cases here are much more likely to cave rather than defend that four state use case
This isn't the first time Disney has been criticized for using copyright law to get content taken down.
Earlier this year, several YouTubers reported that their videos criticizing Captain Marvel had been hit with Disney copyright claims which led to them being blocked or removed.
Comedian Steven Crowder also criticized Disney for filing a copyright claim which led to his live stream being taken down – a stream that he argues was transformative and protected under fair use.