Drew Pavlou, an Australian student activist, says he is facing possible expulsion from his university for his outspoken opposition to China's policies, and the University of Queensland's alleged corruption and ties with the Chinese Communist Party (CCP).
Pavlou has been particularly vocal and active in his support of protesters in Hong Kong, promoting their activities and criticizing the university's leaders.
In a highly visible tweet that received thousands of retweets and likes, Pavlou explained his current situation.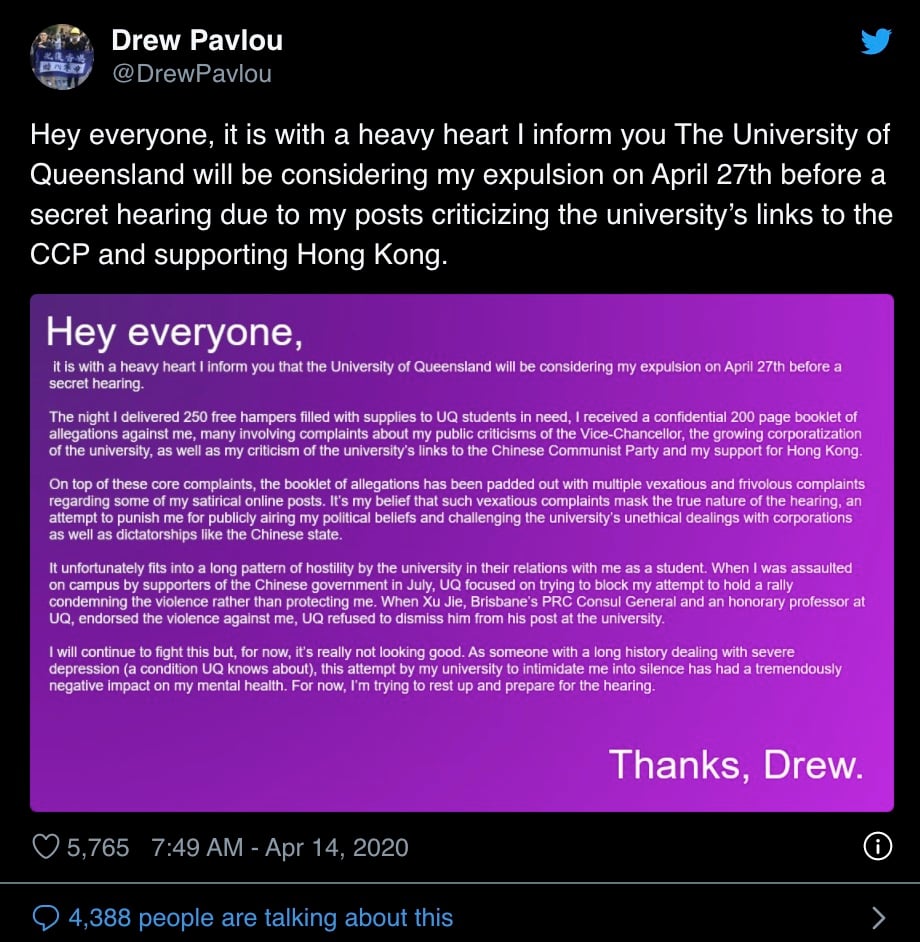 In the tweet, Pavlou announces that his fate will be decided on April 27 and that the process involves "a secret hearing" exploring his pro-Hong Kong protest movement activism, and the university's alleged links to the CCP.
Another criticism that this student has leveled at the university is its increasing corporatization.
In the Twitter post dated April 14, Pavlou further explained that when he recently delivered 250 care packages for students in need, he got hold of "a confidential 200 page booklet of allegations" against him.
He says a majority had to do with his criticism of the university's top leadership who he said caters to a corporate agenda and the CCP.
Some of the complaints against him found it the booklet showed his detractors either have none or choose not to have much sense of humor, since some go after satirical posts he has made online.
"It's my belief that such vexatious complaints mask the true nature of the hearing, an attempt to punish me for publicly airing my political beliefs and challenging the university's unethical dealings with corporations as well as dictatorships like the Chinese state," he writes on Twitter.
Pavlou has previously attracted criticism from Chinese government-owned media over his vocal hardline stances against Beijing.
Pavlou also complains of not receiving support or protection from the university when he previously came under attack on campus by supporters of China's authorities.
He also shares that due to his struggle with depression, this turn of events, with a threat of expulsion looming over his head, is all the more difficult for him to cope with – making this action against even more contemptible since his mental health issues are known to the university.
However, Pavlou pledges to "rest and prepare" for his upcoming battle.
The student activist's announcement has led to an outpouring of support on social media, and even a petition on Change.org calling for other students to speak up for Pavlou – with the main argument being that his silencing would send a chilling message that contrary opinions are unwelcome in Australia's universities.
When we approached for comment, a University of Queensland spokesperson confirmed that Pavlou is facing disciplinary hearings but that "the university rejects Mr Pavlou's statement that the university's process is an attempt to penalize him for airing his political beliefs.
"Universities reasonably expect that students comply with conduct policies and charters that reflect both the organization's values and community expectations.
"UQ's disciplinary processes seek to address alleged contraventions of university policy — they do not seek to prevent students from expressing their views or to limit their right to freedom of speech," the spokesperson said.