On Sunday, Elon Musk explained why he decided Alex Jones' account will not be reinstated. Jones was permanently banned in 2018 over "abusive behavior" towards a CNN reporter and not, despite public perception, for statements relating to the authenticity of the 2012 Sandy Hook school massacre – that took place six years before Jones was banned.
Back in 2018, in Washington DC, Jones confronted Republican Senator Marco Rubio, interrupting his conversation with reporters. Jones called Senator Rubio a "frat boy." Jones later confronted CNN's Oliver Darcy, calling him a "rat," a "sociopath," "a possum that crawled out of the rear end of a dead cow," and "Hitler Youth." The interaction was live-streamed on Periscope, a streaming app owned by Twitter, that has since been shut down. Twitter suspended Jones following the incident.
However, the reason Alex Jones will apparently not be allowed back on the platform, at least according to new CEO Elon Musk, has nothing to do with the reason he was banned and is actually about decade-old comments Jones made questioning the authenticity of the Sandy Hook school massacre in which 26 lives were lost, the majority of which were children. Jones was successfully sued by the families of the victims.
"Alex fucked up with Sandy Hook. He admitted that and apologized," entrepreneur Kim Dotcom wrote on Twitter.
"He also got a lot of 'conspiracy theories' right. If serial liars like Biden and Trump are allowed on Twitter then Alex Jones should be allowed too. Please reconsider in the interest of real free speech."
Musk responded by explaining why Jones was not going to be reinstated: "My firstborn child died in my arms. I felt his last heartbeat. I have no mercy for anyone who would use the deaths of children for gain, politics or fame."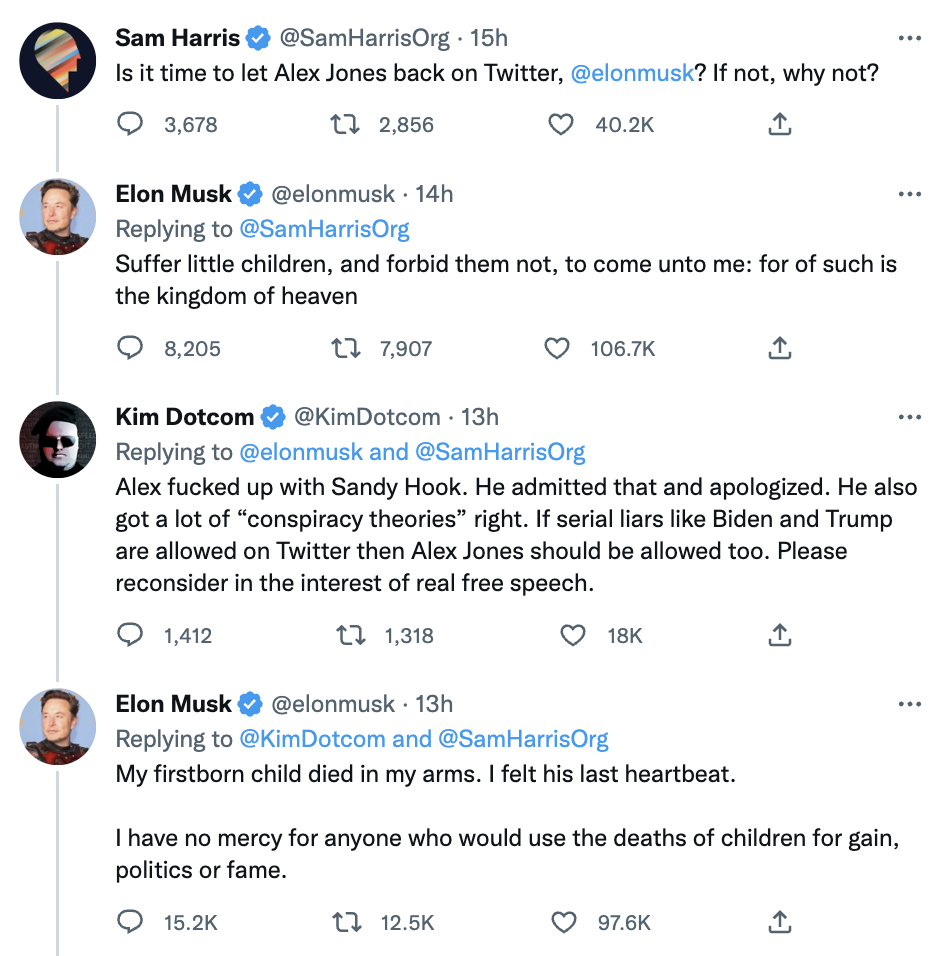 Jason Calacanis, a venture capitalist and friend of Musk, who is in part assisting with Musk's direction for Twitter, also explained why Jones would not be allowed back.
"Alex Jones is pure evil and the easiest case for any platform to adjudicate—in my opinion (and that's all it is folks!)," Calacanis wrote on Twitter. "$1.4b in judgments across multiple jurisdictions in the United States, where speech almost always default wins over victim suffering."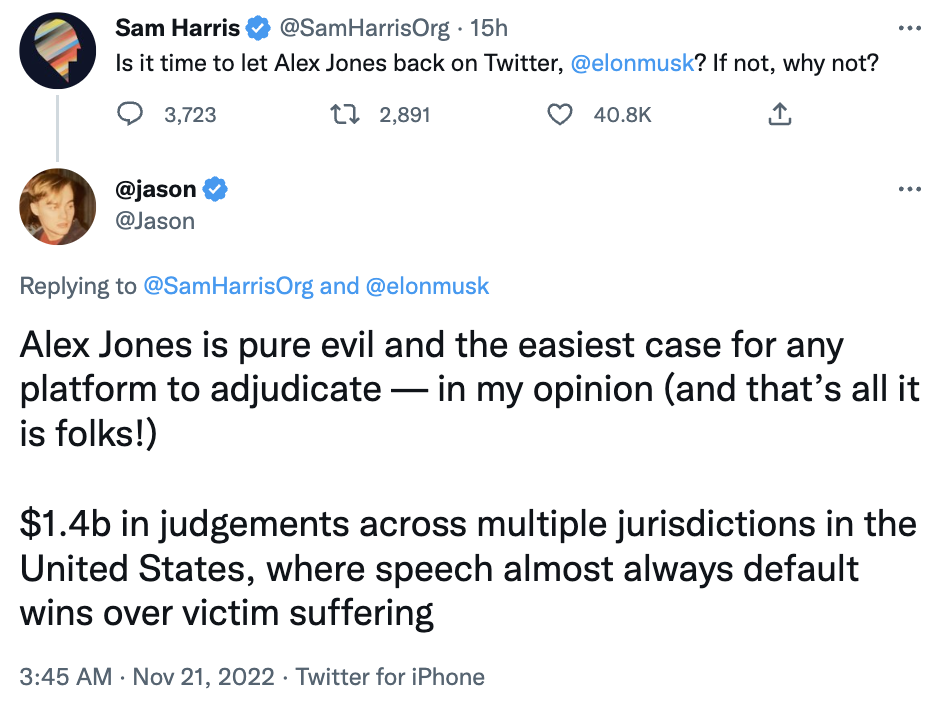 Some of the key figures that have been allowed back on Twitter include former President Donald Trump, comedian Kathy Griffin, and Kanye West. However, Trump said he would not be using Twitter, preferring his own social media platform Truth Social.