Over the last few years, people's trust in TV and movie critics has become increasingly strained. This has been exemplified by the increasingly large divide between fan reviews and critics reviews on review aggregator Rotten Tomatoes with No Safe Spaces (a 55% divide), Batwoman (a 61% divide), and Star Wars: The Last Jedi (a 48% divide) being some of the many examples of this growing rift.
However, even with this reduced level of trust, many fans were shocked by Entertainment Weekly's review of Netflix's The Witcher and are slamming it for being "unprofessional" and "a dumpster fire of journalism."
The review is written by two critics, Kristen Baldwin and Darren Franich, who admit to skipping most of the episodes.
Baldwin suggests that she only watched the first two episodes of the eight-episode season and infers that she only watched the second episode "in the interest of professional obligation."
Franich writes that he watched episode one and then "because life's too short for Netflix drama running times, I skipped ahead to the fifth episode." After episode five, Franich stopped watching the show and finishes the review with an assumption about what will happen in the season finale that he didn't watch.
Despite only watching three episodes of The Witcher between them and only two episodes each, both Baldwin and Franich gave it an F grade – Entertainment Weekly's lowest rating which is described as:
"An 'F' is given to something utterly without redemption. A "D" is a warning. An "F" is a condemnation. It is the critic's curse."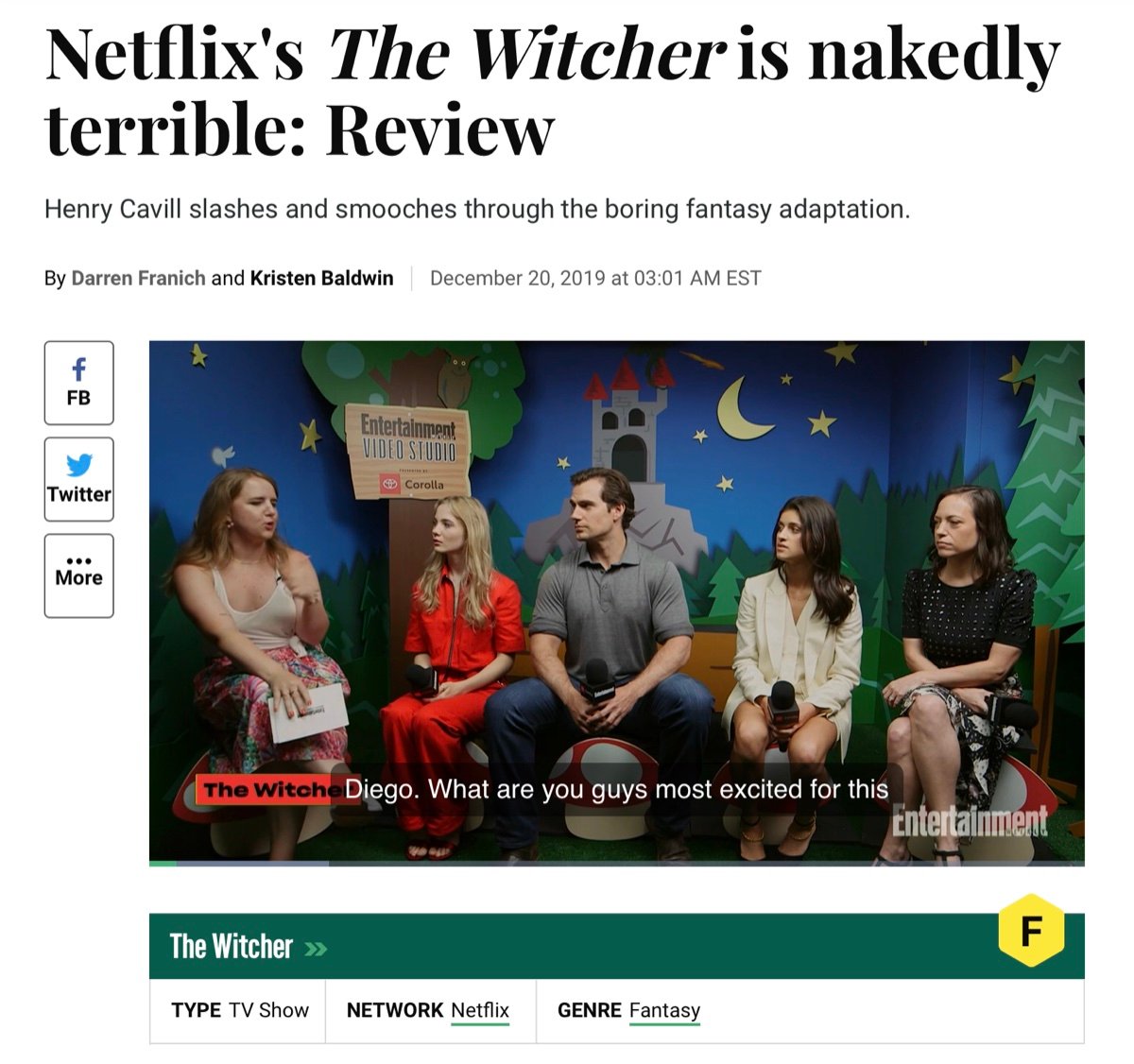 They also gave The Witcher 0/100 on Metacritic – a score that is far lower than any of the other critics.

Additionally, the review is being included in Rotten Tomatoes' Average Tomatometer score for The Witcher with Franich being recognized as a "Top Critic" and the Entertainment Weekly review listed second from top in the "Critics Reviews" section of the page.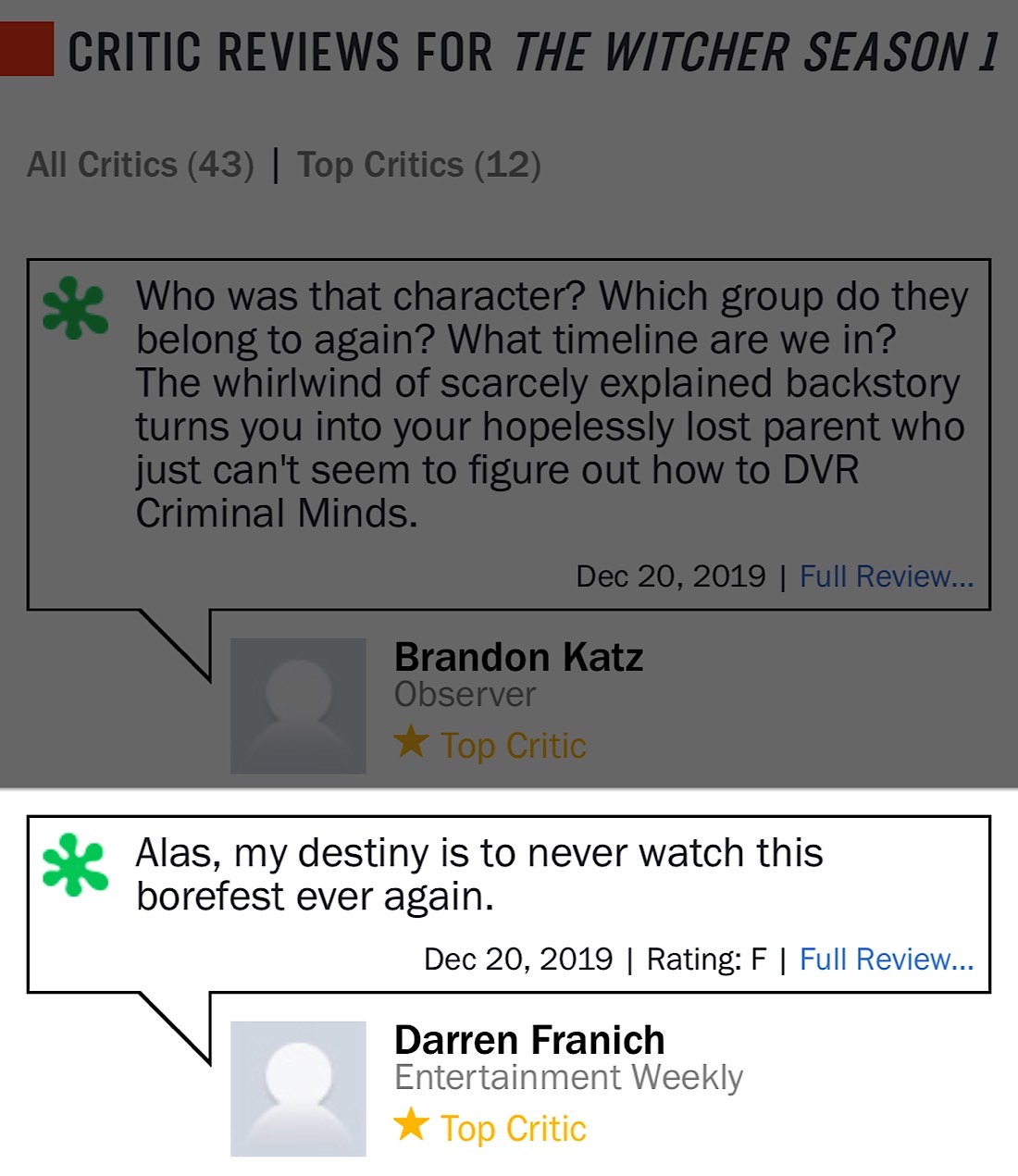 The review has been blasted online with people describing it as a "joke" and criticizing the lack of professionalism in the review.
Entertainment Weekly gave The Witcher Series a 0 (zero) with one of the most unprofessional reviews ever, not only being biased but one of the two "reviewers" watched ONE episode while the other didn't even finish the series

and people wonder why traditional news media is a joke https://t.co/0VwyROEtfa
Entertainment weekly gave Witcher series a 0/10 after they watched 2 episodes then skipped to episode 5

Is this a joke
You skipped ahead to episode five… some review.
Talk about a bad review, you're allowed to not like something but it would seem these people are trying REALLY hard to have a controversial opinion. It's very obvious they're trying to push out a fast review to get more ? on their article.
https://twitter.com/tom_pearce99/status/1207937593951866880
I'm fine with negative reviews but this was a dumpster fire of journalism.

— Dezi (@EuphoriaDayas) December 20, 2019
As for the overall reception to The Witcher, the divide between fans and critics is on display once again.
On Rotten Tomatoes, there's a 31% divide with fans rating it 89% Fresh and critics giving it a 58% Rotten rating.

Meanwhile, on Metacritic, there's a similar divide with the User Score from fans sitting at 7.5/10 while the Metascore from critics sits at just 53/100.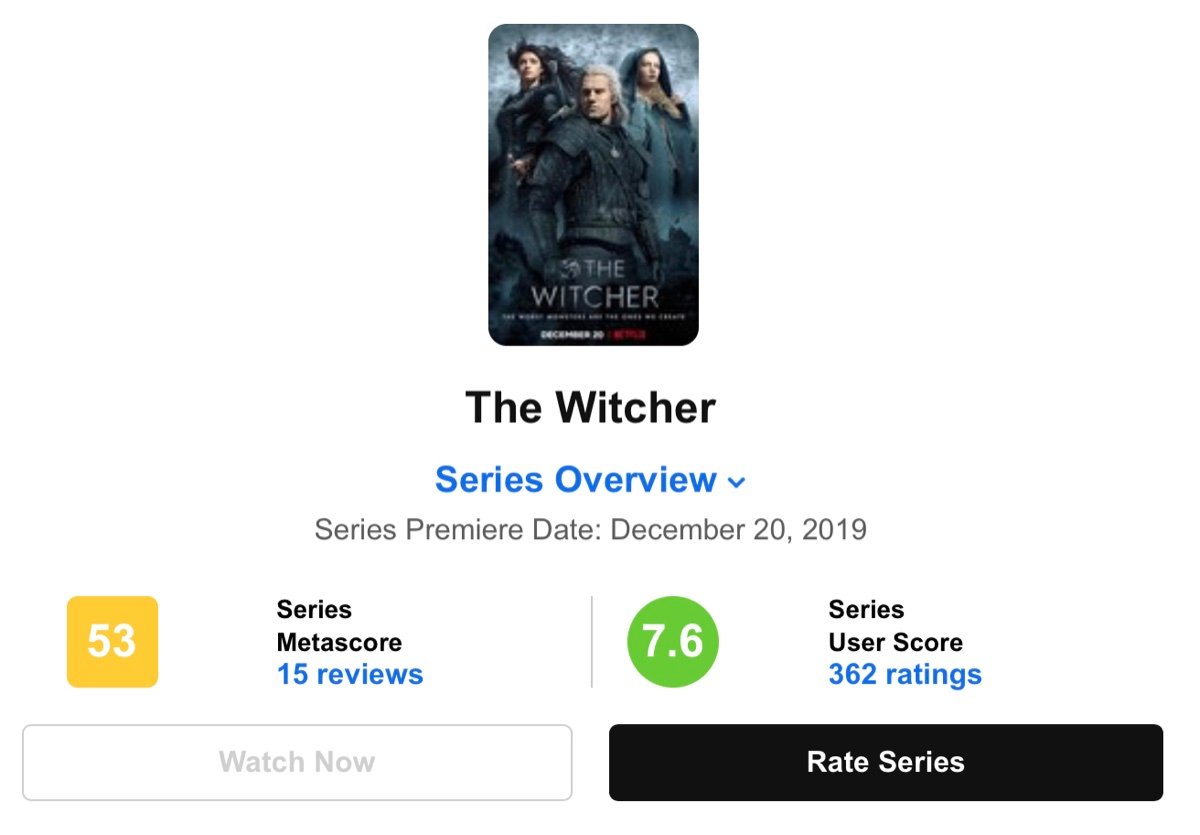 With critics now openly admitting that they don't watch full shows before giving their final ratings, this rift between fans and critics looks like it's only going to get bigger going forward.