Many Facebook accounts of people celebrating the pride of being English were limited for sharing an image of the flag of St. George because it allegedly did not meet the standards of the social network. After receiving many complaints, Facebook apologized for the "error."
April 23 was an important day for English people since it officially commemorates St. George's death in the year 303. St. George is the country's patron saint and a martyr for refusing to denounce his Christian faith under the command of Emperor Diocletian, and there are multiple stories of his heroism. To commemorate his death, English people raise the nation's flag, consisting of a red cross over a white background.
However, despite being a day with such relevance to the nation, it seems that Facebook considers posts of the flag on the social network racist.
Multiple users reported receiving Facebook notifications indicating that their accounts would face bans for sharing an image showing St. George's flag.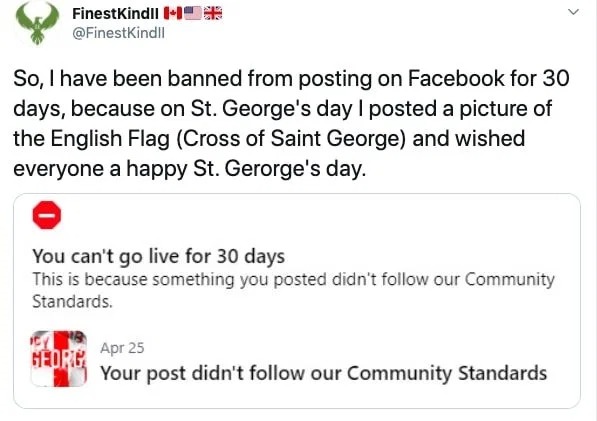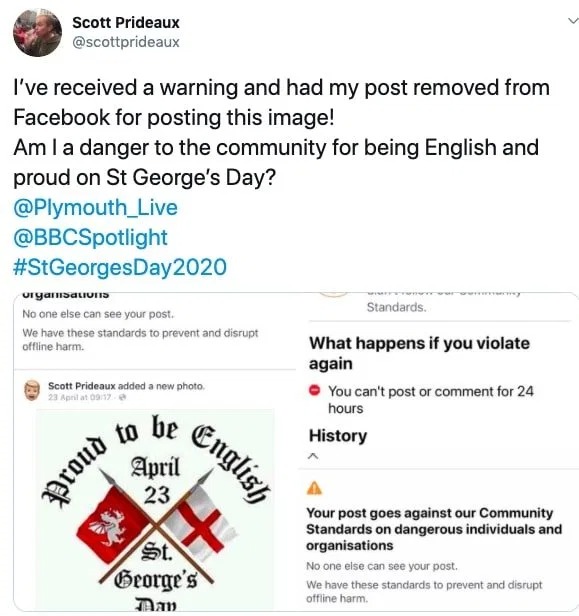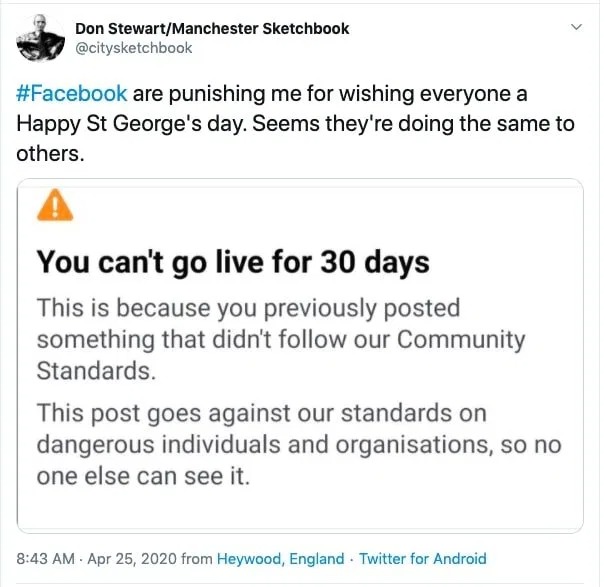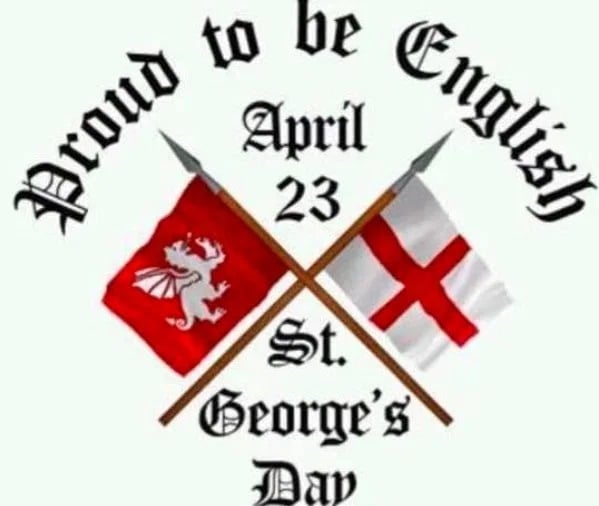 Some users even reported that a second image showing the St. George's flag with the phrase "Happy St. George's Day" was also being banned.
This outrageous error from Facebook caused users to once again express their frustration with the platform.
Some affected users received bans of between one and 30 days, while others just had their posts deleted.
After multiple complaints from users who were banned for simply wishing a happy St. George's Day, a Facebook representative released a statement on April 25 saying that it was all a misunderstanding.
According to the representative, these types of errors can happen due to the large number of posts that are reviewed every day. He took the opportunity to indicate that the accounts affected by this error have already been restored, and apologized for the inconvenience caused.
But even after Facebook's apology, two Facebook users have contacted Reclaim The Net in the last day to say that their posts of the flag are still getting removed – with one of these cases, Facebook eventually backtracking and correcting the problem once again after it had, this week, removed a post of the flag that was uploaded way back in 2018.