Facebook owner Meta has lost a defamation lawsuit, ruled in an EU court, versus an Austria-based lawmaker.
Even though the settlement is small, the ruling has major free speech implications.
Last year, former Greens party politician Eva Glawischnig-Piesczek won a settlement of €4,000 ($4,535) in damages that the Vienna commercial court ordered the social media company to pay.
The complaint was over a fictitious account that allegedly "defamed" the politician to a global audience.
The plaintiff cited that Facebook refused to delete messages from the fake account.
The case has dragged on since 2016 when Glawischnig-Piesczek first requested Facebook remove a picture of her posted with "defamatory" content. In 2019 the EU's top court ruled national courts in Europe can force social networks to remove defamatory content worldwide.
The Vienna commercial court specializes in corporate law cases that affect Austria-based corporations.
The Vienna court agreed with the plaintiff that the defamatory content was harmful to Glawischnig-Piesczek's public image. The text of the post characterized the lawmaker as participating in illegal activities. The court agreed with the politician's argument that she has a right to control her own image.
On December 9, 2021 Vienna court ordered Facebook to inform its users of the slander within 15 days. Facebook must run a banner visible at the top of its Austria home page for six months and avoid publishing the plaintiff's photo with insulting text. The social media giant has not appealed the ruling.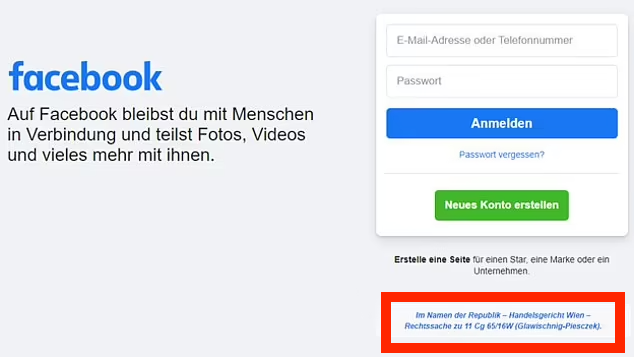 Meta has announced it will not add any further comments about the case beyond the judgement published on its website.
Now that Glawischnig-Piesczek has learned the identity of the woman who set up the fake Facebook account, she has the option to sue her.
The politician's attorney Maria Windhager stated the court decision marked progress against hate speech. The small-settlement ruling should send a signal to large social networks that they have a responsibility to monitor and remove fake accounts as well as defamatory content that can lead to more substantial lawsuits.