A Facebook/Cognizant insider who has decided to speak about what he sees as controversial and biased moderation practices deployed by Cognizant, a contractor, on behalf of the social media giant, suggest that content coming from liberal corporate media receives preferential treatment – even when it breaks Facebook's own rules.
Zack McElroy produced evidence sent in November 2018 by Facebook to Cognizant, with the subject line reading, "[POLICY EXCEPTION] Don Lemon's Quote About White Males Being Terror Threats."
The reported issue with this was "hate speech" – but Facebook was literally telling Cognizant moderators to ignore it.
The video shown by Project Veritas reveals that while CNN host Don Lemon – who is black – had recently said that "white men are the biggest terror threat in the US" – and while this kind of speech implies that white men are terrorists and would "typically" violate Facebook's censorship rule pertaining to dehumanizing speech – it will not be censored.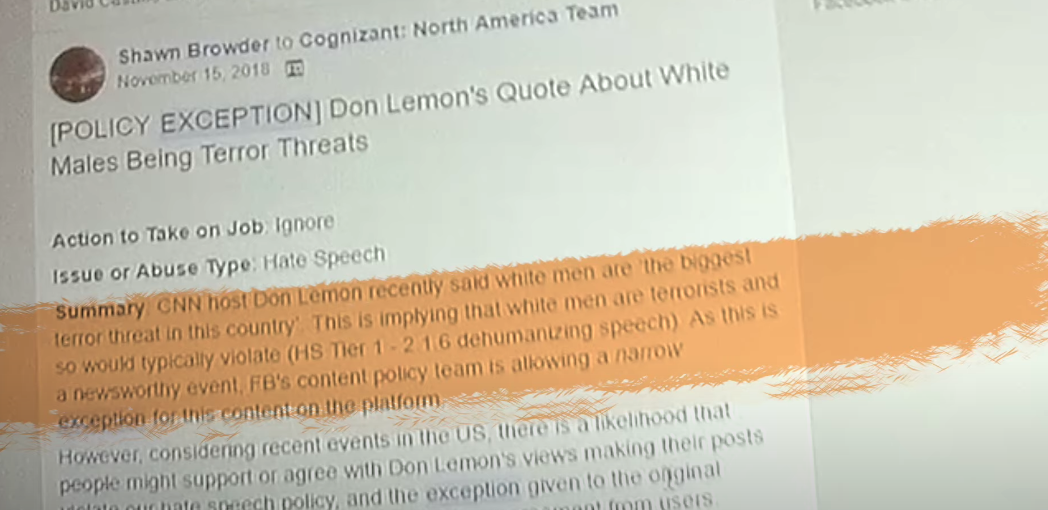 That's because Facebook has decided to treat Lemon's speech as "a newsworthy event" and allow a narrow exception in order to keep this content on the platform.
Some of Lemon's critics in the past described him as more of an activist than a journalist, but his firebrand type of communication was good enough for Facebook.
However, as the November 2018 email shows, should Facebook users come out and post content supporting of Lemon's stance, which would once again (right after Lemon did it) violate Facebook's policy on hate speech – they were to be censored, Facebook instructed Cognizant.
Apparently, that is because freedom of speech granted by the giant to a CNN host does not extend to "regular" users.
But why would Facebook allow such "exceptions" in the first place, McElroy was asked.
He said it was "hard to say" – but that the company invoking newsworthiness of Lemon's statement as a reason to give his speech special status was too vague to mean anything.
"They (Facebook) could say anything they want is newsworthy," McElroy observed.
But he also understood that there is "obviously an intention on Facebook's part to have the back of people like CNN and hosts like Don Lemon."
Speaking of the way Facebook's algorithms/moderators flag/censor content coming from media outlets – some comments made by conservatives about Project Veritas and its previous reports also got marked as violating the giant's content rules.
The insider once again could not say why the algorithm would flag pages of Project Veritas on Facebook or Instagram – other than to "monitor" them.
But, as it turns out, even verified liberal users on these platforms got flagged when they supported the organization's reporting covering the Jeffrey Epstein case.