All posts on Facebook and Instagram simply discussing COVID-19 vaccines will have a label saying vaccines are safe; the label will also direct users to Facebook's chosen sources of vaccine information, such as the WHO and NHS.
On March 15, Facebook announced new features to tackle vaccine skepticism. On both Facebook and Instagram, all posts discussing the vaccines will have a label stating that the vaccines have gone through rigorous tests for safety. Clicking on the label will direct a user to the WHO or similar "authority."
The company also extended its "COVID-19 Information Center" to Instagram. The so-called information center also provides verified information about the pandemic, tailored to the user's geographical location.
Facebook also announced a new feature that would give US users information on where to get the vaccines.
"Now that many countries are moving towards vaccinations for all adults, we're working on tools to make it easier for everyone to get vaccinated as well," Facebook CEO Mark Zuckerberg said when announcing the new features.
"First, we're launching a tool that shows you when and where you can get vaccinated, and gives you a link to make an appointment.
"This will be in the Covid Information Center, which we'll show people right in their News Feed.
"We've already seen people use Facebook to find vaccination appointments, so this should enable millions more people to do the same.
"Second, we're bringing the Covid Information Center to Instagram, and we'll show it to people prominently there too.
"Third, we're working with health authorities and governments to expand their WhatsApp chatbots to help people register for vaccines.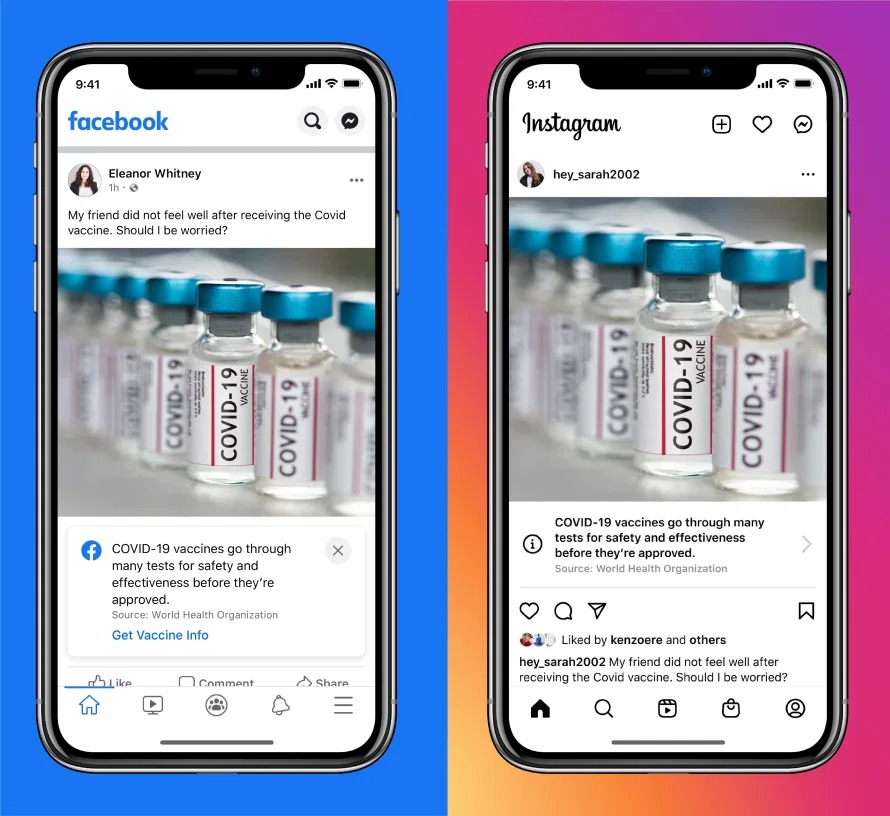 "More than 3 billion messages related to Covid have already been sent by governments, nonprofits and international organizations to citizens through official WhatsApp chatbots, so this update will help with the vaccination effort as well," Zuckerberg added.
Since reports of the development of COVID-19 vaccines surfaced, vaccine skeptics have shared their concerns, some more recently when it was announced that many countries have suspended the AstraZeneca vaccine over alleged safety fears.
In response, social media platforms have stepped up their censorship of conversations surrounding coronavirus vaccines.
Chris Cox, Facebook's COO, said the company was taking COVID-19 vaccines misinformation "very seriously." However, he said that there was "a huge gray area of people who have concerns, some of which some people would call misinformation and some of which other people would call doubt."
"The best thing to do in that huge gray area is just to show up with authoritative information in a helpful way, be a part of the conversation and do it with health experts," Cox added.