Bebo is a social media blast from the past you've probably never heard of – but it plans to relaunch now with some very "modern" and even "avant-garde" censorship features: banning users even before they try to sign up, and even before the site itself launches.
This is true of at least one potential user: if Donald Trump ever thought he might give Bebo a try, its co-founder Michael Birch made it very clear that the former US president has been banned in advance.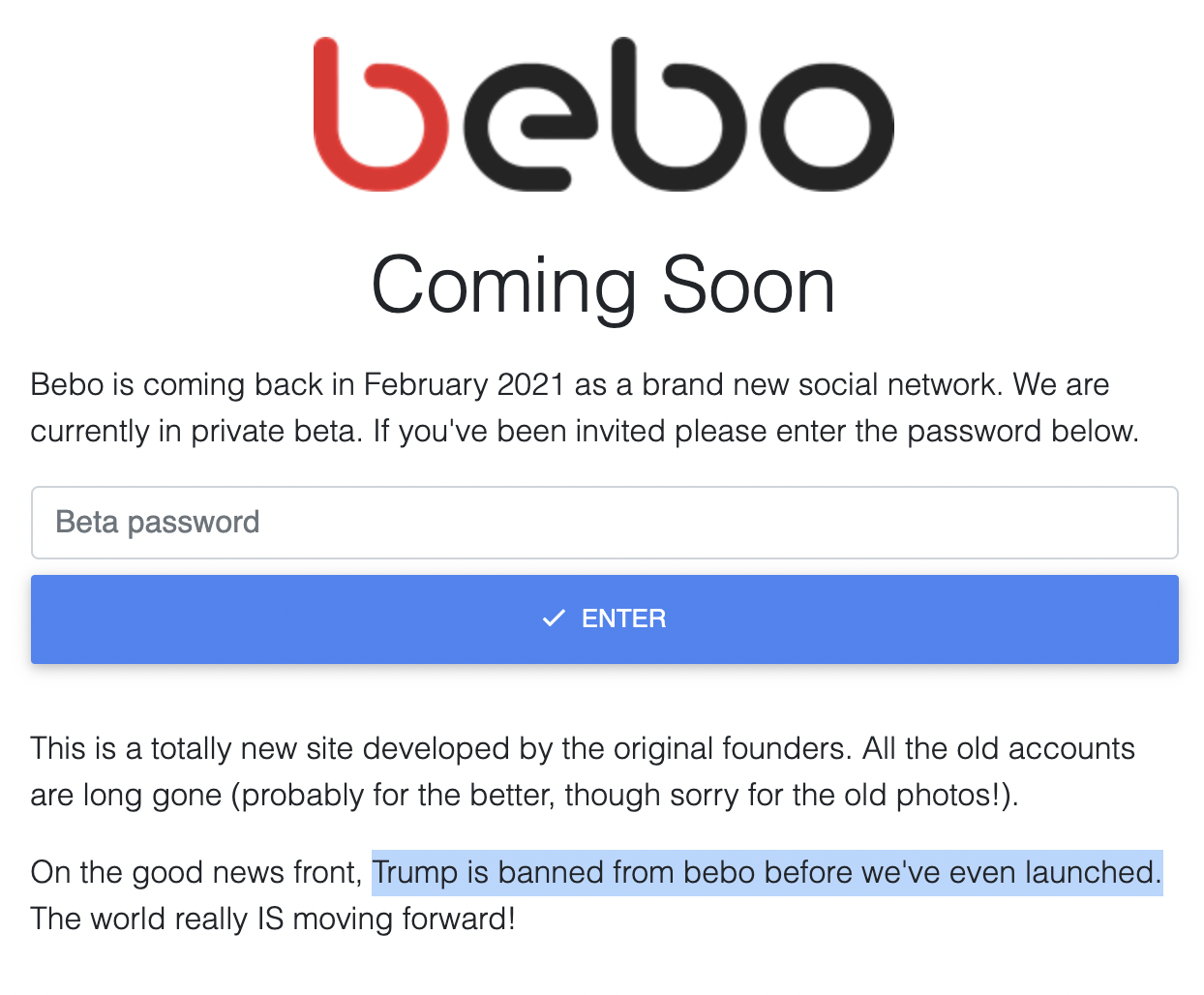 Bebo peaked around 2008 when it was sold to AOL for $850 million, a deal that some media have since described as one of the biggest follies of the folly-ridden dotcom era.
But the site was at one time giving a run for its money to MySpace, at least in Ireland where it was quite popular among teenagers, before both social networks got wiped off the face of the internet by a new crop of social media startups like Facebook and Twitter.
It's precisely these, now veritable giants, that the new incarnation of the website, bebo.com (the original went bankrupt in 2013) wants to take on, with a "refreshing" new approach.
Beside taking censorship to a whole new level with "preemptive bans," this approach, Birch explained, is an experiment that will focus on interactions taking place in real time and on user identity and their profile, instead of the feeds-focused model, and sharing of news articles.
But there are things the new Bebo will have in common with Facebook and others: the misinformation obsession. Birch said that when the original site was online and popular, his focus was talking about privacy and bullying, yet now he identifies "misinformation and people sharing things similar to what their friends believe" as "one of the most damaging things."
Birch interprets this news sharing, which his platform will obviously seek to discourage and perhaps prevent, as that thing which is not allowing users to be aware of different perspectives.
Birch also revealed that he is creating the site himself, having revisited coding for the first time in seven years, while quarantining during Covid. Old user accounts are gone, as is the original interface, he said.