Gab, a free speech alternative to Twitter, suggested that it would launch a new app to compete with Clubhouse, a voice-chat app.
"Clubhouse is Silicon Valley owned, funded, and controlled. If the right thinks they have any future on that platform they are kidding themselves. Gab has this technology right now and will be releasing our own version later this year. Hang tight. The best is yet to come," Gab wrote on Twitter.
Clubhouse is the latest sensation in the social media world. The app allows users to communicate solely through voice-chats, in groups called "rooms." The app does not record the voice messages, making the so-called rooms more like conversations as opposed to recorded podcasts.
However, like any other Silicon Valley-funded project, there are censorship concerns.
"Clubhouse is really cool, you guys. I really like it. That said, if the right was smart, they would set something up similar to it, on their own servers, where they could communicate directly with each other, and not worry about being banned by AWS and everyone else," a Twitter user wrote.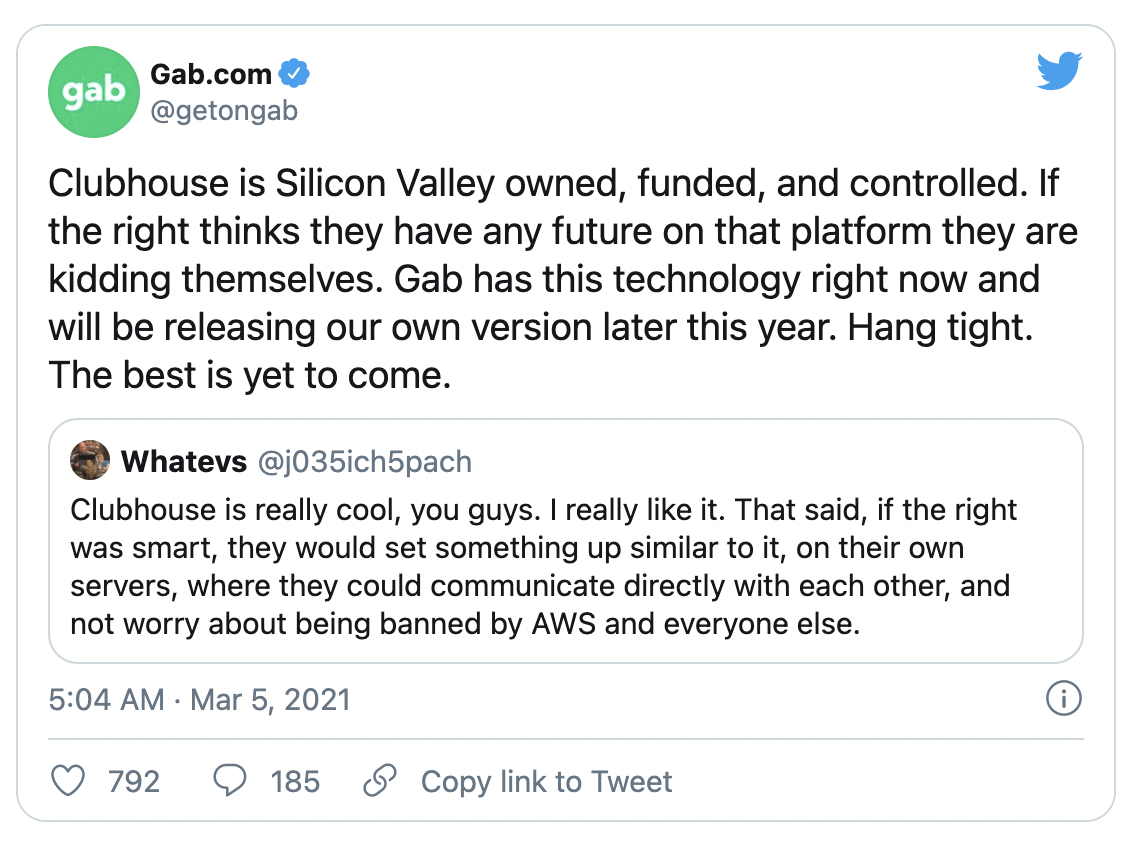 Replying to the tweet above, Gab announced it would be launching a Clubhouse competitor later in the year.
Unlike big tech platforms, Gab prefers the First Amendment free speech rights, and moderates in a similar fashion. It has remained online despite the power of big tech by maintaining its own in-house servers. Relying on big-tech's technology is what made Parler, one of the fastest growing alt-tech platforms last year, go offline for about a month when Amazon Web Services booted it from its services following the Jan 6 riot.
Gab's tweet suggested that the upcoming Clubhouse competitor will not solely focus on voice-chat.
"Ours isn't only voice chat either. It's video. Patience. We have A LOT of stuff we have been building behind the scenes that will be rolling out over the next six months. Gab is inevitable."