A new investigative report from Project Veritas indicates that more than 1,000 Google employees pressured the company to remove Breitbart News from its AdSense advertising network in 2017.
This report from Project Veritas corroborates previous reporting from Breitbart News which showed evidence of Google employees targeting Breitbart's ad revenue in 2017.
While the Google employees' efforts were ultimately unsuccessful and one of the employees involved has since been fired, the leaked documents add to the many previous examples of anti-conservative bias we've seen from Google.
The Project Veritas report features leaked emails which show Google employees discussing various tactics to get Breitbart News removed from AdSense, a leaked internal Google petition, and comments from a Google insider who says that the employees were doing this for political reasons.
When asked about the employees referenced in the leaked documents, the Google insider said:
"They are unhappy with the election and they are unhappy with the narratives that are being put out there that contradict the mainstream media's narrative."
The first leaked email from March 23, 2017 shows a self-identified feminist Google employee alleging that Breitbart News disseminates "extreme sexism" and encouraging fellow Google employees to sign a letter pressuring Google's leaders to remove Breitbart News from AdSense. The email also claims that 1,186 Google employees have already signed the letter.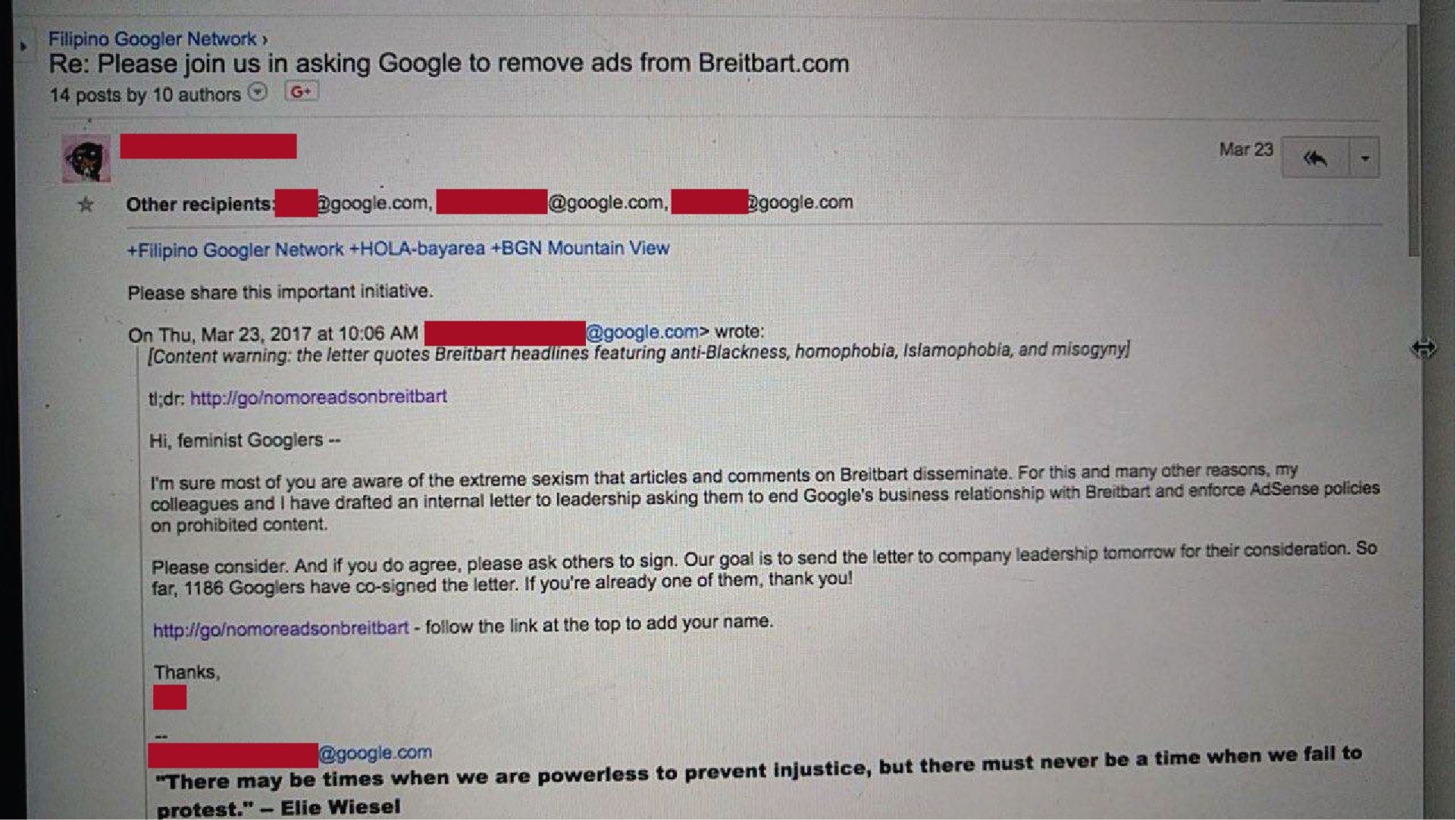 It reads:
"Hi, feminist Googlers – –

I'm sure most of you are aware of the extreme sexism that articles and comments on Breitbart disseminate. For this and many other reasons, my colleagues and I have drafted an internal letter to leadership asking them to end Google's business relationship with Breitbart and enforce AdSense policies on prohibited content.

Please consider. And if you do agree, please ask others to sign. Our goal is to send the letter to company leadership tomorrow for their consideration. So far, 1186 Googlers have co-signed the letter. If you're already one of them, thank you!"
The internal letter that this Google employee references in the email is presumably referring to a leaked petition titled "It's Time to Remove Breitbart from AdSense" which is addressed to Google CEO Sundar Pichai.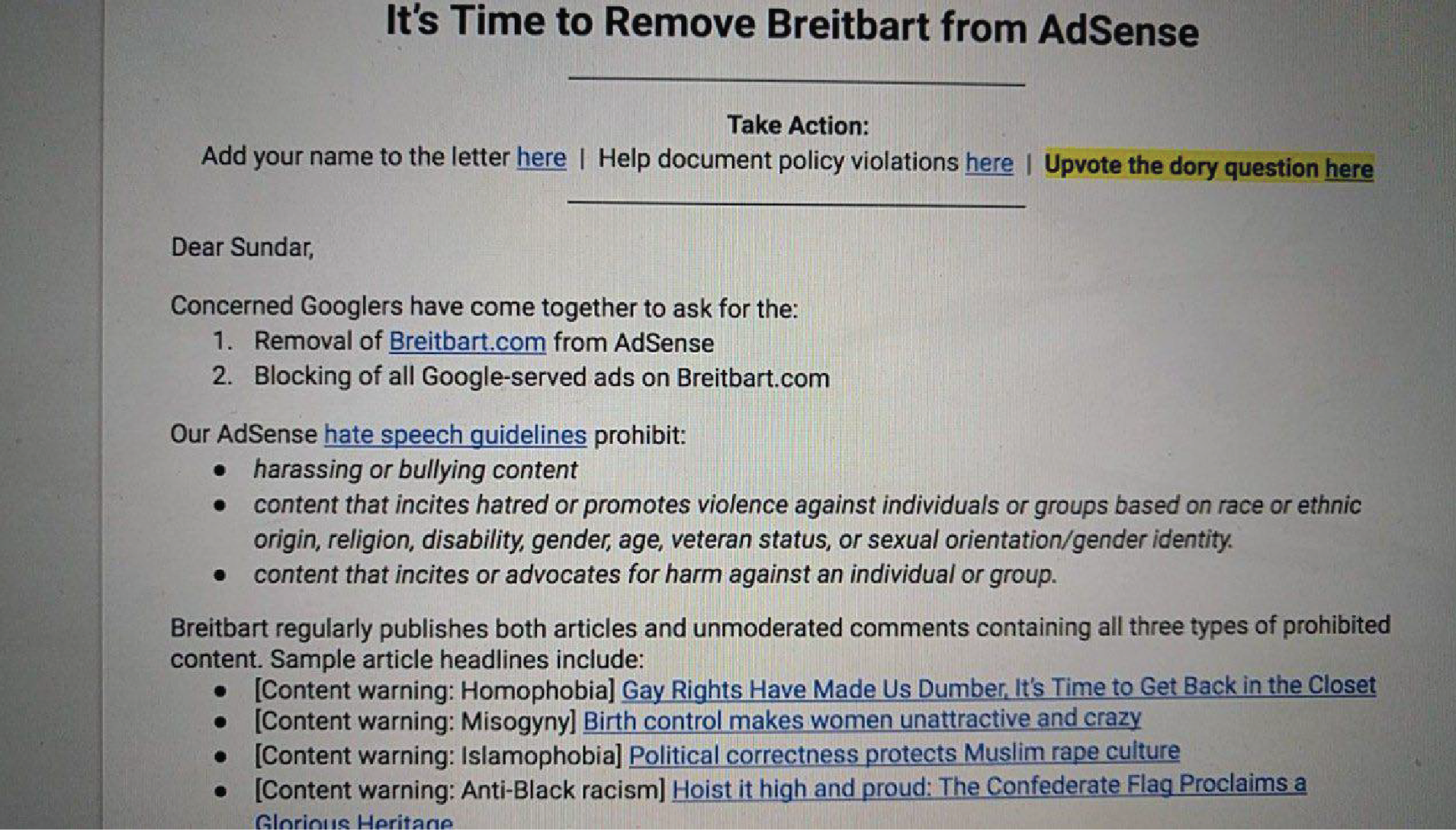 The petition reads:
"Dear Sundar,

Concerned Googlers have come together to ask for the:
Removal of Breitbart.com from AdSense

Blocking of all Google-served ads on Breitbart.com

Our AdSense hate speech guidelines prohibit:

harassing or bullying content.
content that incites hatred or promotes violence against individuals or groups based on race or ethnic origin, religion, disability, gender, age, veteran status, or sexual orientation/gender identity.
content that incites or advocates for harm against an individual or group.

Breitbart regularly publishes both articles and unmoderated comments containing all three types of prohibited content. Sample article headlines include:

[Content warning: Homophobia] Gay Rights Have Made Us Dumber, It's Time to Get Back in the Closet
[Content warning: Misogyny] Birth control makes women unattractive and crazy
[Content warning: Islamophobia] Political correctness protects Muslim rape culture
[Content warning: Anti-Black racism] Hoist it high and proud: The Confederate Flag Proclaims a Glorious Heritage"
In addition to over 1,000 Google employees reportedly signing this petition, a second leaked email thread, which was previously published by Breitbart News in December 2018, shows other Google employees discussing their plans to look through Breitbart.com for what they deem to be "hate speech" and disabling ads when they find "hate speech" policy violations.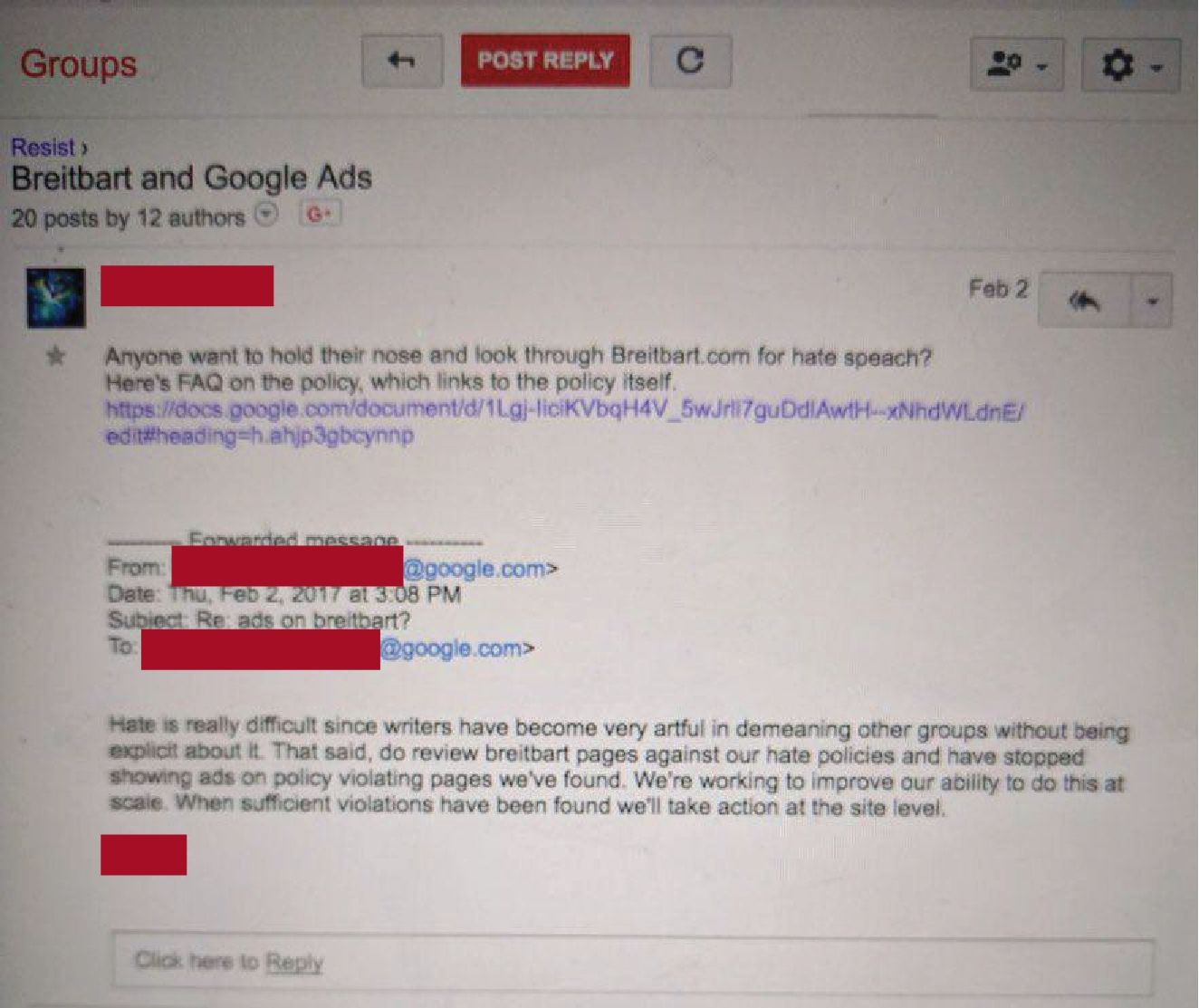 The email from the first employee in this thread reads:
"Hate is really difficult since writers have become very artful in demeaning other groups without being explicit about it. That said, do review breitbart pages against our hate policies and have stopped showing ads on policy violating pages we've found. We're working to improve our ability to do this at scale. When sufficient violations have been found we'll take action at the site level."
The email from the second employee in this thread reads:
"Anyone want to hold their nose and look through Breitbart.com for hate speach? (sic)

Here's FAQ on the policy, which links to the policy itself.

[Link to policy]"
Breitbart News said it was surprised by these documents and that they show a wider plot by Google to target its site. Alex Marlow from Breitbart News added:
"This is more confirmation that Google is staffed by many left-wing activists with a totalitarian, un-American desire to silence, defund, and de-platform those with whom they politically disagree – – or even make them feel the slightest bit uncomfortable. This is all about 2020."
Google did fire one of the employees who attempted to get Breitbart News removed from AdSense after they were repeatedly told that they were engaging in too much social activism by their manager. However, the fact that 1,000+ other Google employees seem to have signed a letter encouraging Google to remove Breitbart News from its ad network suggests that there is still a heavy anti-conservative bias in the company.
This notion is further supported by previous leaks we've seen from inside Google. These leaks include documents showing Google employees describing Ben Shapiro Jordan Peterson, and PragerU as "Nazis," documents suggesting that Google blacklists numerous conservative media outlets from some of its search results, and an undercover video indicating that Google uses its biased AI to suppress conservative content.