In August 2018, radio host Alex Jones and his Infowars website were purged from most of the major big tech platforms in what was a defining moment for online censorship.
Since that moment, there's been a surge in the number of independent creators who have had their content or accounts suddenly scrubbed from big tech platforms and numerous big tech policy changes that have supported this increased censorship.
Now one of the last remaining big tech platforms to host Infowars content, the Google Play Store, has banned the Infowars Official Android app.

The app was rated 4.7 stars, had more than 100,000 downloads, and provided Infowars fans with a convenient way to get the latest updates from Infowars delivered to their phone.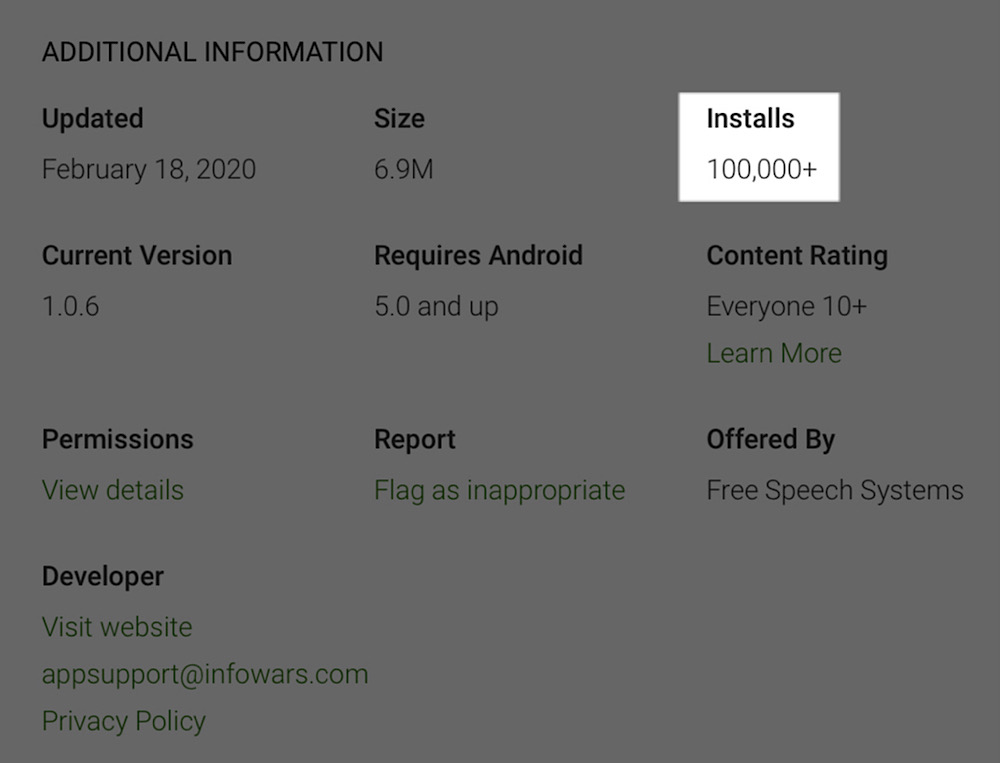 Wired suggested that the Infowars Android app was banned over a video where Jones "disputed the need for social distancing, shelter in place, and quarantine efforts meant to slow the spread of the novel coronavirus."
Infowars has blasted Google for taking down the app and described it as an act of political censorship:
"Google's decision to ban the Infowars app is yet another brazen attack on free speech and the First Amendment by anti-American Big Tech firms that are exploiting the COVID-19 crisis as a smokescreen for their continued efforts to censor dissenting voices. Every American should be outraged by Google's actions, and should remember that Infowars has long been the canary in the coal mine when it comes to political censorship. Americans do not want mega corporations like Google to decide what they can and cannot think, say, or do. Today's ban is a clear preview of what is to come: total internet censorship for those who dare to question the mainstream narrative."
Google suggested that the app was banned for violating its policies "by distributing misleading or harmful information."
While the Infowars app has been purged from the Google Play Store, it's still available as a direct download from the Infowars website.
Infowars being banned from the Google Play Store in relation to coronavirus claims also comes amid a huge big tech crackdown on this topic which is resulting in content about the virus being suppressed unless the creator of the content is deemed to be a trusted source.
On Facebook and Instagram, coronavirus content is scrubbed from recommendations unless Facebook decides that it's from a "credible" source.
On YouTube, "authoritative sources" are being given priority placement on the homepage, in search, and in recommendations for coronavirus content.
And on Twitter, some coronavirus articles are being blocked and users are being warned that they may be forced to remove some tweets that contain coronavirus jokes.