New York Governor Kathy Hochul on Wednesday tweeted that her office would come up with a comprehensive plan to deal with domestic terrorism.
As part of this plan, Hochul announced, the state would introduce more stringent gun laws, but also launch investigations into social media platforms that the governor says "promote" violent extremism.
This is happening in the wake of the Buffalo shooting, when 18-year-old Payton Gendron, who described himself as a white supremacist and has in the meanwhile pleaded not guilty to first degree murder, is charged with killing ten people in a racist massacre.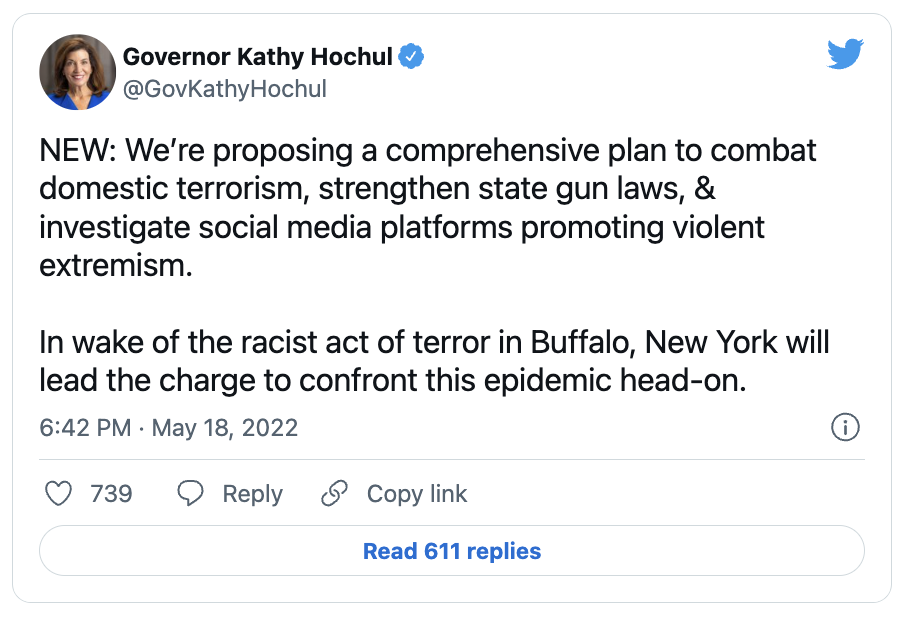 In comments cited by the New York Times, Hochul, a Democrat who is hoping to get reelected later this year, said that the state is now "doing something" in response to this type of crime.
In addition to making New York's strict "red-flag" law on guns even tougher, the focus is on the internet, where Gendron is said to have been "radicalized."
The governor's executive order (obtained for you here, though note that the signed EO incorrectly lists the date of the shooting as being March 2022, instead of May 2022) instructs the State Police to establish a "dedicated unit within the New York State Intelligence Center (NYSIC) to track domestic extremism and increase social media monitoring at the Intelligence Center."
"The unit will be responsible for developing investigative leads based on social media analyses focused on radical extremist activities motivated threats by identifying online locations and activities that facilitate radicalization and promote violent extremism," it says.
Hochul and like-minded politicians seem to put gun laws on a par with controlling online posts and other content, as a means to prevent mass shootings.
After the deadly incident, Hochul penned a letter to New York Attorney General Letitia James, asking that "specific online platforms" be investigated for broadcasting and "amplifying" the suspect's acts and intentions.
The investigations could involve subpoenas that would force witnesses to testify and companies behind social media to retain data documenting Gendron's activities.
Hochul's request seems to concern Amazon's Twitch where the livestream of the shooting was reportedly online for a short period of time, but also 4chan and 8chan message boards.
Serious action is being taken "to investigate these companies for their roles in this attack," AG James said in her response.
But critics are wondering about the constitutionality of this type of reaction, and whether or not the state would be stepping out of those bounds with the newly announced plans.