On Wednesday, the London (Metropolitan) police appeared to still be considering using its live facial recognition system during the coronation of the UK's new king, and only a short while later – in fact, the same day – they confirmed that this would actually be the case.
This form of mass surveillance will be used in central London during the ceremony and will mostly consist of technology provided by Hikvision, a controversial company due to its tech being used in labor camps in China.
Ahead of the confirmation of this news, UK civil liberties nonprofit Big Brother Watch said on Twitter the police were "testing public opinion" by making the announcement about the possible deployment of the tech.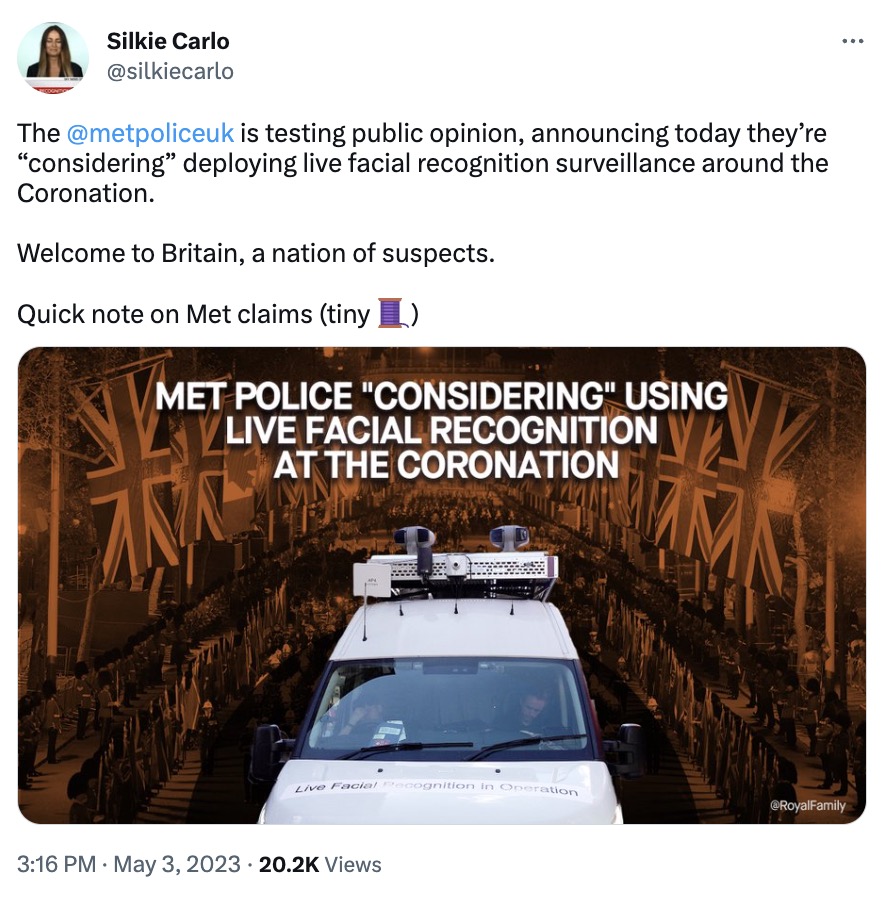 "The Government's decision to install 38 Hikvision cameras along the Coronation route shows a staggering lack of judgment, especially given that Hikvision is already banned from many Government sites. It is grossly inappropriate, deeply insensitive, and a stain on our country's record that Chinese state-owned companies closely linked to grave human rights abuses will have their surveillance tech at the heart of this historic event," Big Brother Watch said in a statement.
If that was the case, the "testing phase" was over quickly, as on Wednesday the London police website detailed all the actions they would be undertaking during the coronation.
Among those details was the statement that facial recognition would be used in central London. The plan to use the technology was explained as utilizing the "watch list" that will focus on persons whose presence "would raise public protection concerns."
This "class" of citizen includes those with outstanding warrants against them, or those undergoing "relevant offender management programs."
Before it became official that live facial recognition will indeed play a role during the event, Big Brother posted a response on its site to the Metropolitan police, which was at that point "considering" this.
The group's Legal and Policy Officer Madeleine Stone was quoted as saying that this type of surveillance is an authoritarian and Orwellian tool, that would in the end treat everyone – and that is expected to be hundreds of thousands of people attending the coronation – as suspects whose biometric data is checked by the police.
Beyond that, the system is not actually useful in achieving its declared purpose, i.e., detecting threats. In fact, Big Brother Watch claims that the London police themselves have put out numbers that show 86% percent of "racial flags" are not accurate.
"Live facial recognition is not referenced in a single UK law, has never been debated in parliament, and is one of the most privacy-intrusive technologies ever used in British policing," said Stone.
Other measures that observers have noted will be put in place during the coronation are GPS jammers that are already installed in Westminster, but are not currently active.