Colleen Oefelein, a former agent at The Jennifer De Chiara Literary Agency, was fired after Twitter users complained that she was using anti-big tech platforms Gab and Parler.
Yesterday, the anonymous Twitter account YA Whispers tagged The Jennifer De Chiara Literary Agency and quote tweeted one of Oefelein's tweet threads from November 2020 where she announced:
"I'm now also posting on Parler. It's a great platform with no censorship! Giving away a few critiques there next week. Come find me."
YA Whispers branded Gab and Parler "alt-right" and asked The Jennifer De Chiara Literary Agency whether it knows or cares that one of their agents frequents these platforms.
On the same day, the agency's president and founder, Jennifer De Chiara responded to the tweet, thanked YA Whispers, and revealed that Oefelein had been fired.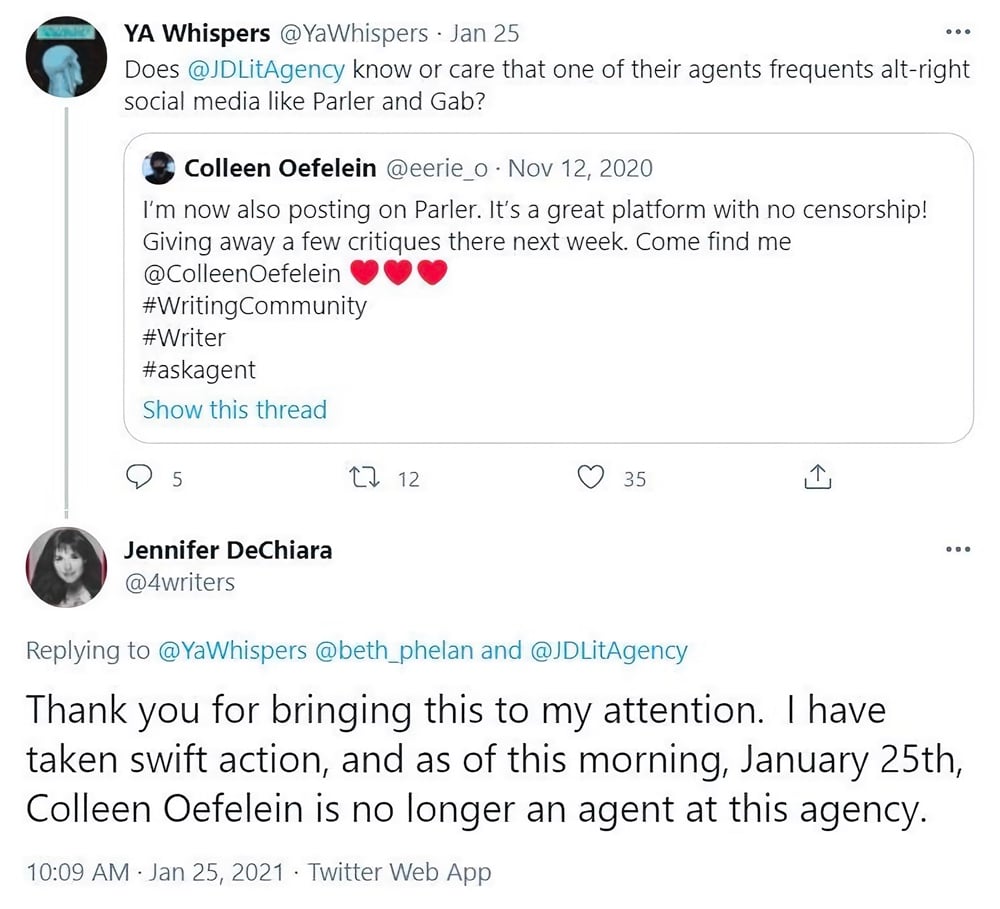 In a series of followup tweets, De Chiara wrote that the agency was "distressed to discover this morning, January 25th, that one of our agents has been using the social media platforms Gab and Parler. We do not condone this activity, and we apologize to anyone who has been offended or affected by this."
She added: "The Jennifer De Chiara Literary Agency has in the past and will continue to ensure a voice of unity, equality, and one that is on the side of social justice."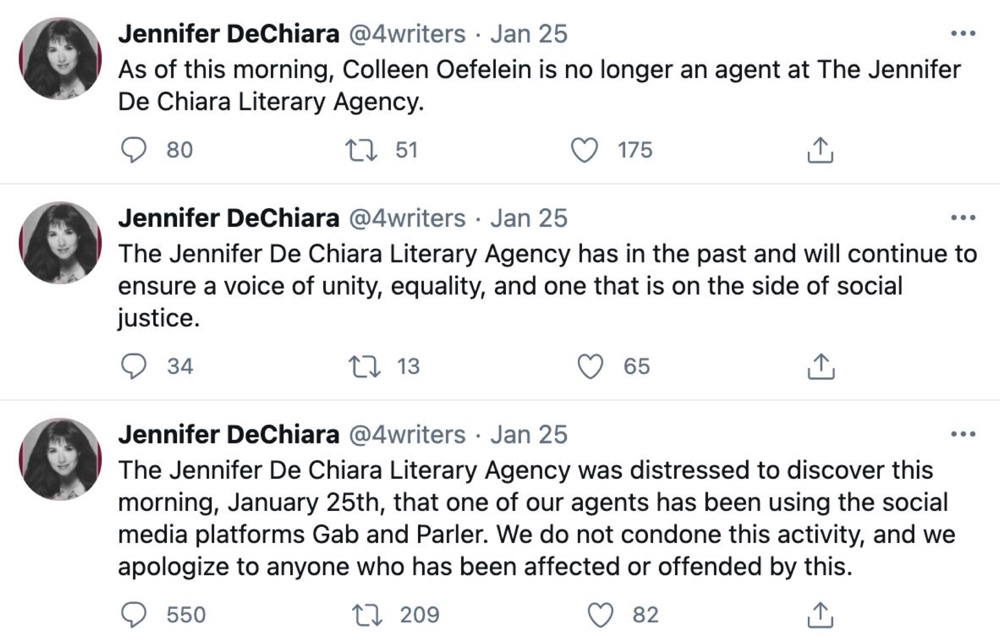 These tweets from De Chiara didn't point to any issues with Oefelein's posts on Gab and Parler – just the fact that she had an account on these platforms and the potential that people could be "offended or affected" by the existence of these accounts.
Parler was taken offline on January 10 so it wouldn't have even been possible for De Chiara to review Oefelein's Parler posts if she only discovered the existence of Oefelein's Parler account on January 25. And Oefelein currently only has one post on Gab which is identical to the pinned tweet on her Twitter account.
Oefelein confirmed that she had lost her job and wrote that she was fired for being "a Christian and a conservative."
The firing of Oefelein represents an escalation in cancel culture. Instead of being targeted for expressing a specific viewpoint, Oefelein appears to have been targeted simply because she maintaining a presence on growing platforms which are becoming increasingly necessary as Big Tech companies continually decide to be arbiters of truth.