YouTuber and laptop repair shop owner Louis Rossmann says he's rethinking whether YouTube will be his primary platform in the future and is encouraging viewers to watch his videos elsewhere.
Rossmann's frustrations with YouTube come after one of his recent videos, DAY 39 – HERE'S WHAT WE UNCOVERED ABOUT THE CONTRACTOR!, was removed in response to what he describes as a "bogus privacy claim."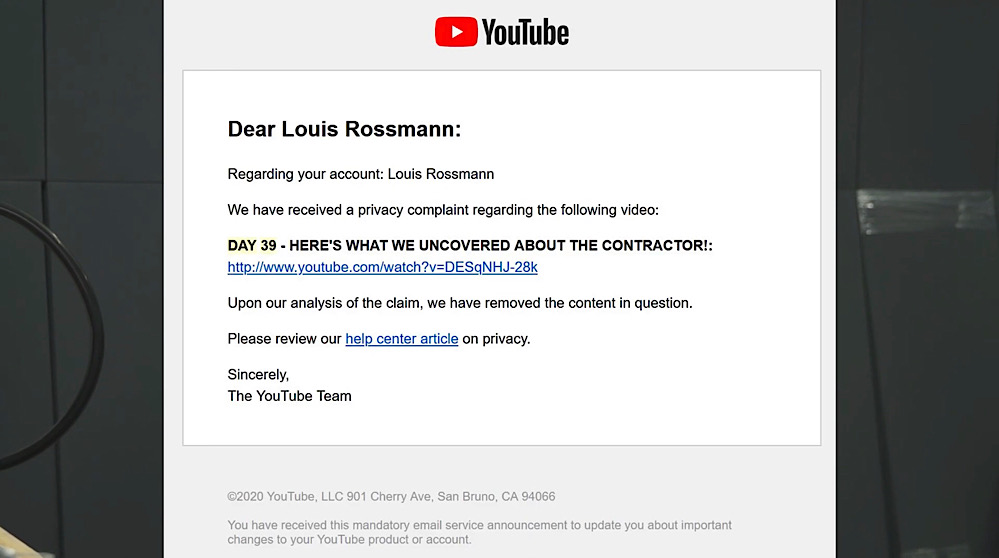 Rossmann was critical of the contractor in question and had fired him for doing what he believed to be bad work.
After firing the contractor, Rossmann said he looked into his past and found that the contractor had been sued by a previous client for allegedly failing to complete work.
According to Rossmann, the contractor didn't defend himself against the allegations, the client got a default judgment, and then the contractor filed for bankruptcy but failed to get bankruptcy protection.
Rossmann said that within 24 hours of failing to get bankruptcy protection, the contractor's address as listed on BuildZoom, a service for finding local contractors, burned down.
"I found all of this to be kind of strange, as many people should," Rossmann added.
Rossmann contends that the privacy complaint on his video is invalid because he only used publicly available information when discussing the contractor which included publicly available news articles and publicly available court documents.
Because YouTube took down the video and allowed a "bogus privacy claim" to win, he's now reconsidering whether YouTube should be the main place that viewers watch his videos.
Rossmann said that while he values the platform of over one million subscribers that YouTube has allowed him to gain, he's concerned about the way it suddenly takes down videos in response to false privacy complaints with no option to appeal:
"I shouldn't be treating this as the primary platform I use for my stuff if the bogus privacy claim is a claim that wins at the end of the day and that seems to be what happens here."
Rossmann is encouraging viewers to watch his content on "another website" which he didn't mention in the video because he said it may give YouTube an excuse to take his video down.
However, Rossmann appears to be referring to his Vimeo page and said he'll now be uploading videos to this other website first before they're posted to YouTube.
This takedown is the latest of several Rossmann has faced in response to bogus privacy complaints on YouTube.
In January, several of his videos of public hearings were taken down after fake privacy complaints which Rossmann said came from paid lobbyists who were trying to censor his videos.
And the problem of questionable privacy complaints on YouTube isn't just affecting Rossmann.
FIFA pro and streamer Kurt recently had one of his YouTube videos where he criticized EA's community managers hit with several privacy complaints, despite these community managers being public figures.