A 28-year-old teacher at Walled Lake High School in Michigan is accusing his school of wrongful termination for tweeting messages in support of The President.
According to local media outlets, Justin Kucera had to attend a Zoom meeting with district administrators, where he was called upon to explain his tweets dated July 6.
Kucera's "crime" here was apparently retweeting one of Trump's posts pertinent to his profession – stating that (in the context of coronavirus lockdowns) schools in the US must open in the fall, and in addition expressing his frustration with being silenced.
"I'm done being silent. @realDonaldTrump is our president… Don't @ me."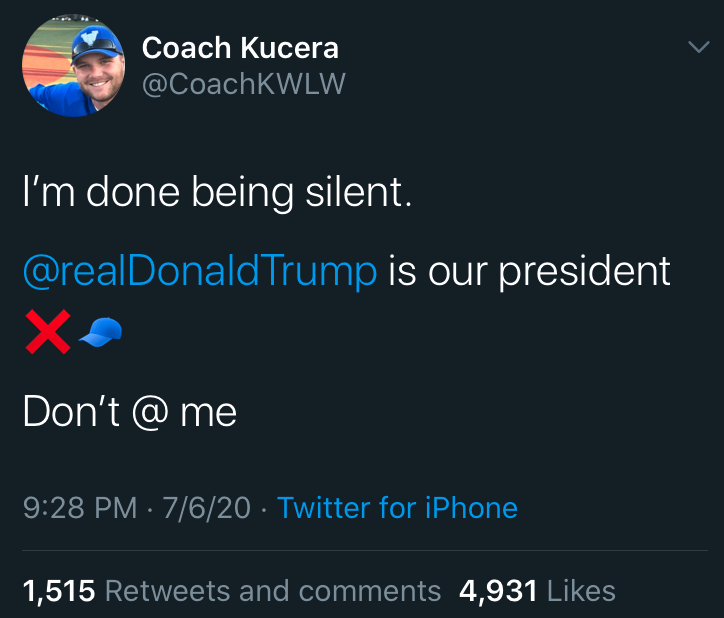 This would hardly be considered a statement containing any amount of controversy in a stable democracy, nor indeed one of the responses to a comment posted to it, when Kucera replied to a Twitter user, "Liberals suck man."
But self-censorship seems to be taking hold in America pretty quickly, at least if this example is anything to go by, as the teacher deleted that last tweet – no doubt aware that any deviation from groupthink, however mild it may appear, might land him in real trouble.
And indeed, it has.
Next on Kucera's agenda was the Zoom meeting: with two human resources guys from the school's administration – assistant superintendent Michael Lonze and executive manager Bradley Paddock, plus two union representatives.
The teacher was asked to explain his tweets, which he did by reiterating that he thought schools should indeed reopen this fall and that supporting your country's president might be a good idea in a time of crisis:
"I think we should be rooting for him to succeed because if the president succeeds we all succeed," Kucera said.
Another Zoom meeting followed last Monday when the teacher was told to either resign or be fired. And so he got fired.
The school, however, denies that Kucera's support for the president's policies was what led to his firing – but this educational institution was at the same time short on any detail as to what may have been the reason behind it.
To make matters worse, Kucera also said that "other teachers have tweeted negative opinions against Trump and haven't received the same censure."