UPDATE: Pewdiepie has since reversed this decision. Read the story here.
PewDiePie, the first solo creator to pass the 100 million subscriber mark on YouTube, has celebrated the milestone by announcing that he's donating $50,000 to the Anti-Defamation League (ADL) – an organization that has controversially been seen as a proponent of YouTube policies that have harmed creators on the platform over the last few years.
PewDiePie made the announcement while unboxing his 100 million subscriber award from YouTube. He didn't explain why he'd decided to donate to the ADL and simply framed it as "an additional celebration." However, the decision has confused some followers, given that PewDiePie has previously called out organizations for being against free speech.
Some of PewDiePie's fans are surprised and disappointed with the announcement and many of the comments on the video are highly critical of PewDiePie's decision.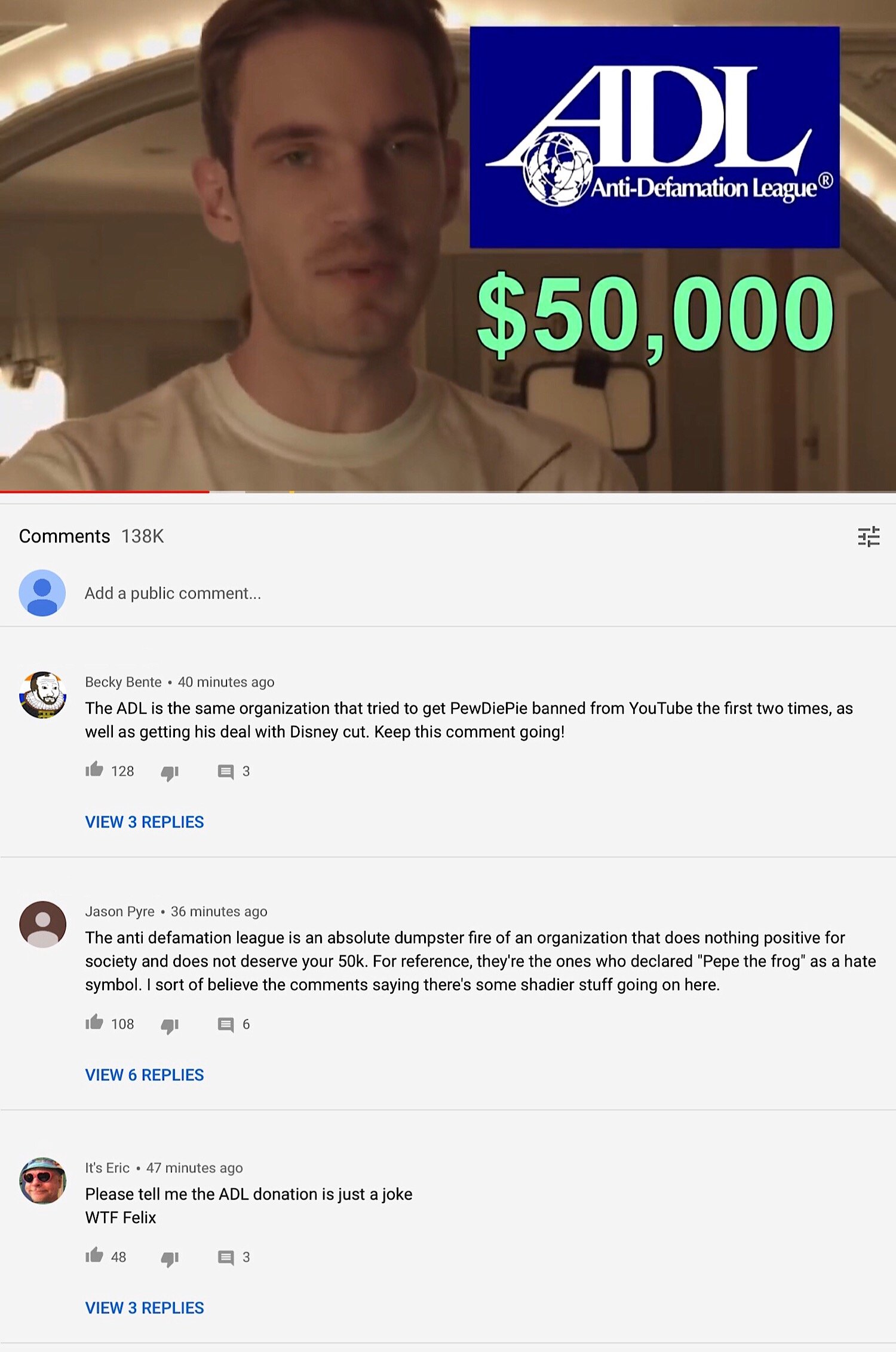 The ADL has consistently pushed for stricter YouTube content moderation and its associate director Jonathan Vick also criticized PewDiePie directly in an article from The Wall Street Journal which used PewDiePie's jokes out of context and successfully pressured Disney to cut ties with him in 2017.
In 2017, YouTube also made the ADL part of its "Trusted Flaggers" program – a group of organizations that consult with YouTube on how to tackle issues such as "hate speech."
YouTube's "hate speech" policies have led to a wave of censorship across YouTube and resulted in many creators of innocuous content having their videos removed or demonetized.
For example, British model maker Phil Page says that these "hate speech" rules are having a negative impact on people in the model making and tabletop games communities. Shortly after YouTube introduced its new "hate speech" rules in June, one of Page's eight-year-old videos showcasing a model that he had created for use in the game "A Very British Civil War" was deleted by YouTube for supposed "hate speech."
Independent journalist Ford Fischer who produces on the ground reporting also had his entire YouTube channel demonetized and some of his videos removed for apparent "hate speech" violations. The videos that were removed were simply documenting specific events. One notable aspect of Fischer's videos being removed and demonetized is that those who were pushing YouTube to enforce more aggressive "hate speech" policies complained when these policies had unintended consequences and impacted Fischer's channel.
The wider impact across the YouTube community is significant with YouTube reporting earlier this month that it had removed 5x more videos and channels for "hate speech" in Q2 2019. In raw numbers, that equates to more than 100,000 videos being deleted and more than 17,000 channels being terminated.
Despite the collateral damage that these "hate speech" rules caused to the creator community on YouTube, the ADL welcomed them and pushed for even more censorship by saying:
"We were glad to share our expertise on this and look forward to continuing to provide input. While this is an important step forward, this move alone is insufficient and must be followed by many more changes from YouTube and other tech companies to adequately counter the scourge of online hate and extremism."
The ADL's push for stricter policies on speech also extends far beyond YouTube. Earlier this year, the ADL attended a summit with others tech companies to formulate "best practices on the fight against hate and extremism online" – what has been seen as a vague and subjective term which many see as a way for the group to push more online censorship.
Update – September 11, 2019: PewDiePie has released the following statement on his ADL donation:
"Misrepresenting headlines of me has led me down a path of twists with MSM [mainstream media] for years now. Previously it hasn't bothered me much, I know who I am.

But, after the Christ Church travesty a few months ago, my own clash with MSM was manipulated as a tool for destruction.

I'm not ok with this situation any longer and I've felt responsibility to make changes.

Making a donation to the ADL doesn't make sense to everyone, especially since they've outright spoken against me. I wanted to show publicly that I can move past it and move on.

I think that it's important, this just isn't my fight anymore."