The intricate connections between a self-proclaimed "disinformation" monitoring organization, the pro-censorship Center for Countering Digital Hate (CCDH) and the British government have been gradually revealed, causing a furor among advocates of free speech.
Congress in the United States is pointing fingers at the CCDH, asserting that it plays a substantial role in silencing conservative voices on the internet. Its reporting has been used by the government to call for censorship online. The organization, identifiable as a charity in the United States but with a significant base in the UK, has reportedly been instrumental in tackling alleged disinformation in digital spaces.
Potential infringements on American free speech surface when one digs deeper. The UK arm of the CCDH touts a board of directors studded with British politicians, officials, and their staff, raising scrutiny from vigilant watchdog organizations. Evidence points to the CCDH as a preferred adviser for governments, particularly in tackling alleged conservative misinformation.
The far-reaching implications of the CCDH's influence raise alarm bells among defenders of the First Amendment, The Washington Examiner reports.
This concern extends to the presence of foreign organizations and nationals influencing US free speech policies and contributing to the infringement of these rights.
While the CCDH and allies depict their mission as combating hatred and fostering safe digital communities through research, public campaigns, and policy advocacy, critics argue it amounts to a soft version of censorship and an affront to free speech.
The CCDH's incorporation in the United Kingdom in 2018 and its founder's political ties to the Labour Party have prompted critical scrutiny and lawsuits from social media platforms like X.
The CCDH's embrace by the Biden administration and Facebook concerning COVID-19 disinformation also do not escape public notice.
Boasting a board populated with significant political figures, including Damian Collins, a pro-censorship conservative MP who has supported plans to backdoor private messages, and former parliamentary undersecretary of state for tech, as well as Kirsty McNeill, a former strategy director to the office of ex-UK Prime Minister Gordon Brown, the CCDH hardened its political affiliations.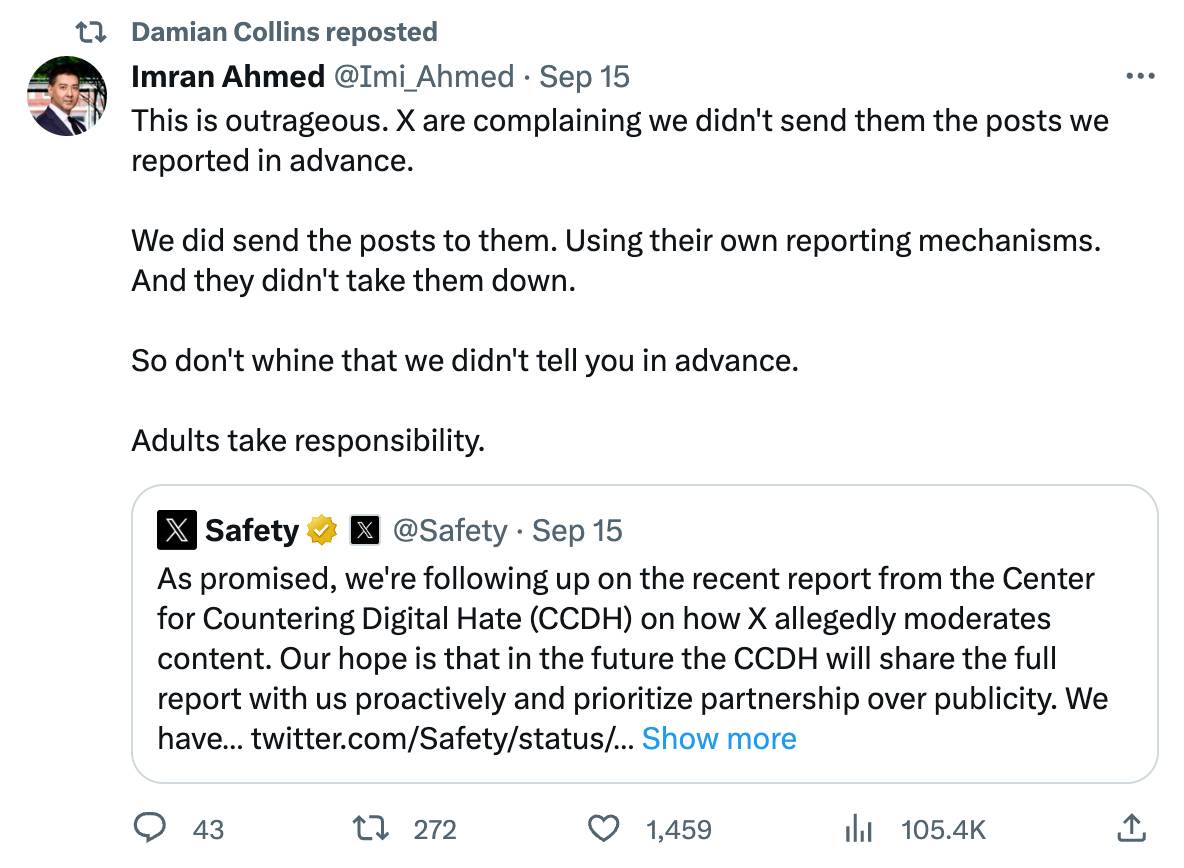 Matthew Gould, an ex-British ambassador to Israel, also held a spot on the CCDH's board. The list of past CCDH board members includes figures like Lord Jonathan Oates, a top aid for UK Deputy Prime Minister Nick Clegg, summing up the organization's far-reaching political connections.
All these hard-to-ignore ties place the CCDH's functioning and influence on civil liberties, free speech, and information dissemination in a different light.
The considerable ability and inclination of foreign organizations to shape the narrative surrounding critical issues involving free speech and the potential for so-called "disinformation" trackers to infamously engage in questionable activities underline the importance of vigilance and institutional protections for the rights of citizens.