More revelations are coming to light as part of the "Facebook Files" detailing the mechanism of censorship pushed by the Biden administration around Covid vaccine hesitancy.
Knowing that the statistics supposedly proving that one group of people – the so-called "Disinformation Dozen" – was responsible for the majority of alleged anti-vaccine content, were hugely overblown was enough to dissuade either the White House or Facebook from carrying out censorship.
The latter did so under pressure from the former, internal documents now show. And behind it all was the Center for Countering Digital Hate (CCDH), a foreign, UK-based self-styled misinformation crusader.
The term "Disinformation Dozen" refers to Robert F. Kennedy Jr. and 11 others, and the claim made by CCDH was that they were responsible for as much as 65 percent (in some instances the figure of 73 percent was being thrown around) of "anti-vaccine misinformation" on social networks.
But Facebook knew that the figure was in reality something around 0.05 percent, and tried to find ways to avoid what an internal Facebook email dated April 7, 2021, referred to as acting "out of the misinfo" realm – if content from the 12 accounts, described as "completely benign," was to be removed, as demanded by the Biden administration.

That email also admitted that most content expressing vaccine hesitancy does not actually qualify as misinformation. In other words, Facebook was struggling to justify ramping up censorship, i.e., "push farther than we have already done."
House Judiciary Chairman Jim Jordan is working on making the facts around this known to the public by asking both Facebook and the White House to provide relevant documents, and now CCDH has been subpoenaed, with the deadline of September 29.
But what is known so far paints a grim picture of not only the US government "communicating" with major social platforms by pressuring them, basing their demands on murky foreign groups and their "facts," but also those platforms, like Facebook, ultimately succumbing to that pressure.
CCDH had come out with the "Disinformation Dozen" accusations in late March 2021 and, as soon as in April, Facebook was internally preparing to deal with the consequences – as a draft memo to Mark Zuckerberg that spelled it out, those inside the company continued "to see pressure from partners and policymakers, including the White House, to remove entities that are seen to be contributing to large amount of vaccine misinformation content."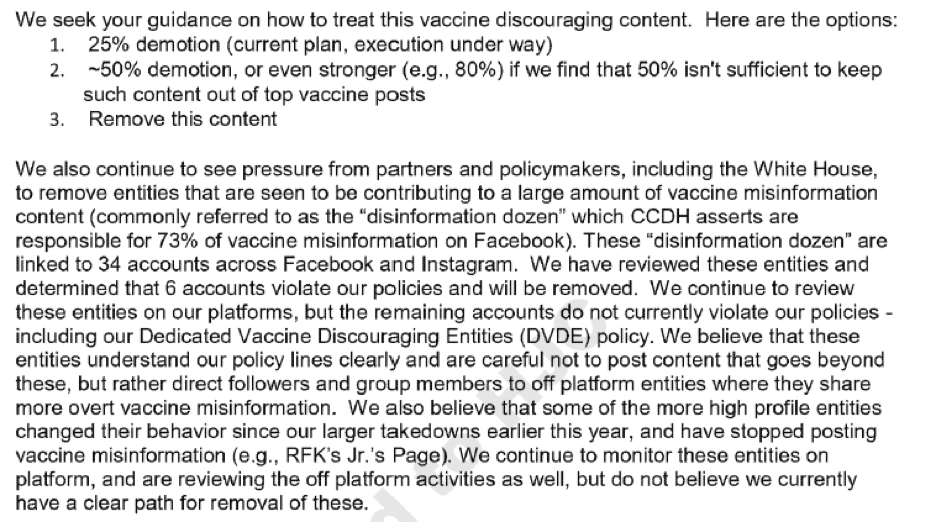 But the same memo also makes note of the fact the targeted accounts were either not violating Facebook's rules or were "no longer" posting what was considered vaccine misinformation, leaving the social site with "no clear path for removal" of the accounts in question.
None of this had any effect on the White House, so several months later, in July, then Press Secretary Jen Psaki continued to cite grossly erroneous statistics as the reason social platforms must carry out censorship, or, as the administration would put it, remove vaccine misinformation.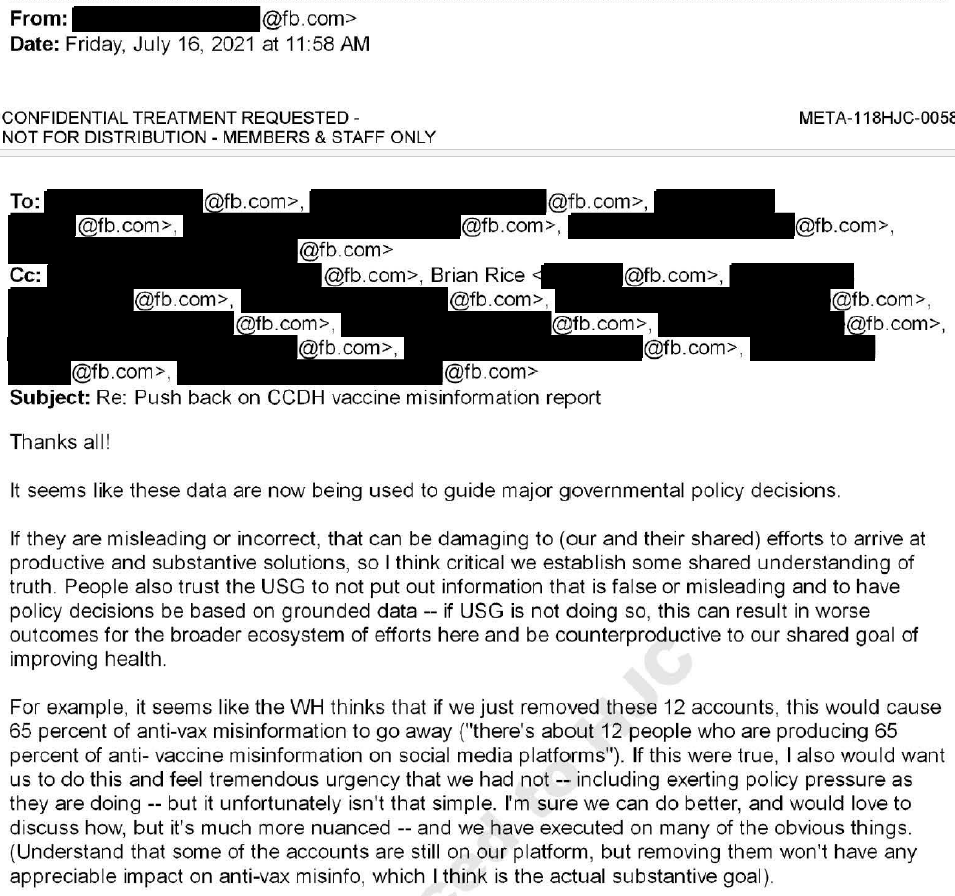 Peppering the whole thing with a decent amount of hypocrisy by urging for transparency (just as the government was secretly colluding with "fact-checking" groups and social sites), Psaki pushed for these platforms to establish "robust enforcement strategies" that would apply across the board, creating a "censorship coalition" of sorts.
The idea was to make censorship faster and more efficient – or as Psaki phrased it, "You shouldn't be banned from one platform and not others for providing misinformation out there."
Facebook was internally opposed to this "cross-platform disabling" idea as well, the documents show, noting that its users and those on Instagram should not be punished simply because their social media competitors had banned them.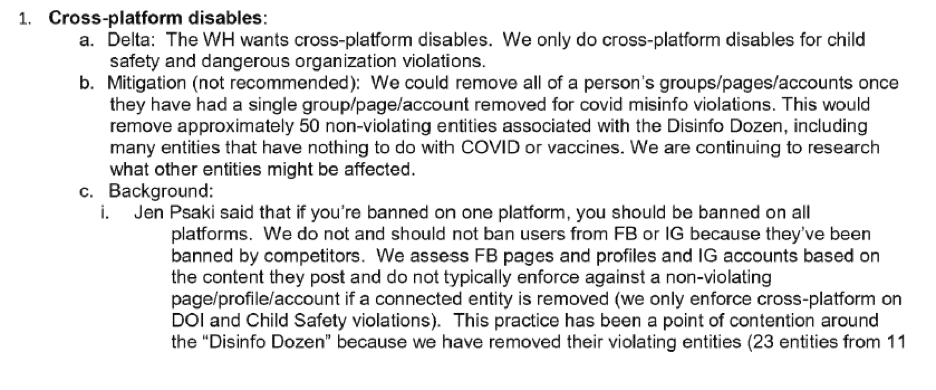 Another demand that came from the White House was for Facebook to remove all "Disinformation Dozen's" off-platform links regardless of whether the content violated its rules.
It is now known that despite the misgivings expressed by those lower in the Facebook hierarchy, the higher-ups were unwilling to risk disobeying the White House, so the censorship of the group, including Kennedy, started very soon after a CCDH report singled out the 12 accounts.

By July, 11 out of the 12 were subjected to "aggressive actions" while Kennedy's Instagram account was banned. Unsurprisingly, the one account left standing then switched to posting about censorship – under the watchful eye of Facebook, the documents show.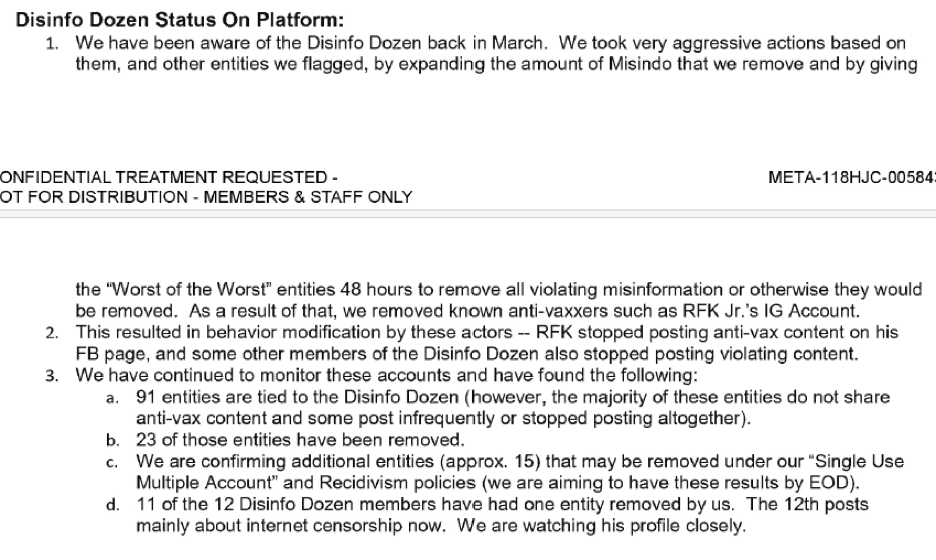 And in late July, Facebook's President of Global Affairs Nick Clegg met with the Surgeon General's Office, while internal emails exchanged a day before the meeting revealed the "Disinformation Dozen" was likely to be brought up.
Clegg asked his underlings to tell him what they had done against the 12 accounts, so he could present this to the government agency in defense of the platform.
"I mean, nothing we say will be persuasive to that crew… but make sure it doesn't detract from the message," one employee replied to Clegg.