Democratic Party House Rep. Ro Khanna, from the San Francisco Bay Area, contacted Twitter to express concern over the suppression of the Hunter Biden laptop story and the censorship of the New York Post, the publication that first broke the story.
"Censorship of the Hunter Biden story might have helped my party, but it was bad for our democracy," Khanna wrote in a opinion piece for the Wall Street Journal.
"Defending free speech is easy when it's speech you agree with. Defending speech you dislike, or speech that doesn't advance your interests, is more challenging," Khanna wrote. "But it is in exactly those uncomfortable situations that American democratic principles call on us to protect the free exchange of ideas and freedom of the press."
Khanna's communication with Twitter surfaced as part of the release of 'Twitter Files,' the internal documents detailing Twitter's censorship of the laptop scandal and its history of censorship before Elon Musk took over.
When the story broke, Twitter justified suppressing it by claiming it violated its policy on publishing personal information and even alleged that the story was derived from hacked content. It suspended the New York Post's account for posting the story, and even suspended the account of then-White House Press Secretary for sharing it.
In emails to then-head of legal, policy, and trust at Twitter, Vijaya Gadde, Khanna said the censorship "seems a violation of 1st Amendment principles."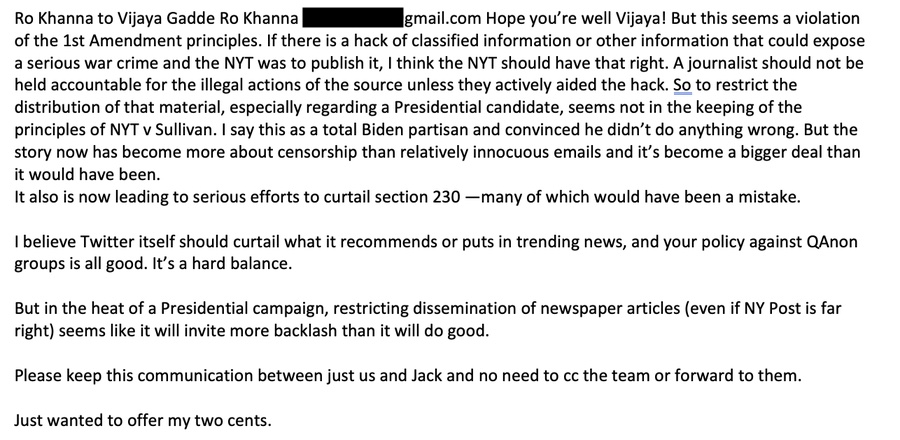 "A journalist should not be held accountable for the illegal actions of the source unless they actively aided the hack," Khanna wrote in an email sent on October 14, the day the Post published the story. "I say this as a total Biden partisan and convinced he didn't do anything wrong. But the story now has become more about censorship than relatively innocuous emails and it's become a bigger deal than it would have been."
Gadde insisted on suppressing the story. Khanna disagreed with censoring a news outlet, especially before a presidential election that was hotly contested.
"But in the heat of a presidential campaign, restricting dissemination of newspaper articles (even if NY post is far right) seems like it will invite more backlash than it will do good," he said.
According to journalist Matt Taibbi, who has been publishing the 'Twitter Files' on behalf of Musk, Khanna was "the only Democratic official" to question the censorship of the story.