A radio host in Seattle who specializes in the football team Seahawks has been suspended indefinitely after 18 years on the job for posting a tweet that is accused of being offensive to transgender persons.
The 59-year-old Dori Monson works for KIRO-FM, the flagship for Seahawks pre and post match shows and play-by-play commentary.
Monson, who hosted his own afternoon talks show on another Bonneville-owned and Seahawks station, and also pre-game and post-game shows on KIRO is now all but out of that job not for any professional failing, but for daring to express, on Twitter, what is essentially a political opinion.
The tweet was posted on Wednesday, during a Washington state gubernatorial debate.
Referencing current Governor Jay Inslee, a Democrat, Monson posted, "Inslee: we follow science in WA. The state where I could go to Olympia tomorrow and change my birth cert to say I was a girl on 10/2/61 HAHAHAHAHA."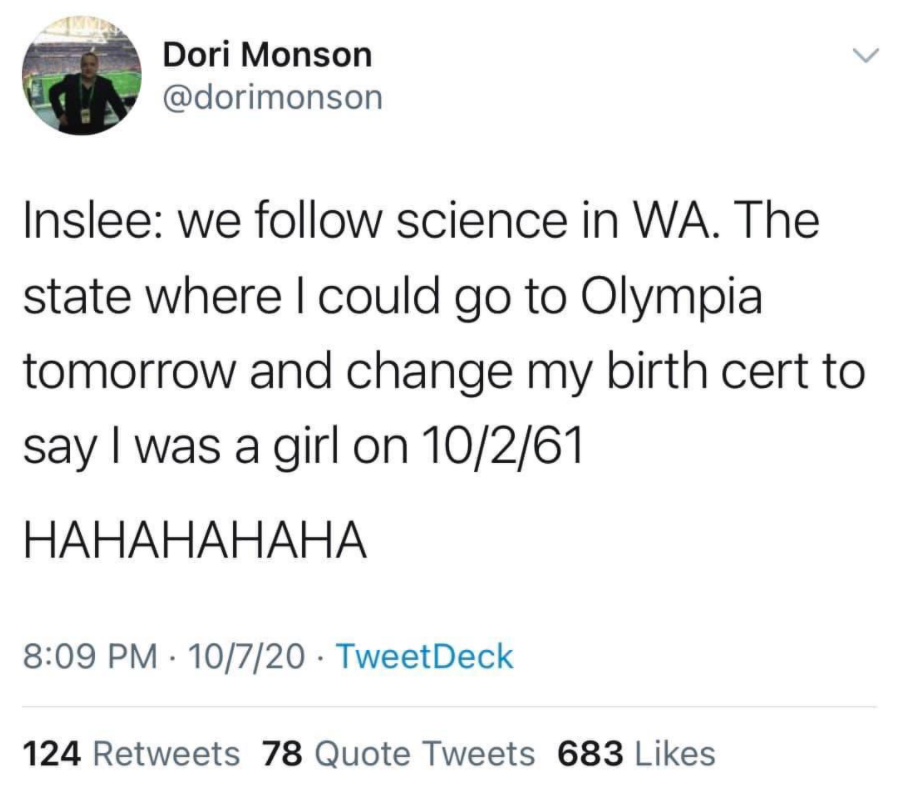 The tweet, that has since been deleted, has been understood by some Twitter users as transphobic.
Among those calling for Monson's canceling was Seattle Pride, and their wish has been all but granted now that both the Seahawks and Bonneville have infinitely suspended this well-known local radio host and personality.
Seattle Pride said they appreciated the move, but would continue to work to make sure that Monson was completely canceled, i.e., fired. The group, promoting LGBT issues and organizing events to this end, issued a statement saying that the suspension was a good first step, but that if Monson has any chance of keeping his job, he is expected to apologize, and make it sound sincere. In addition, the radio host must "take actions to build empathy and understanding toward our transgender community."
Furthermore, Seattle Pride mentions Monson's past history of homophobic and transphobic remarks, though its unclear what these may have been.
The only "dirt" the Seattle Times was able to dig up on the host in its article is that he is "known" for his conservative positions, apparently manifested in his past criticism of the city council for their stance on homelessness.