It now has a name: election interference. That is what Dr. Robert Epstein, a psychologist, has said could have taken place these last days and weeks, and what a group of Republican senators want Google, the alleged perpetrator of this serious transgression, to respond to.
Epstein has spent years looking into how politically biased search results can sway an election. The latest example is Google's involvement in the "getting out the vote" campaign, that in the final days of campaigning reportedly went all the way to sending reminders – only to Democrats.
The senators – Ted Cruz, Ron Johnson, and Mike Lee – penned a letter to Google, referring to Epstein's latest study, and explaining that this election monitoring effort included what is said to be a politically diverse group of people ("field agents") from three US states who were able to use their computers "to preserve more than 400,000 ephemeral experiences that tech companies use to shift opinions and votes and that normally are lost forever."
The letter cites Epstein's response to Senator Johnson, which said that what this monitoring effort found to be "one of most disturbing finding so far" (the study's results are still early) is that during the period the system became fully operational, October 26, and October 29, only those field agents that were chosen as liberal, in Florida, Arizona, and North Carolina, got reminders from Google's home page that they should vote – while conservatives "did not receive even a single vote reminder."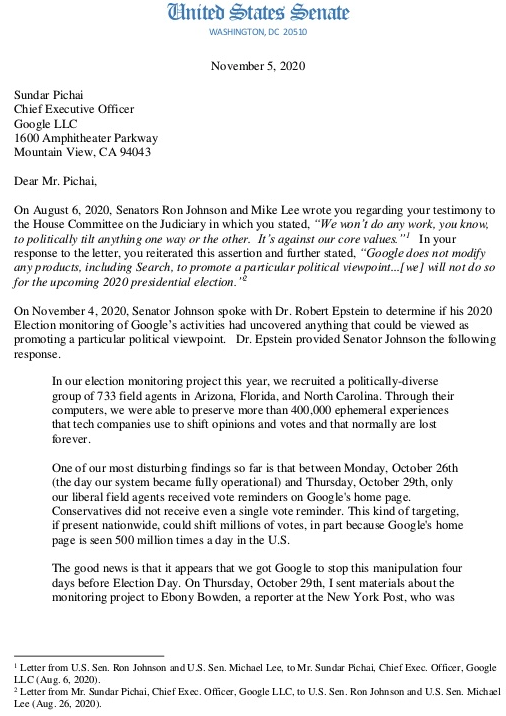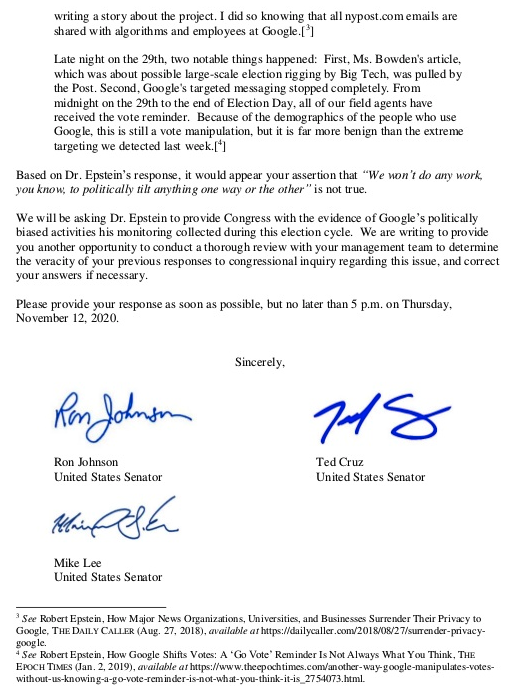 On the other hand, the letter said, quoting Epstein, Google stopped this four days ahead of election day and started sending reminders to everybody – apparently as a result of a New York Post article based on this same research, that the scientists sent to the publication on October 29. (A subsequent report about it written by Ebony Bowden also got removed from the news site.)
The senators would now like to have Google CEO Sundar Pichai's comment on this, considering his previous pledge that the giant "(…) does not modify any products, including Search, to promote a particular political viewpoint" and would "not do so for the upcoming 2020 presidential election."
Specifically they would like Pichai to say whether or not he was telling the truth.
Google has a much longer checkered political and ideological history – from the very force of its tight, near-monopolistic grip on the market, the abandonment of organic search results, and a number of whistleblowers who directly accused the behemoth of rigging its algorithm to silence some voices.