Singapore's new law, the Protection from Online Falsehoods and Manipulation Act (POFMA), came with a promise that it wouldn't be used to censor political parties – but now, its implementation seems to be telling a different story.
It can't be easy to be the opposition in a country like Singapore where the ruling People's Action Party has been in power for 60 years. With the new legislation strictly regulating online discourse, the life of the Singapore Democratic Party (SDP) just got even more difficult. How do you even criticize the government on any issue when each statement you make could be declared as "false," forcing you to "advertise" your own content as such by appending "correction notices"?
Singapore-based Channel News Asia (CNA) reports that the SDP has been "directed" by the authorities to in this "correct" two of its posts on Facebook and an article on its website in order to reflect what the authorities hold to be true. The party must attach the said notice that contains "the facts." And even though the credibility of the original posts and articles is fully undermined with this, at least the law doesn't require them to be edited or removed.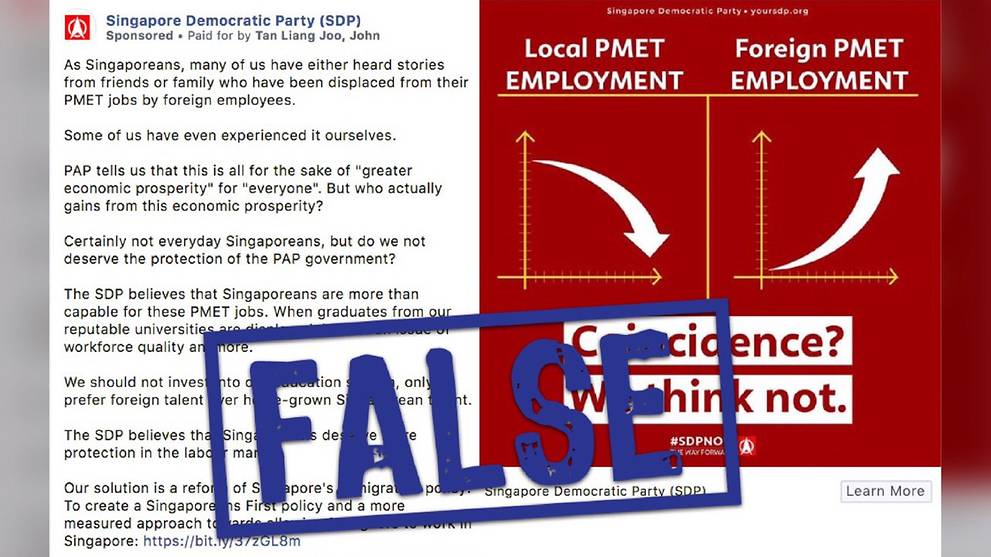 In this case, the contentious posts that the opposition must now correct relates to the city-state's population policy and manpower. The SDP's content included a graph showing a decline in the employment rate of local professionals, managers, executives and technicians (PMET) – but the government has its own data that says these numbers have been rising.
The law is new, coming into effect only two months ago, but Singapore's authorities are wasting no time applying it as this is the third time that what CNA refers to as "correction directions" have been issued. First, opposition Progress Singapore Party (PSP) member Brad Bowyer was hit with a notice for his posts on Facebook suggesting that the government was influencing state investment firms.
Later, Australia-based website the States Times Review, which is blocked in Singapore, was ordered to do "correct" its content.
The SDP is yet to announce its decision regarding the order to slap what amounts to a fake news label on its own posts and articles.