The award-winning true crime podcast Sword and Scale has been dropped by its network Wondery after a brigading mob successfully campaigned for it to be canceled. The podcasts Sword and Scale Rewind, This is War, and Monstruo will also be ending but Sword and Scale PLUS will still be available to Patrons.
The show was targeted by an angry Twitter mob after host Mike Boudet posted a joke to Instagram on International Women's Day which some people found offensive.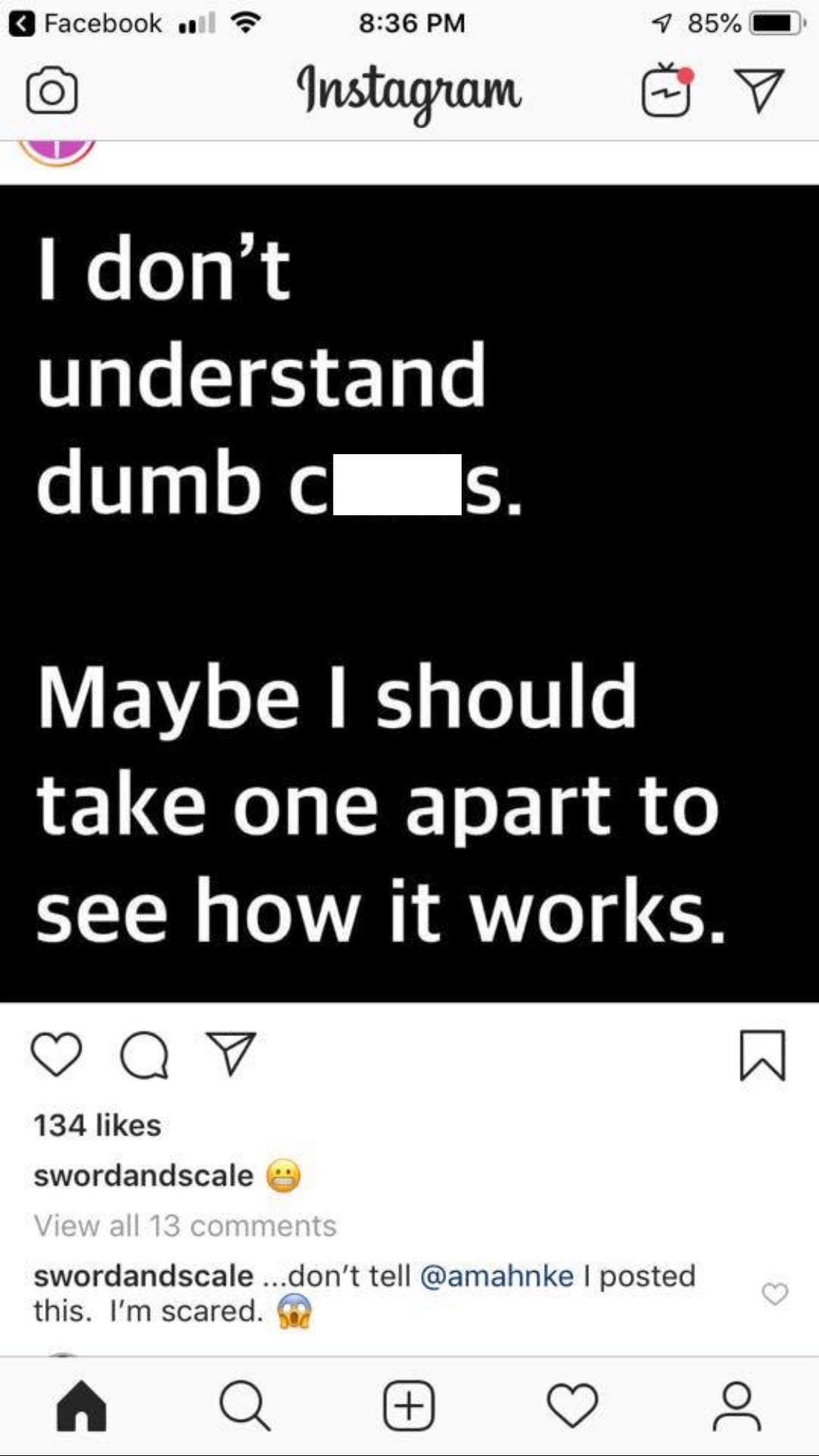 People who were offended by this Instagram post started to tweet at Wondery and the show's sponsors, asking them to drop Boudet and Sword and Scale.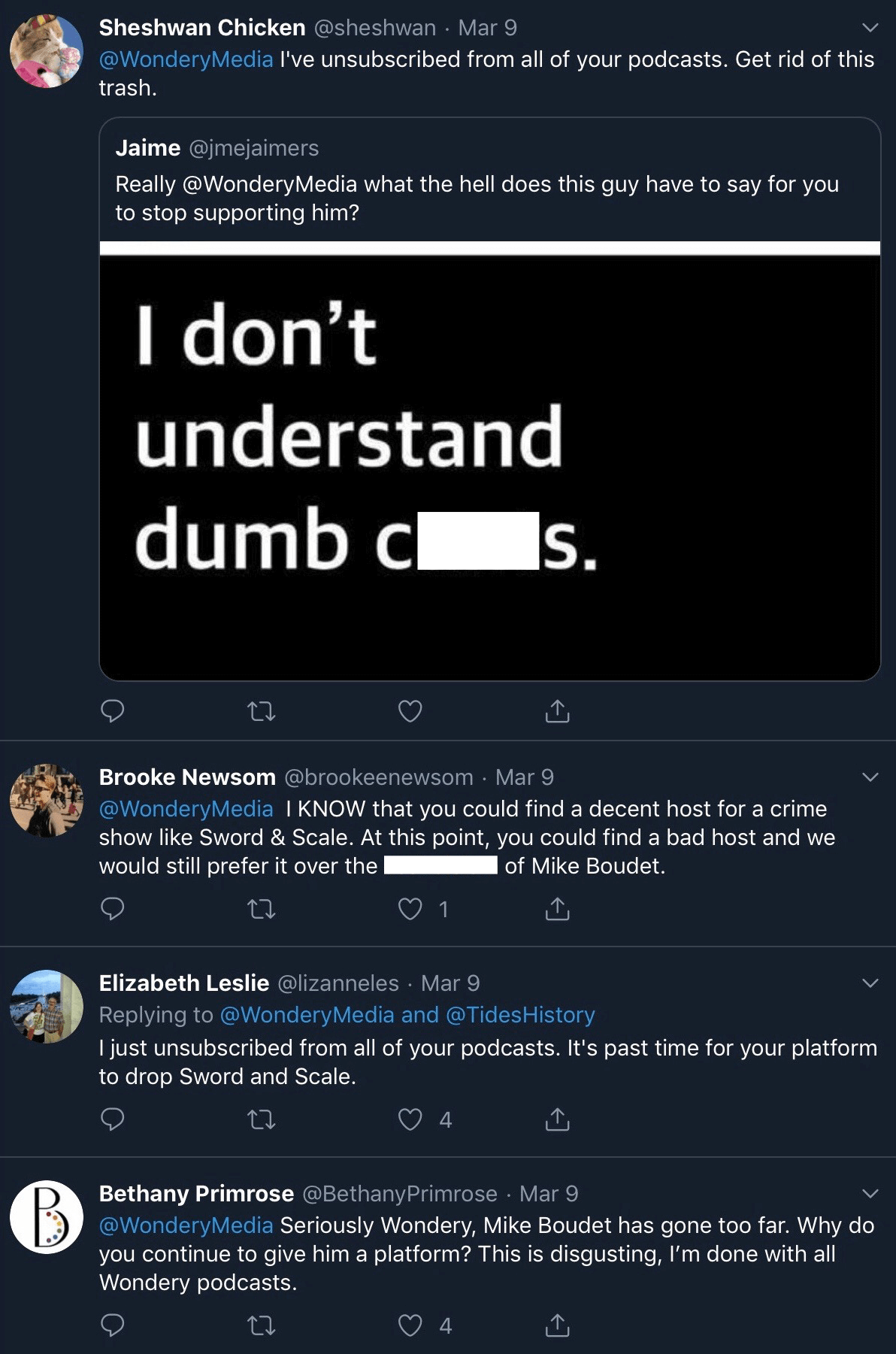 Aaron Mahnke, who hosts the Lore podcast, and Rabia Chaudry, who hosts the Undisclosed podcast, then amplified these complaints by retweeting calls for Boudet and Sword and Scale to be dropped to their audience of over 200,000 Twitter followers.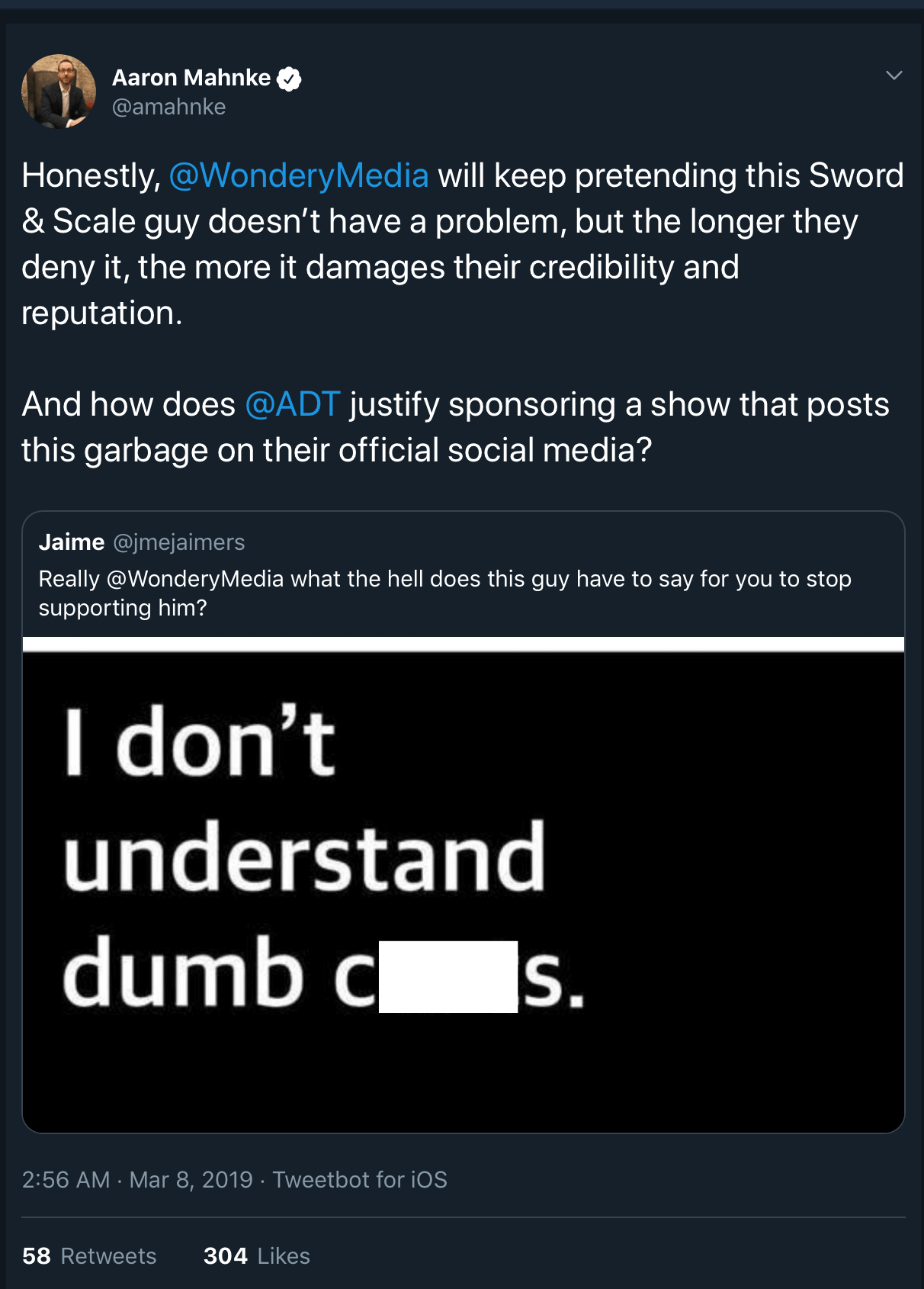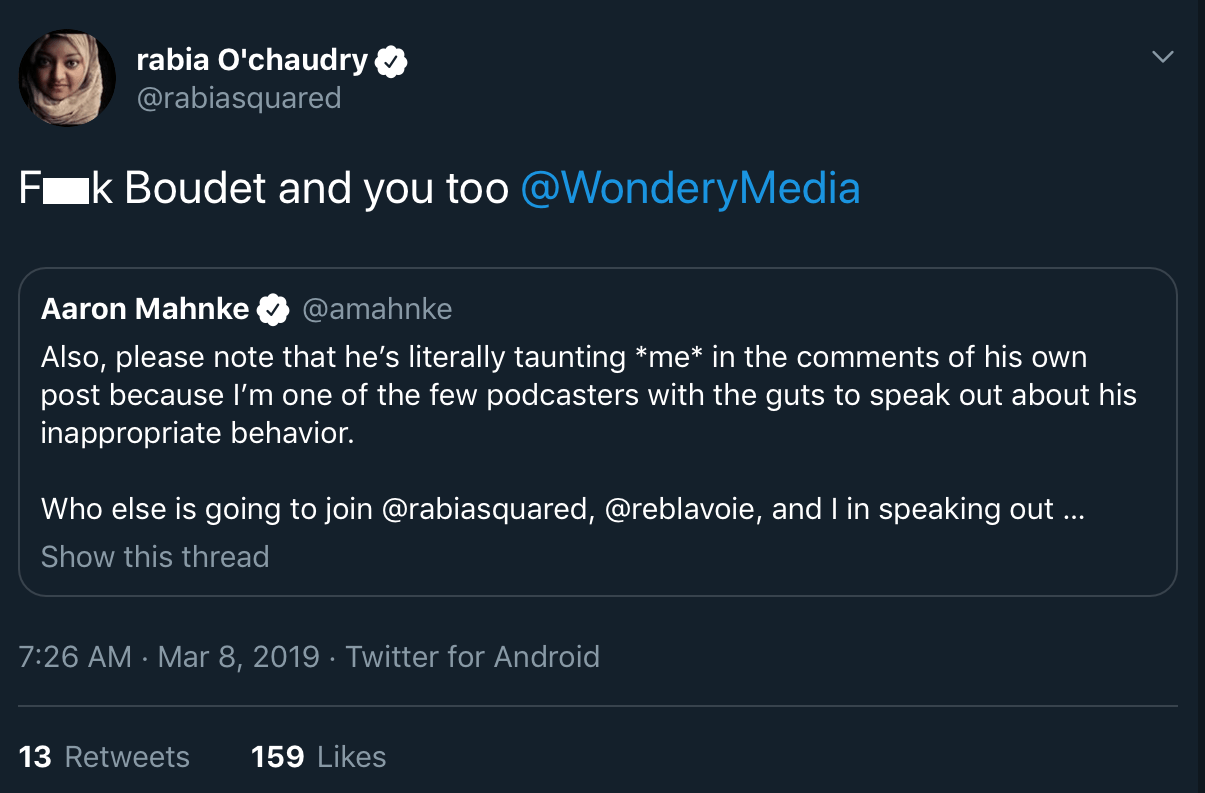 Wondery ultimately buckled to this brigading mob and announced that the network would be parting ways with Boudet and Sword and Scale.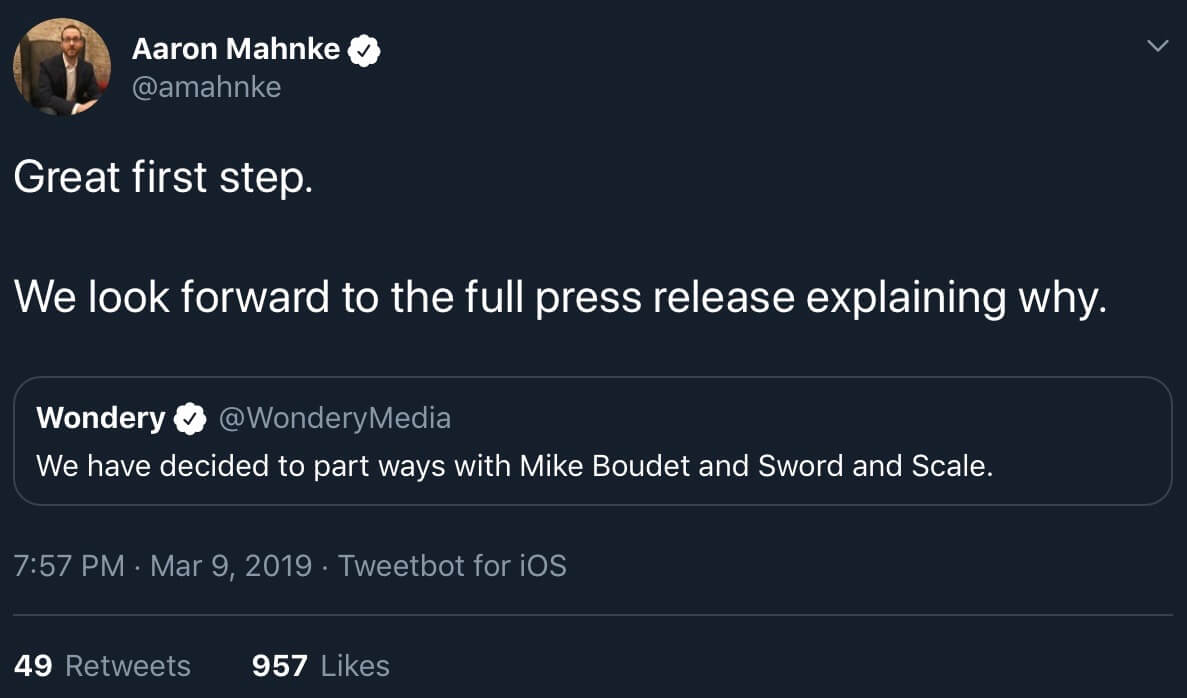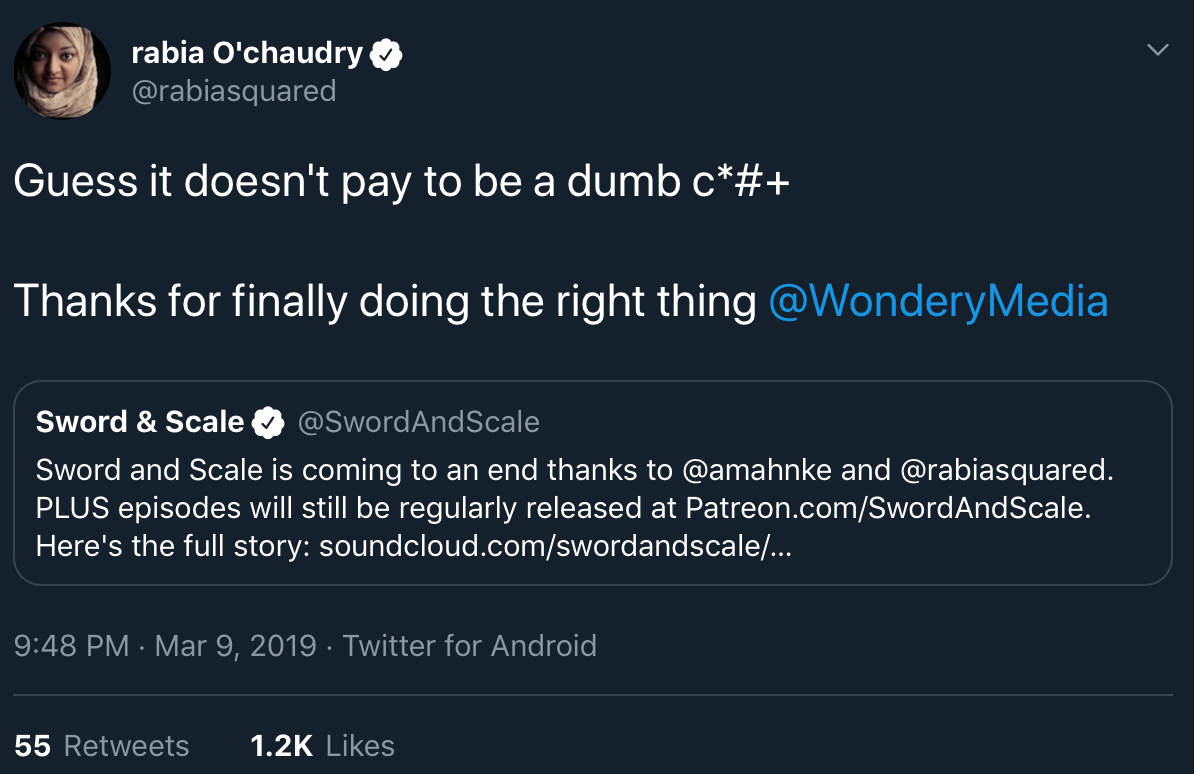 Mahnke and Chaudry appeared to revel in this decision and both tweeted Wondery thanking the network for its decision.
Not only did this show get canceled but it's also a worrying example of just how powerful brigading mobs are becoming online. Brigading mobs were used to deplatform Sargon from Patreon and were used to have SubscribeStar banned from PayPal. Now these mobs have successfully taken down one of the biggest true crime podcasts.
Regardless of whether you find Boudet's joke or any other piece of content offensive, the fact that these brigading mobs have this much power when it comes to deplatforming people is very concerning.
There are two ways people can respond to things they find offensive – one is constructive and one is destructive.
The constructive approach is to ignore the offensive content, move on, and focus on the things that you don't find offensive. This approach allows everyone to get on with their lives and still access the content they want to see.
The destructive approach, which is, unfortunately, becoming increasingly prevalent, is to actively try and tear down anyone who produces content that you find offensive.
This destructive approach is extremely dangerous and there are no real winners when it's employed. Boudet has lost his livelihood and millions of Sword and Scale fans have been deprived of a show that they love. Even the people who celebrated Sword and Scale being deplatformed haven't really gained anything. This event may temporarily placate them but they'll find something else to be offended by soon enough and start the cycle all over again. No victory will ever be enough to stop them feeling perpetually offended.
As this destructive approach becomes increasingly prevalent, the spectrum of what these brigading mobs find offensive will widen and soon there will be very little you can say which won't offend them.
Hopefully, what happened to Sword and Scale serves as a cautionary tale for people who are currently engaging in this brigading behavior, allows them to see the damage it causes, and ultimately causes them to choose the constructive approach when they encounter content that they find offensive in the future.
Update – July 4, 2019: Sword and Scale, Sword and Scale Rewind, This is War, and Monstruo are now all continuing with their current schedules and Mike Boudet has returned as the host of Sword and Scale.