Twitter has started hiding some coronavirus links behind a warning notice that tells users "this link may be unsafe."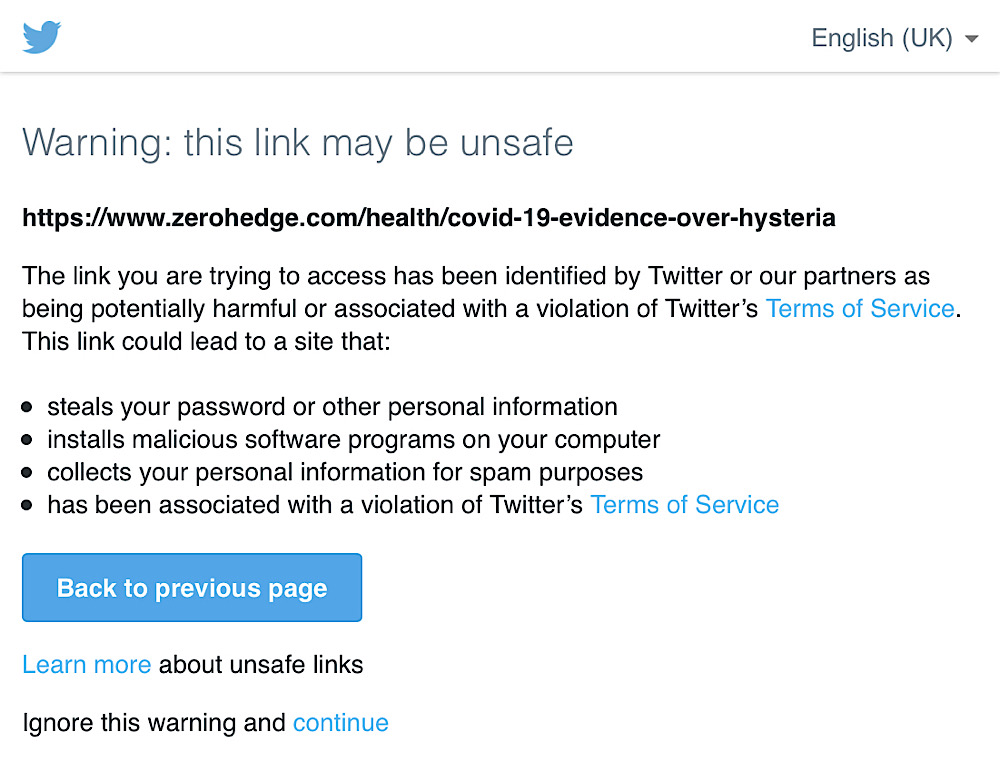 The notice claims that it's being applied because the site may steal passwords or personal information, install malicious software, or it has broken Twitter's terms of service.
However, it doesn't appear to be applied at the site level and instead seems to only be warning users that attempt to view some coronavirus articles on certain sites.
Other links to non-coronavirus articles on those same sites don't have this warning notice.
https://twitter.com/thefreerifleman/status/1241933105423732736
The warning notice blocks Twitter users from accessing the link immediately and advises them to go back to the previous page.
Twitter users can choose to ignore the warning and continue to the article but the link for this is much smaller than the "back to previous page" button.
These warning notices seem to have started being applied to some coronavirus links yesterday after Twitter-owned platform Medium removed a popular coronavirus article from Aaron Ginn after it generated more than 2.6 million views in 24 hours.
Ginn reposted the article to news outlet Zero Hedge but when users attempted to view the article, these warning notices started to appear.
The blocking of some coronavirus links comes after Twitter has faced growing criticism of its rules around coronavirus content.
Pro-China propaganda from Chinese officials that attempts to blame the US for the coronavirus has not been impacted by these rules and in some cases, it's even been amplified by bots.
Meanwhile, Twitter has told users that they may be forced to remove some jokes about the coronavirus to "keep people safe on Twitter."